Murder suspect caught in Hawaii after prison escape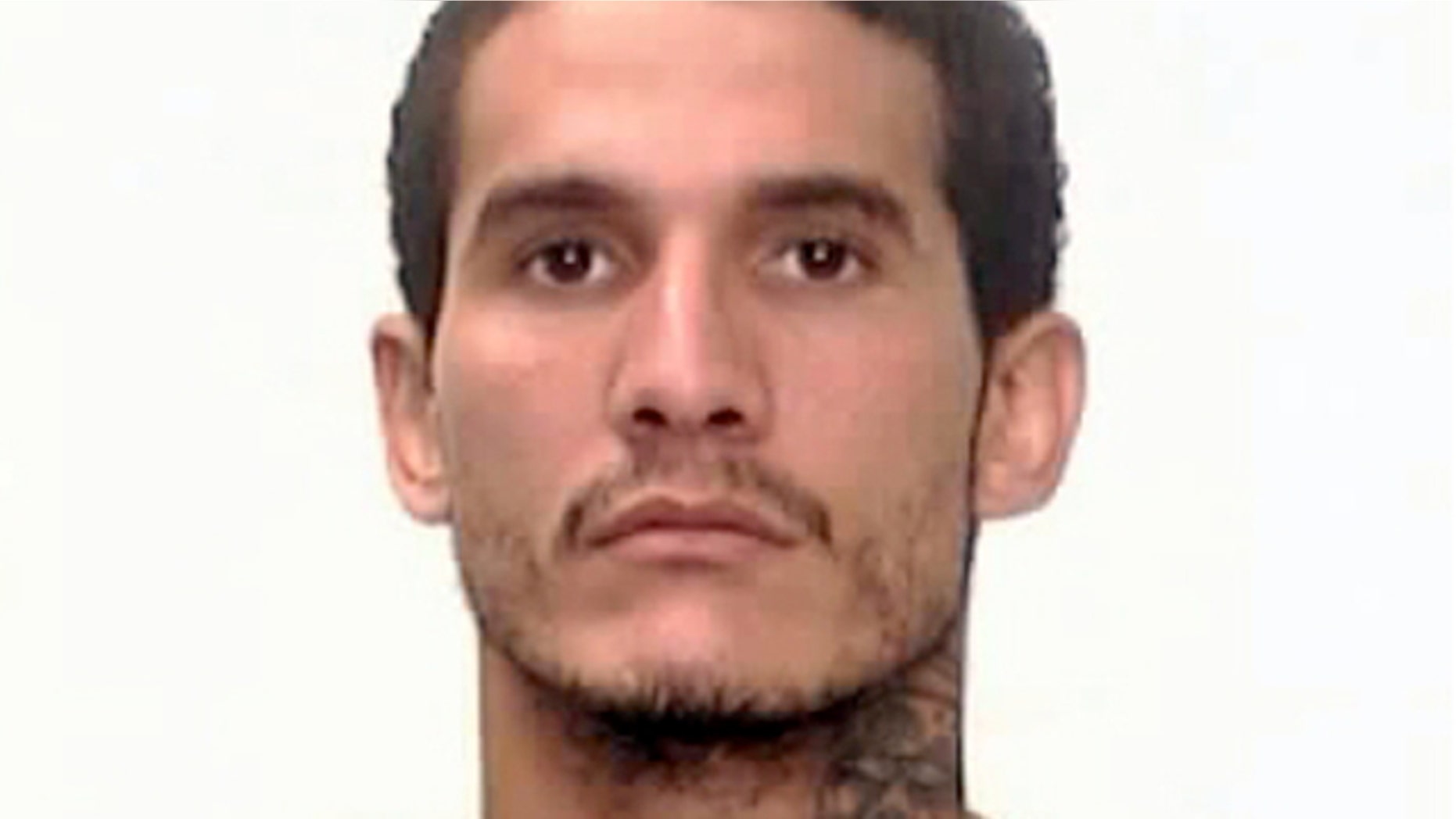 HONOLULU – A Hawaii inmate accused of killing a friend in a state park was caught after eluding authorities nearly 12 hours during an escape attempt, Honolulu police said Wednesday night.
Police said Teddy Munet (moo-NAY') was arrested Wednesday night without incident by officers responding to an emergency call near a high rise apartment building roughly one mile from where he escaped.
The arrest ended a daylong search for the 29-year-old, touched off after authorities say he ran away from a loading area at Circuit Court in downtown Honolulu wearing handcuffs and shackles around his waist. He was being transported to the court from a nearby jail for a hearing.
Deputies transporting Munet from a nearby jail didn't follow all proper procedures, authorities said earlier Wednesday as officers searched for him.
He wasn't shackled at his ankles and the van transporting him stopped in an unsecured area.
Munet was dressed in a black hoodie sweatshirt and black shorts when he fled because he was supposed to wear civilian clothing to court that day, authorities said. It was not immediately clear whether he broke free of his restraints.
Munet's lawyer, Edward Harada of the state public defender's office, said the hearing Wednesday was on a routine motion asking for police records related to the case. It was not scheduled to be in front of a jury, he said.
Munet now faces additional charges after being held on second-degree murder, firearms and drug charges.
Munet's trial is set for April.
Munet is accused of killing a friend in a state park in Kailua in July. The friend, William Fallau, was found dead with a bullet in the back of his neck at Kawainui State Park.
Fallau's relatives said at the time that Fallau asked his father to let Munet live in their garage in Kaneohe. Munet stayed there until his arrest.
Harada said Munet has pleaded not guilty and intends to take the case to trial. Harada told The Associated Press earlier Wednesday that has not changed despite the escape.
"Of course, he has to be apprehended and we'll take it from there," Harada said.
Director Ted Sakai of the Hawaii Department of Public Safety said Teddy Munet ran toward a street after getting out of one of four vans taking inmates from Oahu Community Correctional Center to court appearances for the day.
A deputy saw Munet running and chased him, but was unable to catch him, Sakai said.
"When people really want to escape, they find a way to do it," Sakai said.
Hawaii Sheriff Shawn Tsuha said his department was reviewing the chain of events leading to Munet's escape, and it did not appear proper protocol had been followed for transporting inmates in his case.
Tsuha said similar inmates would normally be shackled by their ankles during transport.
The sheriff also said two of the four vans went into a holding area that is enclosed by a gate, but the other two unloaded passengers outside the gate, including the van holding Munet. Outside the gate, a loading area and small ramp leads up to a normal street.
When asked whether deputies took adequate measures with Munet for transporting inmates, Tsuha said: "My estimation, no."
Nine nearby public schools and several private schools were put into lockdown while dozens of police officers and sheriff's deputies searched the area.
The area just east of downtown Honolulu is home to many state and federal offices, as well as historic landmarks like Iolani Palace, the official residence of Hawaii's monarchy.