Murder of black Maryland college student probed as possible hate crime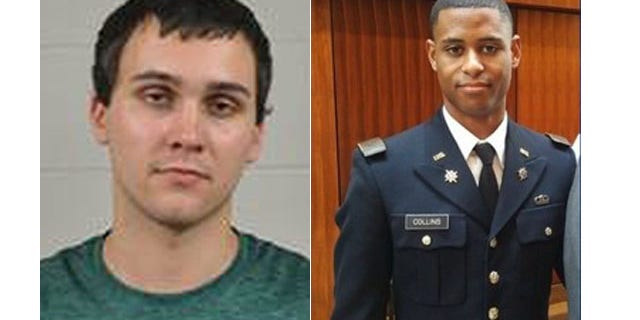 The FBI is investigating a deadly weekend stabbing at the University of Maryland to determine whether it was a hate crime, law enforcement officials said Sunday.
University of Maryland student Sean Christopher Urbanski, 22, of Severna Park, Md., faces charges of first- and second-degree murder as well as first-degree assault after he allegedly attacked Bowie State University student Richard Collins III.
According to charging documents, Collins was waiting for an Uber with two friends on the College Park campus at around 3 a.m. Saturday when a screaming Urbanski approached the group screaming, "Step left, step left if you know what's best for you."
According to the documents, Collins said "no" and was stabbed in the chest with a folding knife. Urbanski was arrested at the scene after several witnesses identified him. Police said the suspect had been drinking.
University of Maryland Police Chief David Mitchell told a news conference Sunday evening that he had called in the FBI after learning that Urbanski was a member of a Facebook group called "Alt-Reich: Nation," where members leave racially charged posts.
Urbanski is white and Collins was black.
"We are here to evaluate that as an ongoing concern with respect to whether or not this was a hate crime," Gordon Johnson, special agent in charge of the FBI Field Office in Baltimore, told reporters.
Mitchell, the police chief, said the attack has spread fear across the university.

"If I'm a person of color I would certainly look at this as something that could happen to me. In fact, I know on Facebook our students are saying that," Mitchell said.
Mitchell also told reporters that Collins was a senior at Bowie State and was set to graduate on Tuesday. Collins was recently commissioned as a second lieutenant in the U.S. Army.
Dr. Artie Lee Travis, vice president for student affairs at Bowie State, said the school hopes the investigation moves forward as quickly as possible.
"Hate has no place in America," Travis said. "Hate has no place on a college campus, where young minds are coming together to try to change the world," he said.
Brian Douglas, who recently became close to Collins when they took a class together, said the man was looking forward to graduation.
"He was just nice, just a good young man all around. You can't find those too often in today's society," Douglas said.
Ciera Sorrell, who also took a class with Collins, said his killing shocked the Bowie State community.
"Everyone is in disbelief," she said. "He seemed so excited to get to live his life and he doesn't have that chance anymore," she said.
University of Maryland President Wallace Loh led students and their families in a moment of silence during Sunday's graduation ceremony.
"We are still in shock that a young man, so full of promise, should have his life cut short, so suddenly," Loh said. "Our thoughts and prayers are with his family and friends, and with the entire Bowie State University community."
The two universities are approximately 12 miles apart.
The Associated Press contributed to this report.
Click for more from Fox5DC.com