MS-13 gang member who stabbed 15-year-old girl 13 times, sliced off tattoo, pleads guilty to murder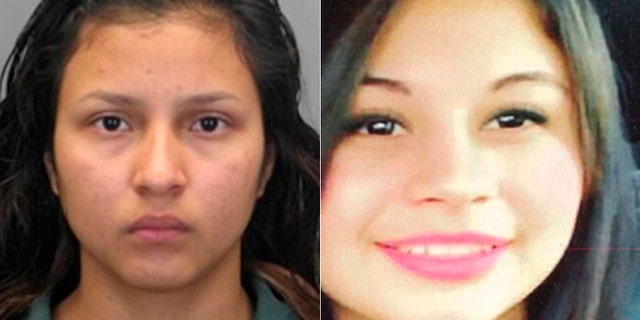 A teenager who sought to avenge the death of her boyfriend and told a 15-year-old girl she would "see her in hell" before stabbing her 13 times pleaded guilty Monday to the brutal slaying that raised the spotlight on MS-13's presence in the suburbs of the nation's capital.
Venus Romero Iraheta, who was 17 at the time of the January 2017 murder, pleaded guilty in a Virginia courtroom as an adult in the murder of Damaris Alexandra Reyes Rivas, the Washington Post reported.
Iraheta, now 18, faces a a maximum of life in prison plus 20 years when she is sentenced on May 25.
The January 2017 killing of Reyes Rivas, which ultimately resulted in the arrest of 18 young people, highlighted the brutal nature of one of the nation's most violent and powerful street gangs. According to the prosecution,
Reyes Rivas was taken from Maryland to a Virginia park where she was stabbed with a knife and jabbed with a stick by a large group of MS-13 members. Her body was eventually discovered after it was dumped under a highway overpass on the outskirts of Washington, D.C.
Federal prosecutors said Iraheta was the primary attacker, stabbing the 15-year-old 13 times and slicing off one of her tattoos, according to NBC Washington.
MS-13 COHORTS PLEAD GUILTY IN VICIOUS REVENGE KILLING OF 15-YEAR-OLD VIRGINIA GIRL
"She told the victim she would never forgive her," FBI Agent Fernando Uribe said in courtroom testimony. "She would 'see her in hell.' She would never forget her name."
Uribe testified in July that Jose Cerrato, a 17-year-old alleged gang member, filmed and narrated the killing on a cellphone with the intention of sending the footage to MS-13 leaders in El Salvador.
It's unclear if the video was ever sent to El Salvador, but Uribe testified that Cerrato was promoted in the gang for his role in the murder, The Washington Post reported at the time.
MS-13 GANG MEMBER FILMED, NARRATED TEEN'S KILLING, FBI AGENT TELLS JUDGE
In October, three MS-13 affiliates pleaded guilty to their roles in the savage death.
As part of a deal with prosecutors, Cindy Blanco Hernandez, 19, Aldair J. Miranda Carcamo, 18, and Emerson Fugon Lopez, 17, pleaded guilty to a host of charges that included abduction and, in two instances, gang participation. They are expected to be sentenced May 5, 2018.