MORNING BRIEF: Trump announces new focus on Afghanistan
President Trump outlined a comprehensive new strategy Monday night for achieving a "lasting peace" in Afghanistan – rejecting what he called "arbitrary timetables" for the U.S. troop presence, ratcheting up pressure on Pakistan to stop harboring militants and vowing to refocus the mission on "killing terrorists," not nation-building.
"From now on, victory will have a clear definition: attacking our enemies, obliterating ISIS, crushing Al Qaeda, preventing the Taliban from taking over Afghanistan, and stopping mass terror attacks against America," Trump said, in a primetime address to the nation.
DOUG SHOEN: Strategy might work | MILLER: Trump's conventional response
WAS SHIP HACKED?
A top U.S. Navy admiral on Monday called for a swift and thorough investigation into Monday's collision of the USS John S. McCain into an oil tanker near Singapore-- marking the second deadly mishap that occurred in the Pacific in the past three months.
Adm. John Richardson ordered an operational pause in all the fleets around the world while the Navy works to determine the factors behind the collision. Richardson tweeted that the Navy will conduct a wide investigation, including a review into the possibility of "cyber intrusion or sabotage."
DESTRUCTION THWARTED?
A Texas man was arrested Monday after he allegedly tried to destroy a Confederate statue in a park during the weekend by planting explosives, federal officials said.
Andrew Schneck, 25, was charged with attempting to maliciously damage or destroy property receiving federal financial assistance. A Houston park ranger spotted Schneck Saturday night in Hermann Park in Houston kneeling near the statue of Richard Dowling, a lieutenant in the Confederate army.
INSTAGRAM TUSSLE
The wife of Treasury Secretary Steven Mnuchin on Monday fired back at an Instagram user-- calling her "adorably out of touch"-- after the woman criticized a picture she posted on the social media platform.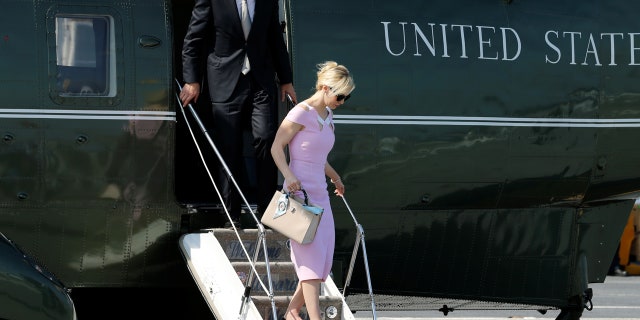 Louise Linton posted a photo that showed her and her husband stepping off a government plane. She captioned the photo: "Great #daytrip to #Kentucky!"
FOX BUSINESS: Macy's hires new president; 100 jobs to be cut in restructuring efforts
COMING UP ON FOX NEWS CHANNEL
10 PM ET: President Trump speaks at a rally in Phoenix. Watch live on Fox News Channel and FoxNews.com
COMING UP ON FOX BUSINESS
8:30 AM ET: Brad Anderson, former Best Buy CEO, will be on 'Mornings with Maria'
10:45 AM ET: Corey Lewandowski, former Trump campaign manager, will be on 'Varney & Company'
NOON ET: Gov. Bill Richardson will appear on 'Cavuto: Coast to Coast'