Morning brief: GOP retains vacated seat in Kansas special House election
GOP SURVIVES FIRST TEST
Kansas state Treasurer Ron Estes held off a stronger-than-expected challenge from Democratic civil rights attorney James Thompson Tuesday night as the GOP won the first special congressional election since President Trump's inauguration. Estes won 53 percent of the vote to take the seat vacated by CIA Director Mike Pompeo.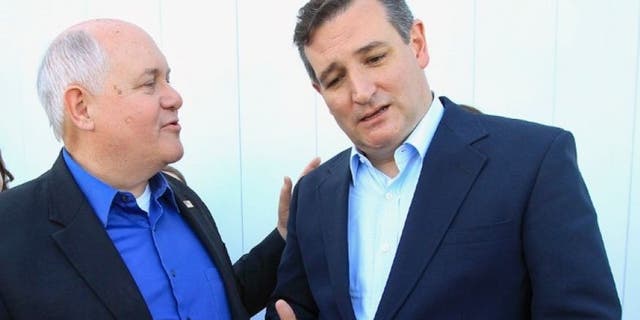 TRUMP JR. DECIDES AGAINST RUNNING FOR NEW YORK GOVERNOR, FOR NOW
'YOU LIE' CHANTS BREAK OUT AT GOP REP. JOE WILSON'S TOWN HALL
TRUMP EXCLUSVE: WE'RE NOT GOING TO SYRIA
In an exclusive interview with Fox Business' Maria Bartiromo's, President Trump said he has no plans to enter Syria, despite ordering airstrikes on a Syrian military base last week. (WATCH MARIA BARTIROMO'S FULL INTERVIEW ON THE FOX BUSINESS NETWORK STARTING AT 6 AM ET)
TRUMP EXCLUSIVE: HEALTH CARE REFORM WILL PAVE WAY FOR TAX REFORM
MANY GOV'T JOBS TO REMAIN UNFULFILLED DESPITE LIFT ON HIRING FREEZE
CHINA SEEKS PEACEFUL SOLUTION ON NORTH KOREA
Chinese President Xi Jinping told President Trump in a phone call Wednesday that Beijing is willing to work with Washington on ending North Korea's nuclear weapons program, but seeks to do so through peaceful means. Xi insists on stability on the Korean Peninsula as a U.S. strike team led by the USS Carl Vinson heads to the region. Trump said on Twitter Tuesday that if China did not help the U.S., "we will solve the problem without them."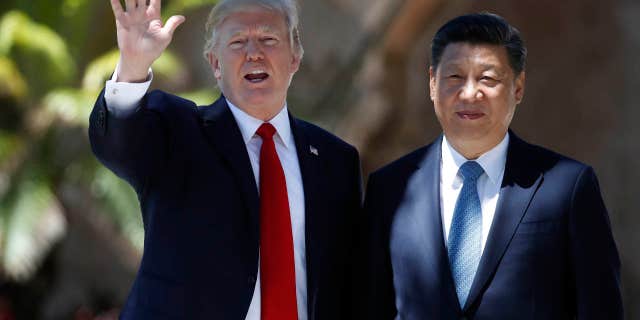 VIDEO: NORTH KOREA WARNS OF NUCLEAR THREAT AGAINST US
'THE O'REILLY FACTOR': STOPPING INTERNATIONAL WAR CRIMES OFTEN FALLS TO AMERICA
BELLWETHER: FRANCE'S TRUMP STIRS THE POT JUST LIKE DONALD
You've seen how the mainstream politicians and media in America tried to deride first Donald Trump's candidacy and now his presidency. In France, the candidate closest to Trump in ideology is undergoing a withering assault just two weeks before French voters go to the polls. And, like Trump, she may actually benefit from the ordeal.
FOX NEWS OPINION: TRUMP'S TWEET, KIM JONG-UN AND AMERICA'S BEST OPTIONS
SESSIONS: 'THE BORDER IS NOT OPEN. PLEASE DON'T COME.'
Attorney General Jeff Sessions told Fox News' "Hannity" Tuesday that the Trump administration is trying to send a strong message to anyone thinking of trying to enter America illegally. "You will be apprehended if you do come and you will be deported promptly," Sessions said. "If you're a criminal, you will be prosecuted, and if you assault our officers, we're going to come at you [like] a ton of bricks."
WHITE HOUSE SUSPENDS SANCTUARY CITY REPORTS OVER ACCURACY CONCERNS
AG SESSIONS VOWS TO CONFRONT CARTELS, GANGS ON VISIT TO US-MEXICO BORDER
COMING UP ON FNC
8:00 am ET: White House adviser Kellyanne Conway and Press Secretary Sean Spicer among guests at The Newseum for conference. Watch live on FoxNews.com.
9:40 a.m. ET: Fox Business' Maria Bartiromo appears on "America's Newsroom."
11:00 a.m. ET: Secretary of State Tillerson and Russian Foreign Minister Sergey Lavrov participate in a joint press availability.
1:30 p.m. ET: Anthony Ruggiero, senior fellow at Foundation for Defense of Democracies with focus on North Korea appears on "Happening Now."
2:00 p.m. ET: State Department Acting Spokesperson Mark Toner holds press briefing.
4:00 p.m. ET: President Trump holds press conference with NATO Secretary General Stoltenberg. Watch live on Fox News Channel and FoxNews.com.
5:30 p.m. ET: FBI Director James Comey participates in a panel discussion at The Newseum. Watch live on FoxNews.com.
COMING UP ON FOX BUSINESS
6:00 a.m. ET: FBN's Maria Bartiromo sits down with President Trump for an exclusive interview. Watch live on the Fox Business Network and FoxBusiness.com.
7:50 a.m. ET: Bank of America Head of Consumer Lending Steve Boland appears on "Mornings with Maria."
FOX BUSINESS COVERAGE
2018 LINCOLN NAVIGATOR SPORTS PLUSH INTERIOR, ALUMINUM BODY
Lincoln will officially unveil the redesigned Navigator at Wednesday's kickoff to the 2017 New York International Auto Show.