Mom Strong: Detective recalls her role during capture of Boston bombing suspect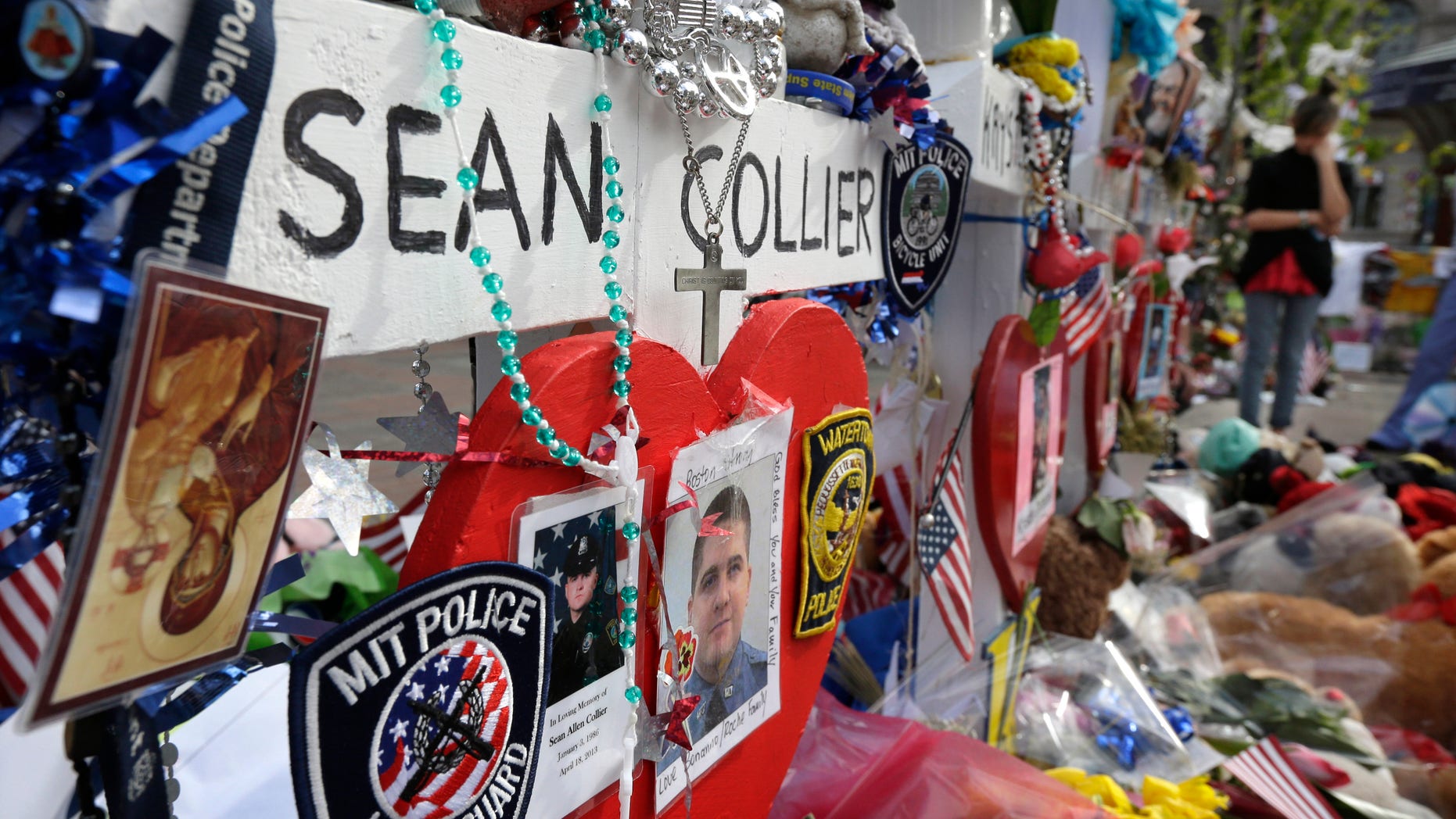 There's Boston Strong. And there's Mom Strong, too, as embodied in the actions of Detective Kathleen Donohue during the investigation following the Boston Marathon bombings.
Of all the moments she experienced during the manhunt, Donohue remembers the sweat.
"I just remember how soaked I was," says the veteran Watertown Police Department detective. "When you're in a high-stress situation, let me tell you, you sweat -- and a lot."
For the weeks after the April 15 bombings that left 3 dead and more than 260 injured, the nation has wondered about the frenetic action of April 19 -- from Dzhokhar Tsarnaev's capture, to the earlier hijacking of a Mercedes SUV in Cambridge with his elder brother, Tamerlan, to the mad shootout on Laurel Street in Watertown, to the nerve-fraying standoff a half-mile away at 67 Franklin Street, where it all ended.
[pullquote]
Now, FoxNews.com talks to Detective Donohue, one of the first officers to approach the blood-soaked boat where Dzhokhar made his last stand.
"I was wearing jeans, Reebok's and a long-sleeved, Banana Republic knit shirt," Donohue, 40, recalls. "We were eventually ordered to pull back [from the boat], and it was only then that I realized I was shivering with the wind and cold against all the sweat.
"I still haven't grasped the enormity of it all. More people have thanked me than I can count, and I just say, 'It's not necessary. I did what I had to do.' People ask me if I was scared and 'scared' is not a word that I would use to describe how I felt. Training kicked in and I'll just say this: It's a miracle no one else was hurt."
2012 had been a tough year for Kathleen Donohue. She finalized a divorce that left her a single mother of three boys -- 8-year-old twins and a 9-year-old son.
"I had hoped 2013 would be better," she told FoxNews.com. "I know that feeling of hoping on tomorrow very well."
The 15-year veteran detective of the Watertown Police Department and lifelong Watertown resident took a usual path to that moment on April 19 when she helped nab the Boston bombing suspect.
After graduating from Boston College, she spent three years as an American Airlines flight attendant, the same career as her mom. When her brother, John, took the civil servants' exam, she did, too – more to best his score than anything else.
Today, she laughs about it. "You could say I became a cop out because of sibling rivalry," she said. "But my father, a union electrician in Boston, always said that if you have a chance to get a job like that, it's like hitting the lottery."
Donohue, like so many New England officers, endured three tension-filled days following the April 15 bombings while on the hunt for the perpetrators. She said she investigated an unfounded tip from a local resident who eerily thought she had heard footsteps in a nearby, vacant apartment.
She had already concluded her shift on April 18 when the FBI released images of the Tsarnaev brothers, suspected of detonating the bomb that killed three and wounded more than 260 others.
Around 11 p.m., Massachusetts Institute of Technology police officer Sean Collier, 26,  was found shot to death on the school's Cambridge, Mass., campus -- a killing authorities later linked to the Tsarnaevs, according to an MIT statement.
Shortly after, the Tsarnaevs hijacked a Mercedes SUV at gunpoint near the Allston area of Boston, according to Cambridge Police. About 30 minutes later, the SUV's driver escaped and cops subsequently tracked the car to Watertown, reportedly through the use of a GPS device.
A shootout followed on Laurel Street in Watertown, on the opposite side of town from Donohue's modest home. Cops traded about 200 rounds with the brothers, who reportedly also hurled five pipe bombs and one grenade.  About 1 a.m., Donohue got a call from a fellow officer who heard the explosions in her neighborhood. She quickly texted her lieutenant, "What's going on?" The terse reply came within seconds: "Can you come in?"
Knowing her brother, John, now a Watertown pub owner, would then be shuttering his establishment for the night, she phoned him to ask for a sitter. John summoned a friend and Donohue grabbed her gun, hurriedly dressed and guided her Ford F-150 to the Watertown Police station, a mere two blocks from her home. There, she saw Detective Jennifer Connors along with dozens of the 67-strong Watertown force, milling.
"Word got around fast," Donohue recalls.  "Pretty much everyone showed up."
At the station, Donohue ditched the pick-up for an unmarked Ford Taurus and told Connors, "Hop in."
Together, they rushed to Dexter and Laurel streets, or where the Tsarnaevs were then exchanging gunfire. "I had my lights on and they lifted the police tape for me," said Donohue. "I was just thinking that I had to get my lieutenant and just as I turned on to Dexter, I heard him say on the radio, "All responding detectives, meet me at Dexter and Laurel.
"So I turned on to Dexter, but I couldn't drive any further because cruisers had blocked the street. I had to walk the rest of the way -- about five blocks -- and there were so many law enforcement officers. The streets were filled with officers. I've never seen anything like it.
"At the intersection of Laurel and Dexter, I saw shell casings on the pavement," Donohue recalled.  "I don't have words for it. What I've said to people is that I knew shots had been fired and bombs had been thrown. I knew all of this on the edge of my mind, but when you see it with your own eyes -- the cruisers with bullet holes -- and the concrete missing where the bombs had fallen -- until you see all that, until you see the shrapnel imbedded in people's fences . . . when you see it through your own eyes, I can honestly tell you that miracles happen. Miracles happened a hundred, a thousand times that day so that no one else got hurt. It's incredible. Miracles happen, and I witnessed miracles."
She arrived at 1:40 a.m.
By then, Tamerlan Tsarnaev was already dead, but Dzhokhar escaped in the stolen SUV. For the next 15 hours, Donohue helped canvas the neighborhood. Then, around 6 p.m., she heard the radio cackle with news of a Watertown man who had spotted blood and a body in his boat – about a half-mile away on Franklin Street. Donohue drove with Connors – and together they were among the first law enforcement agents to arrive on the scene.
"When we arrived, the resident who owns the boat was still on the phone with dispatch on his front steps. Jenn went up to him and pulled him away. I banged on the door two houses up and told an older couple that they had to vacate the house," Donohue tells FoxNews.com.  "The last I saw them, they were running up the street.
"I went into their backyard, and un-holstered my gun – a .40 Glock. I will tell you that it's like a movie now in my head in slow motion. It wasn't long before four officers were to my left, one who I work with from Watertown, the others, I think, from Boston.
"(The officers) ran across the yard and climbed up on the roof behind the boat. I covered them. More officers then arrived and took cover behind the wooden fence separating the two yards. I didn't know the officers -- I didn't even know their names -- but I made eye contact with them and there was a way we communicated without words so that we understood the message: I got your back, you got mine. I'll cover you. We said it without speaking.
"It was very windy and there was lots of yelling. On the radio, I remember hearing, 'Wait for SWAT! Wait for SWAT!' and then 'There's movement on the boat.' Next thing ya know, I was about 10 to 15 feet away, and I saw (Tsarnaev) poking holes in the canvas."
"It's amazing what I experienced. I don't want to take away from those officers involved in the gunfight -- they are our true heroes. Every single one of them. Whenever I see each one of them, I hug them. Some of them, I don't even know, but I hug them anyway.  I haven't grasped the enormity of what it means to have been a part of the arrest. Maybe someday I'll make sense of it. Right now, I'm just happy that I did what I did."