Military dad makes daughter a camouflage prom dress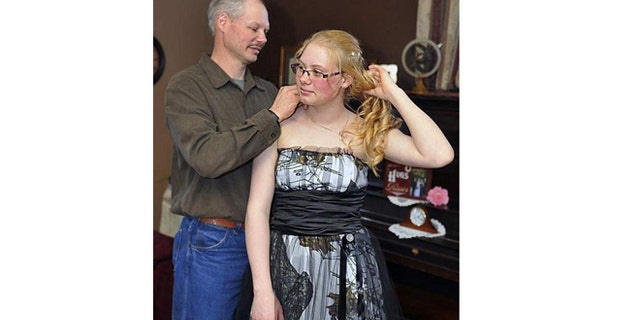 When Wisconsin teen Mariah Herron found it too hard to track down the camouflage prom dress of her dreams, she turned to her own fairy godmother: her father.
Not content with the fluffy pink dresses her peers at Marshfield High School were sure to wear, Mariah, 17, sought a dress that reflected her individuality and affinity for hunting and wielding power tools, the Marshfield News-Herald reports.
Unable to find the right dress in stores, Mariah asked her father for his help.
"My dad is pretty good at making things, but making a dress -- that's different," Mariah told the paper.
Her father, David Herron, learned to sew while serving in the military.
"I'm pretty good with straight seams and about two years ago, my wife gave me a sewing machine. I've made some quilts and pillows, but this dress was something else," Herron told the Marshfield News-Herald.
The duo headed to a local fabric store, where the staff pointed them to a fabric named Snow White Camouflage.
"It's white camouflage fabric, and he bought me boots to wear with it," Mariah said.
The dress took about two months to finish. Herron even added the tops of shotgun shells to the waist of the gown as a nod to Mariah's hobby.
"I think she likes it," Herron said of his work. "She asked me if I'd make her a wedding dress."