Michigan State University officials knew of Nassar sex abuse allegations, but failed to stop him, report says
At least 14 Michigan State University Officials were notified of sex abuse allegations against faculty member Larry Nassar, who also served as USA Gymnastics national team doctor, in the two decades before his shocking arrest — but the school repeatedly missed opportunities to stop him, according to a damning report.
The Detroit News investigation, which drew information from university records and victim accounts, reported current MSU President Lou Anna Simon was among those notified.
"I was informed that a sports medicine doctor was under investigation," Simon told the newspaper Wednesday after appearing in court for a Nassar sentencing hearing. "I told people to play it straight up, and I did not receive a copy of the report. That's the truth."
Simon said she was told that a Title IX complaint and police report were filed against an unnamed physician, according to The Detroit News.
Nassar joined the USA Gymnastics national team medical staff in 1986 as an athletic trainer and eventually became the team's medical coordinator, a position he held until 2015. He also ran a clinic and gymnastics club at Michigan State University.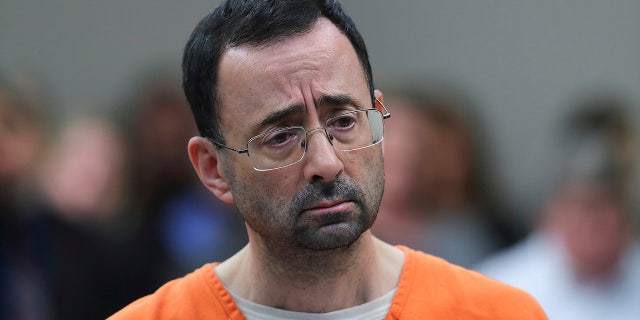 While accusations of abuse by Nassar date back to 1994, it wasn't until a September 2016 Indianapolis Star report of allegations by two former gymnasts that actions were taken against.
Following the revelations, Michigan State reassigned Nassar from his clinical and teaching duties and eventually fired him. Nassar claims he retired from his role with USA Gymnastics, but the organization said it fired him in 2015 and notified law enforcement "after learning of athlete concerns."
Since the initial allegations were made public, more than 140 girls and women — including Olympic gold medalists McKayla Maroney, Aly Raisman, Gabby Douglas and Simone Biles — have accused Nassar of abuse.
In a separate case, Nassar was sentenced last November to 60 years in federal prison for having received and possessed 37,000 images of child pornography and then attempting to destroy the pictures to avoid charges.
Nassar also pleaded guilty to molesting gymnasts with his hands and could be sentenced Friday, The Associated Press reported. The sexual abuse included touching women's breasts and buttocks, and inserting his fingers inside them without gloves for his own gratification, Nassar admitted, according to The Detroit News.
Nassar was blasted Thursday by Circuit Court Judge Rosemarie Aquilina after she read a letter from him saying he didn't know how much more of the testimony — which includes more than 100 statements from victims — he could take.
Aquilina told Nassar that he shouldn't be surprised that the trial has become a "media circus," as he described in the letter, Fox 17 reported.
"I suspect you have watched too much television," Aquilina said, according to NBC News. "It's delusional. You need to talk about these issues with a therapist and that's not me.
"Spending four or five days listening to them is significantly minor considering the hours of pleasure you had at their expense and ruining their lives," she added.
The Detroit News reported Thursday that athletic trainers, assistant coaches, a detective with university police and an official who is currently MSU's assistant general counsel were all aware of the alleged abuse, with at least eight women reporting Nassar's actions.
Simon told The Detroit News she would not comment on the victims who said they tried to alert MSU.
The first of Nassar's public accusers, gymnast Rachael Denhollander, who spoke out in September 2016, said Michigan State leadership should be held accountable for Nassar's actions during treatment sessions.
"A monster was stopped last year, after decades of being allowed to prey on women and little girls, and he wasn't stopped by a single person who could have, and should have stopped him at least 20 years ago," Denhollander told the Detroit News last week. "He was stopped by the victims, who had to fight through being silenced, being threatened, being mocked, by the officials at MSU who they appealed to for help."
The university — which did not immediately respond to a request for comment from Fox News — has claimed its legal team found no proof anyone outside of Nassar knew of his criminal actions.
"While many in the community today wish that they had identified Nassar as a predator, we believe the evidence in this case will show that no one else at MSU knew that Nassar engaged in criminal behavior," Patrick Fitzgerald, a former federal prosecutor who led the investigation, wrote in a response to the Michigan attorney general's request for more information, according to The Detroit News.
"He just kept rubbing back and forth — that's when I knew something was going on..."
Jason Cody, an MSU spokesman, also told the newspaper campus police carried out a search warrant that helped lead to Nassar's convictions and the university set up a $10 million counseling fund for victims.
"We want to reiterate again that we are truly sorry for the abuse Nassar's victims suffered, the pain it caused and the pain it continues to cause," Cody said. "As the president said at the December board meeting, this situation also reinforces the importance of taking a hard look at ourselves and learning from what happened — because it should never happen again."
Christie Achenbach, an MSU track and cross country athlete, said Nassar told her he was going to try something different to treat her lingering hamstring pain.
"He said his new way of treating people was going internally and manipulating the pelvic floor in order to help with any problem a female might have," Achenbach told The Detroit News, noting that she was 21 at the time. "He said he had to go in, but he didn't tell me that the way he was going to go in was not using lubricant like a doctor would. He just kept rubbing back and forth — that's when I knew something was going on...Then he put his fingers up inside me."
Achenbach, now 40, said she then called her parents and coach, Kelli Bert, and told them what happened.
"He's an Olympic doctor and he should know what he is doing," Achenbach claimed Bert told her.
Bert said she didn't remember the complaint, or that Nassar had been part of the Olympic medical team.
"I don't recall any of that," Bert told the Detroit News. "If he had done something sexual, I believe I would have reported that immediately."
USA Gymnastics announced Thursday it has terminated its agreement with the Karolyi Ranch — formerly the organization's National Training Center — three days after Biles expressed dismay at having to attend camps there. Several Olympians have claimed they were abused by Nassar at the facility.
The organization initially agreed to buy the training facility, which is located outside of Huntsville, Texas, and home of former national team coordinator Martha Karolyi, in August 2016 but then backed out of the agreement following the investigation into Nassar.
Fox News' Andrew O'Reilly and Nicole Darrah and The Associated Press contributed to this report.