Meet the US Generals Ramping up the Training Mission in Iraq and Syria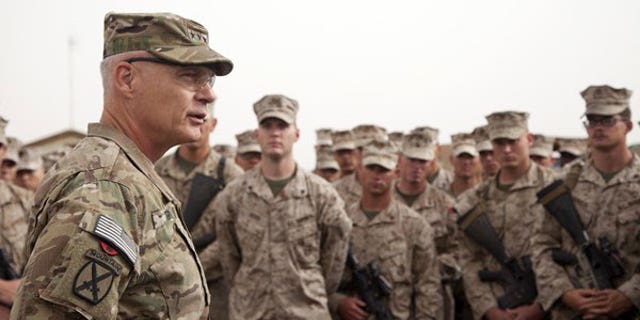 The U.S. Army generals charged with strengthening Iraqi and Syrian forces to dislodge Islamic militants from vast stretches of both countries are poised to ramp up the effort in coming months.
As the top U.S. commander in Iraq, Army Lt. Gen. James Terry oversees the American troops who will train an increasing number of Iraqi security forces as they prepare to retake the northern city of Mosul from the Islamic State in Iraq and Syria, or ISIS.
Army Major Gen. Michael Nagata heads a task force attempting a similar and arguably even more complicated effort to vet, train and equip moderate Syrian fighters battling the al-Qaeda-inspired terrorist group.
Military officials have estimated the campaign to defeat the militants will take years. Yet the training programs for Iraqi and Syrian forces will pick up pace in coming months. An Iraqi-led offensive to retake Mosul is planned for April or May, while the Syrian opposition "is rapidly coming online and will become a reality here very soon," a U.S. Central Command official said last week during a briefing with reporters.
The men at the helm of this task are career military officers with extensive combat experience. Both fall under the command of Army Gen. Lloyd Austin, the four-star head of Centcom. And though their training missions are similar, the generals will face unique challenges as they carry them out in vastly different conditions.
The Screaming Eagle in Iraq: James Terry
Terry currently oversees some 2,600 American troops and additional coalition forces in Iraq as head of the Combined Joint Task Force-Operation Inherent Resolve. The service members hail from such units as the Army's 1st Infantry Division and a Special Purpose Marine Air-Ground Task Force.
A native of Chatsworth, Georgia, and commissioned in 1978, Terry rose through the ranks to hold a number of leadership positions in the service. Early in his career, he commanded a company in the 101st Airborne Division (Air Assault), the "Screaming Eagles," at Fort Campbell, Kentucky. More recently, he headed NATO's International Security Assistance Force Joint Command in Afghanistan.
In a briefing with reporters in December at the Pentagon, Terry said U.S.-led airstrikes against ISIS, also known as ISIL and Daesh, have degraded the group's ability to communicate with and resupply its fighters. At the same time, he acknowledged that certain areas such as the Baiji oil refinery remain contested and that the training of Iraqi security forces would take a few years.
"I think we've made significant progress in halting that offensive that I talked about, the ability for them to continue to expand, you know, in terms of terrain and geography out there," he said, referring to the militants. "I think what we must do, especially inside of Iraq, is continue to build those capabilities. I think you're at least talking a minimum of three years."
The spring offensive for Mosul may require as many as 25,000 Iraqi security personnel, including an attack force of up to five Iraqi army brigades with about 2,000 troops apiece. Thousands of Iraqi troops are cycling through one of five U.S.-run training sites in the country. Conventional forces are training at Al Asad Air Base in Anbar province and areas in and around Taji, Irbil and Besmaya, while Iraqi counterterrorism units are receiving specialized instruction at another undisclosed location.
There are between 1,000 and 2,000 ISIS fighters estimated to be in Mosul, which is Iraq's second-largest city and home to more than 1 million people.
The Special Operator for Syria: Michael Nagata
Nagata commands the Combined Joint Interagency Task Force, which is responsible for the mission to train and equip as many as 5,000 moderate Syrian opposition forces at coalition sites in nearby countries. He also oversees Special Operations Command Central, part of U.S. Special Operations Command, which is based at MacDill Air Force Base in Florida.
A native of Hawaii, the birthplace of his parents, Nagata is a longtime Special Forces officer with a family history of service to country. His father was an Army colonel and two of his uncles served in the Army's 442nd Regimental Combat Team, a unit created during World War II with a contingent of Asian-American soldiers, many of whom served with distinction.
Nagata was commissioned in 1982 and started his Special Forces career a couple of years later with the 1st Special Forces Group (Airborne). He later commanded a battalion in the 1st Special Warfare Training Group at Fort Bragg in North Carolina, worked for the undersecretary of defense for intelligence, and deployed to Pakistan, among other locations.
He reportedly pushed back against press accounts describing covert U.S. military actions in Pakistan in the years leading up to the 2011 raid against Osama bin Laden. He has openly acknowledged his difficulty in understanding the attraction among young Muslims to the Islamic State's ideology and assembled a brain trust of experts to better understand the issue.
"We do not understand the movement, and until we do, we are not going to defeat it," the general said during a conference call last year with specialists from the Pentagon and State Department, according to an article by The New York Times. "I want to engage in a long-term conversation to understand a commonly held view of the psychological, emotional and cultural power of I.S. in terms of a diversity of audiences," he added. "They are drawing people to them in droves. There are I.S. T-shirts and mugs."
While U.S.-led airstrikes are hitting targets in Iraq and Syria in roughly equal proportion, there are no American troops on the ground in civil-war-torn Syria and aren't likely to be.
The Pentagon has identified some 1,200 Syrian opposition fighters for potential training at one of four sites located in nearby countries. Washington last week reached an agreement with Ankara to have U.S. and Turkish troops train the fighters at a new facility in Turkey. The U.S. is expected to announce a similar deal with Jordan in coming days, and additional agreements with Saudi Arabia in one to three months and with Qatar in six to nine months.
-- Brendan McGarry can be reached at Brendan.McGarry@military.com.