Mayor declares 2014 the 'year of the Bible' in Texas city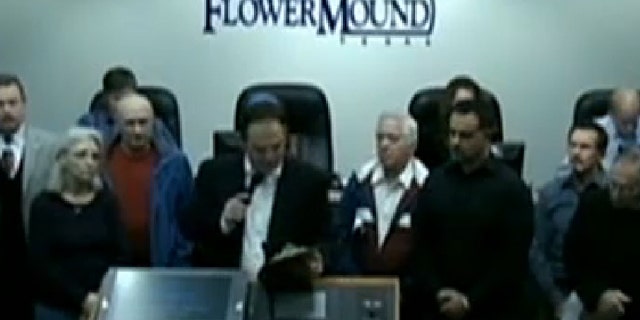 The mayor of a Texas city is raising some eyebrows after he officially declared 2014 the "year of the Bible."
MyFoxDFW.com reports Tom Hayden, the mayor of Flower Mound, made the declaration at a city council meeting last month.
Hayden says he had considered making the declaration for two years because he wants his community to connect through the Bible, and finally decided to do so in 2014.
"There's so much benevolence on helping your fellow person," Hayden told MyFoxDFW.com. "And the morality that helped build our country is based on the values that are found in the Bible. And as we look at problems, maybe we're getting away from those values. And in my little small way, I want to encourage people to get back into those values."
Hayden hopes to do so by encouraging all the residents of his town to read the entire Bible together in a year. Daily passages will be posted on a website called thebible2014.com, which was created by the Calvary Chapel of Flower Mound "as a connecting point to fulfill the Mayor's vision."
However, some residents are not sold on the mayor's idea.
"He was elected mayor," Curt Orton told MyFoxDFW.com. "Not as the spiritual leader of Flower Mound."
Hayden's move is not without precedent. President Reagan made a similar declaration in 1983, and Hayden references Reagan and other presidents in his declaration.
Click for more from MyFoxDFW.com.