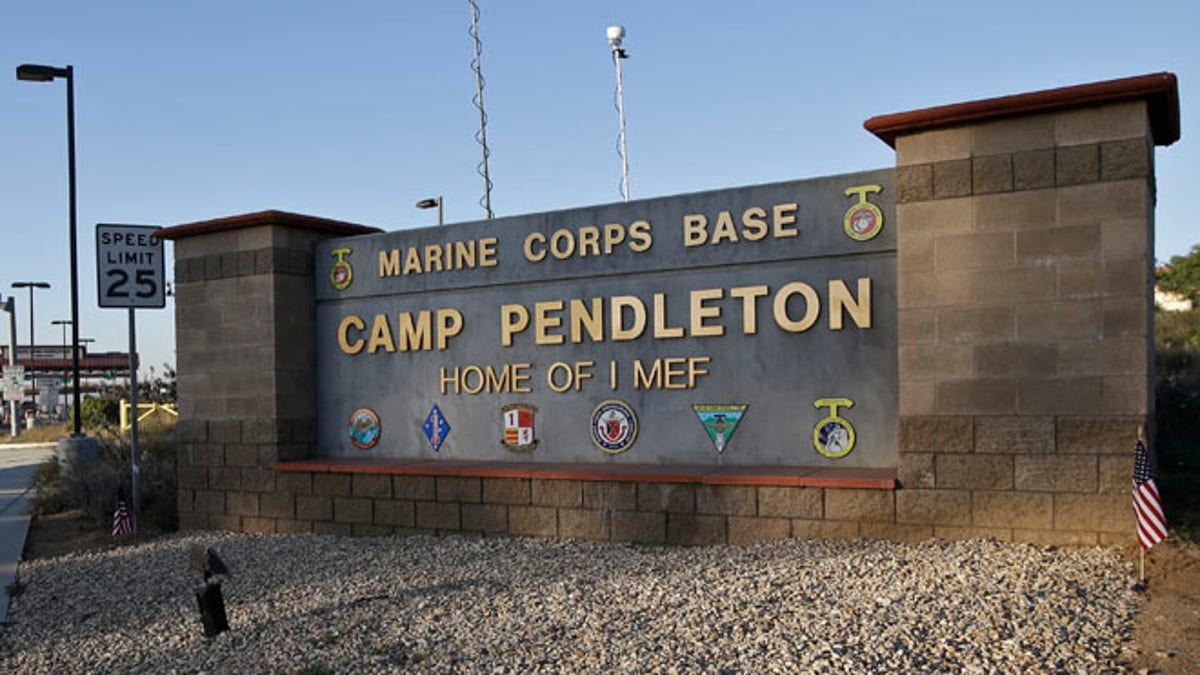 Marine Corps investigators are looking at a ruptured underground gas line as the possible cause of a fire that engulfed a vehicle Wednesday at Camp Pendleton in California, injuring 14 Marines and a Navy sailor -- five of whom remain in critical condition.

A source close to the investigation said the fire did not start from inside the amphibious assault vehicle, as had been reported. The Marines and sailor were part of the 1st Battalion, 1st Marine Regiment and 3rd Assault Amphibian Battalion.
"The units were conducting a combat readiness evaluation as part of scheduled battalion training at the time of the incident," said a statement from the U.S. Marine Corps.
Officials first thought the engine might have overheated and somehow caused a fire onboard. Now they believe when the vehicle left a main road during a large field exercise, it ran over an underground gas pipeline, rupturing the line and somehow starting a fire onboard which turned the vehicle into a death trap.
"The fire did not start inside the vehicle," the U.S. military official said, who instead believes bad luck contributed to the incident.
The Armored Amphibious Vehicle, AAV or "amtracks," as they are also known to the Marines, is a tracked armored vehicle which carries 25 fully loaded Marines and has a crew of at least four including the driver, crew chief/commander, gunner and rear crew member.
The accident in California was one of three tragic incidents for the U.S. military this week.
During the past three years, at least 185 American troops have been killed in training accidents – four times more than in combat during the same period. Many of the mishaps occurred in the summer.
"Perhaps the greatest harm to our national security and our military is self-inflicted, I repeat self-inflicted," Sen. John McCain, R-Ariz., said Wednesday on the Senate floor. "We are killing more of our own people in training than our enemies are in combat."
Just one day after McCain spoke, tragedy struck again.
A U.S. Army Special Forces soldier, Staff Sgt. Alexander Dalida, was killed during demolition training at the John F. Kennedy Special Warfare School at Fort Bragg, N.C. Seven other special forces students and instructors were wounded.
On Tuesday, a soldier from the Army's 1st Infantry Division, Staff Sgt. Sean Devoy was killed during helicopter training at Fort Hood in Texas.
It's been especially deadly lately.
Since June, at least 42 U.S. service members have been killed in non-combat accidents, including two deadly warship collisions in the Pacific, two Marine Corps plane crashes and two Army Black Hawk helicopter crashes. McCain and House Armed Services Committee Chairman Mac Thornberry said they believe U.S. troops are being asked to do too much with too little and with aging equipment.
A list of some of the recent incidents include:
• June 17 - USS Fitzgerald collision - seven killed
• July 10 - USMC cargo plane crash - 16 killed
• August 5 - USMC Osprey crash - three killed
• August 21 - USS McCain collision - 10 killed
• August - Two Army Black Hawk crashes - six killed
Sen. Tom Cotton, R-Ark. has an amendment to end the Budget Control Act which gutted military beginning in 2011. The amendment has drawn bipartisan support on Capitol Hill.
A vote by Congress on the 2018 defense bill is expected next week. Included in the bill are billions of dollars earmarked to fix aging aircraft and get more training for the military in the wake of these deadly recent accidents.
"Part of the underlying cause of the training and maintenance problems that plague our military is Washington's dysfunctional budget process," said House Armed Services Committee Chairman Rep. Mac Thornberry. "We cannot allow that to continue."