March for Our Lives organizers rally for 'common sense' actions on guns
Marjory Stoneman Douglas High School students and March for Our Lives organizers said Sunday they will continue the push for "common sense" actions to be taken on guns, rather than a complete ban on all firearms, in the wake of the deadly shootings.
Cameron Kasky and Delaney Tarr, survivors of the Florida school shooting that killed 17, told "Fox News Sunday" what they hope to accomplish after hundreds of thousands of people nationwide participated in the demonstration to end school violence and push for better gun control. Kasky said people are not marching to "take everybody's guns away."
"We are not trying to take everyone's guns away. The NRA wants people to think that. They are fear-mongers. They want to sell weapons by exploiting people's fears," Kasky told "Fox News Sunday." "So the second we want to put common sense regulations on these assault weapons, the NRA [National Rifle Association] will say, 'They are trying to steal every single one of your guns.' And people will believe them."
"Fortunately, majority of the American people see past this," Kasky added.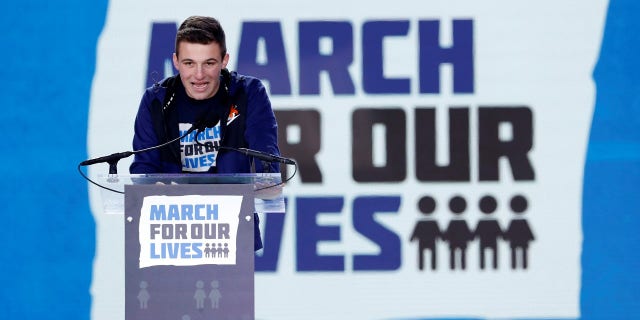 FOX NEWS POLL: VOTERS FAVOR GUN MEASURES, DOUBT CONGRESS WILL ACT
Kasky's call for "common sense" regulations include issuing mental health checks and having gun owners be age 21 and older. He said assault weapons should be completely banned, but smaller guns used for protection could be sold under better regulations.
SECOND AMENDMENT SUPPORTERS VOICE DIFFERENT IDEA OF 'MARCH FOR OUR LIVES'
"I think getting a handgun to protect your home is an important thing if you need to, but it can't be that easy," he said.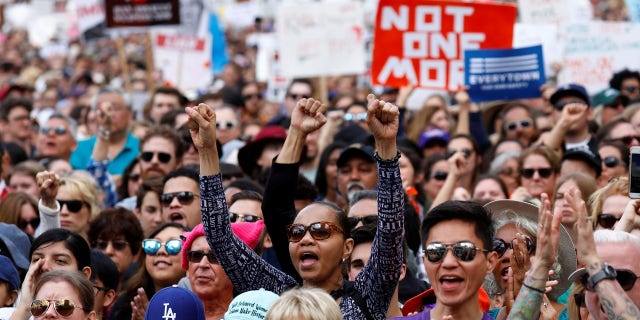 Tarr also criticized President Trump after the administration announced Friday it would ban bump stocks and "all devices" that turn otherwise legal weapons into "illegal machine guns."
"Words are fine and dandy. I'm glad he [Trump] said those words because those are some things that we would like to see. However, I have not seen any taken action to follow through on those steps," Tarr said.
She also slammed Trump's idea of arming teachers in classrooms, saying highly-trained professionals should be the ones armed with weapons.
"A teacher's job is to educate, not defend," Tarr said.
OPINION: GUN CONTROL IDEAS SOUND GOOD, BUT ARE DEEPLY FLAWED AND WON'T SAVE LIVES
The march's organizers said it was important for people to take initiative and participate in the march on Saturday. Kasky said the movement has prompted the younger generation to register to vote — often the group with the lowest turnout rate during elections.
"The strongest thing we have going for us at this time is that this is a youth's movement – this is led by the youth and for the youth," Tarr said. "And if we can encourage these people to take action, to be participating in our society and in our politics, that's going to actually encourage our voters to actually turn out."
She continued, "And that's going to be something that's going to continue the momentum because even when the media leaves, these people are still there and are still fighting for their own lives."