Manhunt for gunman in deadly ZombiCon shooting in Florida
NEWYou can now listen to Fox News articles!
Authorities in Florida are searching for the gunman who opened fire Saturday night at an annual event called ZombiCon, killing one and injuring four.
Lt. Victor Medico of the Fort Myers Police Department said the shootings began at 11:45 p.m., The News-Press reported. Medico said the four people that were injured are being treated at a hospital for non-life threatening injuries.
"There was a lot of witnesses down here, there were a lot of people taking pictures, videos with their cellphone," Medico told the paper. "Anything that could help with this investigation would be greatly appreciated."
A Fort Myers Police Department spokesperson told WFTX that around 20,000 people packed the downtown area of the city for the event. Medico said the scene was described as "shoulder to shoulder."
A statement on the ZombiCon Facebook page said organizers were saddened by the news and the group takes the safety of its patrons very seriously.
ZombiCon has been a popular event for nearly a decade, but some local residents and business owners have not welcomed the crowd of costumed revelers in the street dressed as limping, bloated, degrading corpses. Restaurant posted signs on its doors, warning visitors Zombicon participants were not welcome.
"Quarantined. No Zombies allowed," the signs read.
Several members from a religious group also picketed the event this weekend.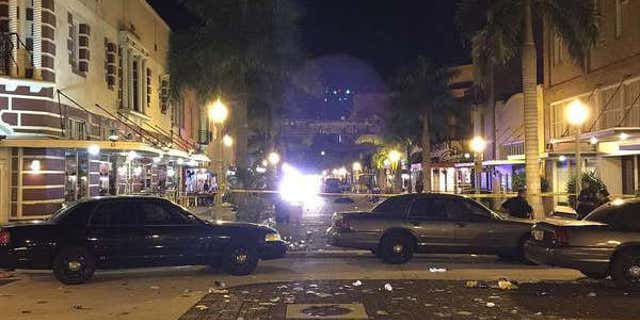 Police responded quickly. Officers were seen carrying rifles, barricaded an area and told people that downtown was closed. Lee County Sheriff's Office set up a command center. Police did not identify a motive.
The paper reported that the shooting marked the second time in a week there were shots fired in the downtown area.
The Associated Press contributed to this report