Man charged with killing German socialite wife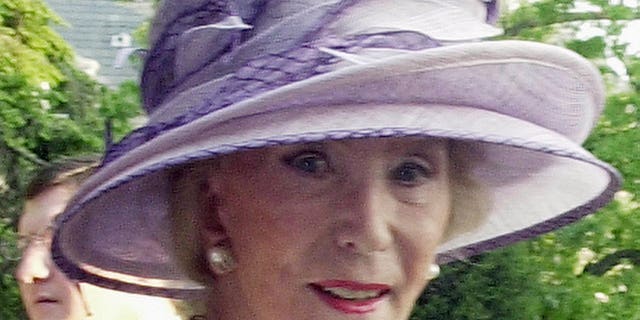 WASHINGTON – The husband of a slain German socialite had scratches on his face after the woman was killed, and he presented her relatives with a forged letter stating that he was entitled to a $150,000 payment upon her death, police said Wednesday.
Albrecht Muth, 47, was due in court to face charges of second-degree murder in the death of Viola Drath, a day after his arrest. Charging documents released before the hearing say the 91-year-old Drath died of strangulation and blunt-force trauma.
The couple wed in 1990 in what Muth has described as a "marriage of convenience" and entertained diplomats at their off-yellow row house in the well-heeled Georgetown neighborhood. But their relationship was plagued by infidelity and allegations of violence.
Muth also made outlandish claims about working for the Iraqi army, though police said he had no formal job and was supported by his wife with a monthly $2,000 allowance.
In an interview Monday with The Associated Press, Muth said he found his wife dead Friday morning in the bathroom, called police and didn't try to revive her. Detectives later told him that he was the primary suspect and that they had DNA evidence linking him to the scene.
Muth has denied wrongdoing and wrote an obituary for his wife stating that she died of a head injury from a fall. However, police have said her injuries were inconsistent with a fall and that no one other than Muth had access to the home in the day leading up to his wife's death.
Muth said Monday that he didn't have a lawyer because he had nothing to hide, and it's not clear if he's gotten one since.
The German-born Drath was a correspondent for the German newspaper Handelsblatt, wrote columns for The Washington Times and authored several books.
She also developed political connections during her many years in the U.S. In 2008, she was appointed to the White House Commission on Remembrance, which honors American troops killed in service. The couple also hosted a 2005 dinner marking the 60th anniversary of Victory-in-Europe Day, attended by military and diplomatic officials, according to an article in The Washington Times.
But she had a stormy relationship with her husband, another expatriate whom she met in the United States in the early 1980s. He pleaded guilty to assaulting Drath in 1992 and was sentenced to a year of home confinement. Muth became romantically entangled for several years with a man who eventually sought a restraining order against him in 2004.
In 2006, he was accused of assaulting Drath with a chair and pounding her head on the floor in a fight that began with insults about intellect and social status. Muth told Drath her daughter was a saleswoman; Drath replied that Muth could not get into law school, according to court papers. The case was dropped after Drath declined to pursue the charges, and Muth has called the episode a fabrication.
Police say Muth had scratches on his face suggesting a struggle and also had a chipped tooth. Detectives also found a letter, dated April 11 with a forged signature purporting to be Drath's, stating that Drath's family was to pay him $150,000 if she died. The letter said Muth would get an additional $50,000 if the liquid assets in her estate totaled more than $600,000. Muth showed the letter to Drath's family after she died, but police have determined the signature was forged.
Muth said he lives by a code of Germanic precision and exactitude, able to clock the length of his regular neighborhood walks by the amount of time — 27 minutes — it takes to light, enjoy and extinguish his favored cigars. He says he became a German intelligence officer as a teenager and met Drath in the early 1980s when he helped organize foreign press relations with the Republican party. He would have been a teenager at the time.
But he also appears to have a record of exaggerating or lying about his past. He claimed in the interview with AP to be a staff brigadier general with the Iraqi army and proudly displays photographs of himself in a military uniform. The Iraqi embassy, however, says he's never been part of their army or government.