Man caught urinating near LA train station found to have cache of weapons, police say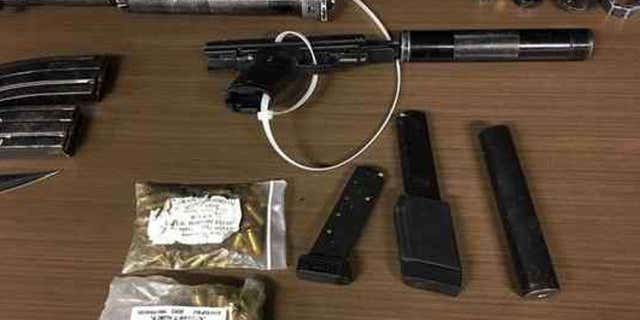 NEWYou can now listen to Fox News articles!
A man caught urinating in public at a Los Angeles County light rail station Wednesday was found to be armed with a cache of weapons in a duffel bag, police said.
Christopher Goodine, 28, was arrested at the Metro Gold Line's Sierra Madre station in Pasadena at around 9 a.m., the sheriff's department said. Authorities said they found an AR-15 rifle, a .40-caliber handgun, a machete-like knife, silencers, loaded magazines, bags of bullets, a Bible and a notebook in the bag Goodine was holding.
The markings on the handgun indicated that it was restricted for law enforcement use only, officials said.
Sheriff Jim McDonnell said there are no indications of terror activity and it is unclear why he was armed.
"For these deputies, just another day … looking at the small things that end up turning into big things," McDonnell said. "There but for the grace of God, we could have had a tragedy today here in Los Angeles."
The Los Angeles Times reported that Goodine is Union City, Ga. resident. A man with the same name was arrested in 2015 after he walked into the Waldorf Astoria in New York City with a bulletproof vest strapped around him and a ski mask over his face, according to DNAInfo. At that time, police described the man as "quasi homeless" who "likes to keep clean" and has "strong concerns about personal safety."
Goodine was being held on $10,000 bail and is scheduled to appear in a Pasadena courtroom Friday, according to jail records.
The Associated Press contributed to this report.