Louisville officer spotted on video helping rescue 2 from burning car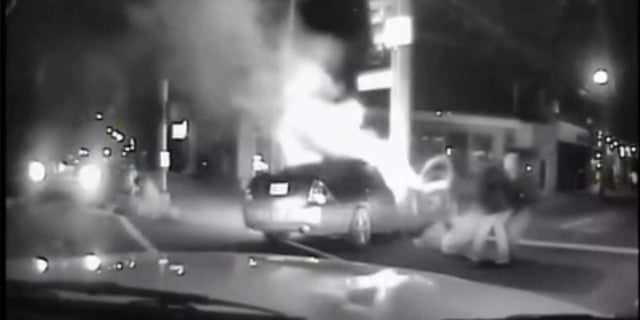 NEWYou can now listen to Fox News articles!
A Louisville police officer and Good Samaritan are being praised for selflessly rescuing two people from a car that struck a pole and caught fire.
When Officer Jeff Rogers arrived at the scene, a witness already was pulling the unconscious driver out of the car, WDRB reports.
GOOD SAMARITAN WHO HANDED OVER $15K GETS THE UNCLAIMED CASH
Rogers went to the other side of the car and worked on getting the passenger's side door open. Just before the car was fully engulfed in flames, the pair pulled the passenger out of the car and dragged him to safety.
MAN CONVICTED OF STABBING GOOD SAMARITAN IN DELAWARE
Dashcam video of the February 2 crash was released by police on Tuesday showing the entire rescue.
Both Rogers and the other rescuer will be nominated for a life-saving award, police say.