Louisiana woman hailed as a hero for stopping man from beating police officer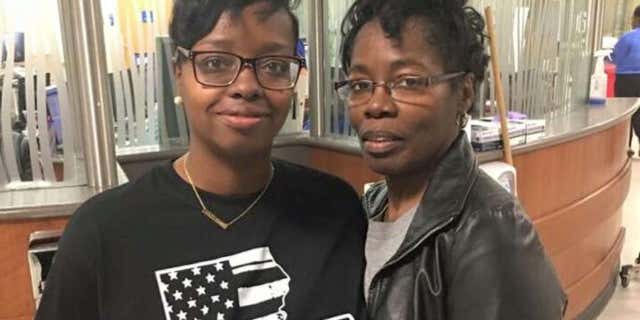 Authorities said a Louisiana woman "made a big difference" Sunday when she jumped on a suspect's back to save a police officer from a brutal beatdown.
Vickie Williams-Tillman, 56, was being hailed as a hero, The Advocate reported. Williams-Tillman was driving to a store, listening to gospel music on her radio, when she spotted the Baton Rouge officer and the suspect.
Baton Rouge police spokesman Sgt. L'Jean McKneely said the suspect grabbed the officer's baton and repeatedly bashed him on the head with it, and also tried to grab the officer's gun.
"I could see in his eyes he needed help," Williams-Tillman told The Advocate. "You don't have time to think about it … I did what God needed me to do."
Police said the officer found 28-year-old Thomas Bennett asleep inside his vehicle with drug paraphernalia out in the open at around 8 a.m. Bennett became aggressive after he exited his vehicle and that's when the squabble started.
Soon at Williams-Tillman jumped on the man's back, police backup arrived and the suspect was apprehended after being shot with a stun gun. The 44-year-old officer was not identified.
Baton Rouge Mayor-President Sharon Weston-Broome called the woman a courageous hero.
"Vickie Williams-Tillman epitomizes the true Good Samaritan," Weston-Broome said. "She reached out and offered a courageous and unconditional response to the officer. Ms. Williams-Tillman is a hero and demonstrates the true meaning of loving God and loving your neighbor."
Williams-Tillman said she didn't think twice about helping the officer. "It was something that went through my soul," she said. "You don't think about the risk."
Bennett was arrested on aggravated batters, disarming a police officer, battery on a police offer, resisting an officer with violence, possession of cocaine and possession drug paraphernalia charges.
The police officer suffered a few wounds to his head. Williams-Tillman injured her wrist.
The officer and Williams-Tillman embraced in a hug after they were both treated at the hospital.
The Associated Press contributed to this report.