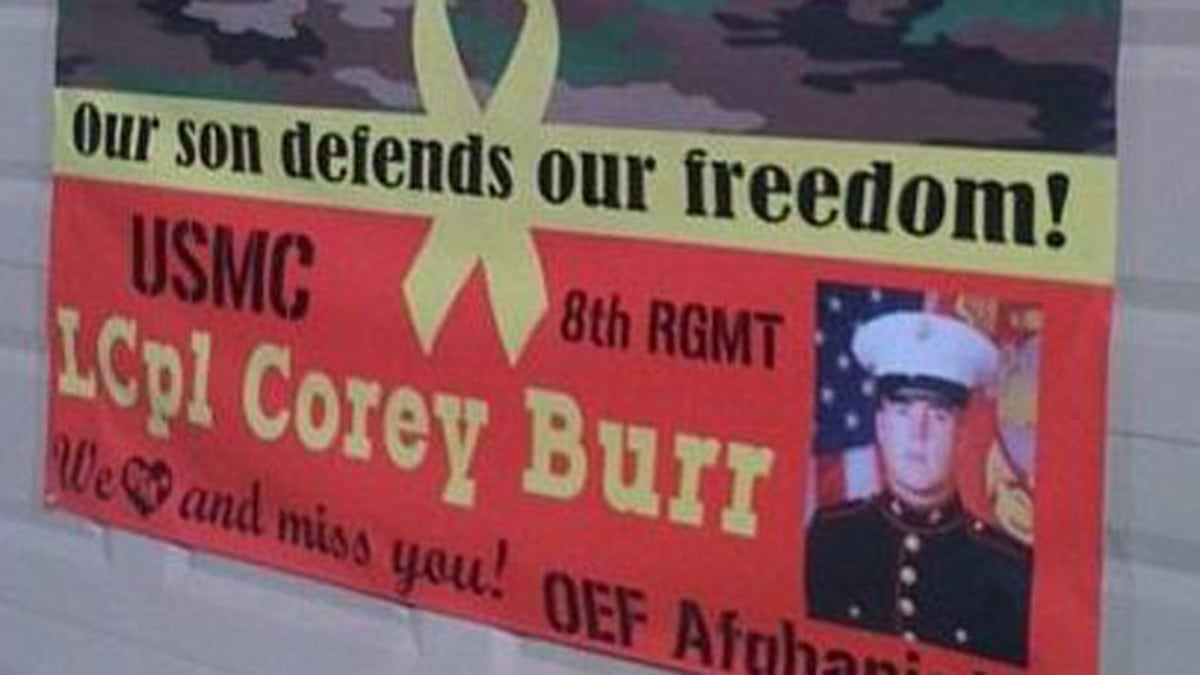 A Louisiana couple says they're being sued by their homeowners' association for refusing to take down a sign honoring their son's military service.
Timothy and Jodi Burr, of Bossier City, La., hung a banner on their front lawn in January after their son, 20-year-old Marine Corps Lance Cpl. Corey Burr, deployed to Afghanistan for 14 months. The 3-by-6-foot sign shows a picture of their son in uniform with the words: "Our son defends our freedom!"
Since then, the Burrs say they have received several letters from the Gardens of Southgate Association, Inc., requesting them to remove the banner because it violates subdivision covenants that prohibit homeowners from erecting signs in public view. The couple said they were served with a lawsuit a couple of weeks ago after they refused to take down the sign.
"Our covenant states no sign on any lawn in view of the public," Jodi Burr said in an interview Monday with FoxNews.com.
But Burr called the association's lawsuit "selective enforcement," claiming that there are "numerous signs throughout the neighborhood" that have never been challenged by the association.
"It shocks me greatly," Burr said, noting that lawns in the small military community -- situated right near the Barksdale Air Force Base -- have signs supporting everything from sports teams to local schools.
The covenants of the subdivision state that only real estate or builder signs are allowed in public view, but "there are even religious signs" seen in the neighborhood, she said.
Burr said she and her husband contacted the association several times, asking to meet with representatives to discuss possible revisions to the covenants. Burr also told FoxNews.com that she was willing to change the size of the banner, but never received a response.
In a statement sent to FoxNews.com, Geoffrey D. Westmoreland, who represents the homeowners' association, said it supported and agreed with the sign's "message."
"The message and the sign located in the Burrs front yard has nothing to do with the current legal dispute involving that sign," the statement said.
Burr also said she believes the association's issue with the banner may be its size -- not its content.
"I'm speculating, though it's never been said to me, that it's the size," she said.
Burr said her family has no intention of removing the banner.
FoxNews.com's Cristina Corbin contributed to this report