Lava from Hawaii volcano nears an evacuation route, warning issued on gas exposure
HILO, Hawaii – Lava from one of the world's most active volcanoes snaked closer to the Big Island's Highway 137 — coming within a mile and a half Monday night to choking off one of the last remaining evacuation routes for residents in lower Puna, officials said.
Scientists from the U.S. Geological Survey said that red-and-orange lava continues to flow from fissure 17, but has slowed to about two-tenths of a mile in the past six hours. The situation is considered extremely dangerous.
USGS officials said the lava flow has been releasing audible jets of gases that they could be heard as scientists flew over the area.
Kilauea began erupting on May 3. Since then, fissures have been generated mostly in Leilana Estates subdivision, where nearly 2,000 residents were ordered to evacuate. Lava has destroyed more than 40 structures, including two dozen homes.
Geologists warn that Kilauea's summit could have an explosive steam eruption that would hurl huge rocks and ash miles into the sky.
Officials have also cautioned that some of the vents formed by Kilauea are releasing sulfur dioxide at levels that pose a choking hazard. The Hawaii County Civil Defense said the warning applies near the southeast area of Lanipuna Gardens as well as some of the neighboring farm lots.
Over the weekend, the number of residents who have checked in at one of the two Red Cross shelters set up in Pahoa went from about 150 to nearly 500. There was also a large concentration of people outside the shelter and senior center in Pahoa.
Sammy Linstrome, a resident of the area, says she feels safer on the farm.
"We're closer to our belongings and we know the people here," she said.
Others weren't willing to wait it out under the stars.
Workers from local businesses and restaurants have been offering donation everything from clothes to bananas.
Jennifer Waldrep, a dishwasher at the Tin Shack Bakery, told Fox News her boss let her use the oven to make pumpkin and coconut cookies for the people at the shelter.
"With everything that's going on, it centers me," she said. "Everybody that lives (around here) are trying themselves not to explode."
But as the eruptions become more extreme in nature, authorities are batting another unknown — adventure seekers and self-proclaimed lava hunters have been trying to dodge road blocks and use resident cards to gain access to the hot zones.
Alan Richmond, spokesman for the Hawaii Police Department, told Fox News it's a frustrating scenario.
"We've got the road blocks up in the area and about 100 National Guard on site that are supposed to be doing security," Richmond said. "We have put out alerts that remind people that if they aren't supposed to be in the area, they shouldn't be there."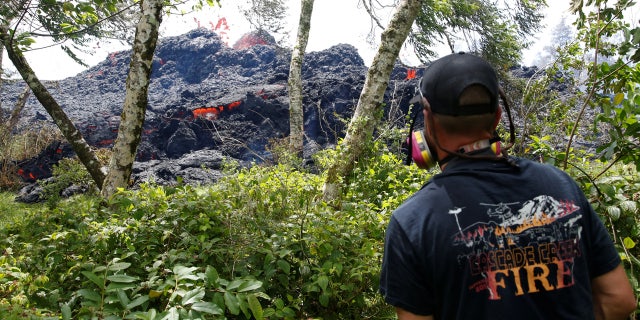 Richmond acknowledged that some residents who were given placards to allow them back into their homes during daylight hours, might have handed off the cards to others looking for a lava closeup.
All of this comes as the Big Island tourism board estimates the area has been hit with $5 million worth of cancellations from May through July, adding that there was "an immediate impact" after Kilauea first erupted on May 3.
Tourism on the island generated $2.5 billion in revenue last year. Board executive director Ross Birch told The Associated Press that this is the "first leak we're seeing out of the bucket."