Killed Student's Arrested Teammates Seek Dismissal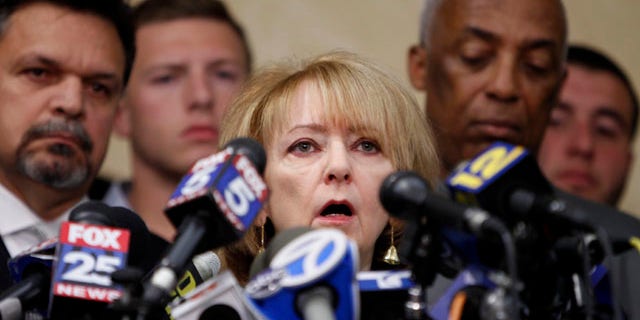 WHITE PLAINS, N.Y. -- Four college football players who were arrested after their teammate was fatally shot by police are seeking an immediate dismissal of the charges against them.
Defense attorney Bonita Zelman said the charges were a cover-up for police brutality and she is opposing a request from prosecutors to postpone the students' next court appearance, currently scheduled for Thursday.
"If they don't have enough evidence now to bring the case against them, they didn't have enough to charge them," Zelman said Tuesday night.
The office of District Attorney Janet DiFiore has asked Mount Pleasant Town Judge Robert Ponzini for a two-week adjournment, saying the four students' cases are part of an ongoing investigation into the Oct. 17 shooting death of Pace University student Danroy Henry. Henry, 20, of Easton, Mass., was shot to death in his car near the scene of a disturbance outside a bar in Thornwood, about 25 miles north of New York City.
Police say Henry sped away and hit two officers after another officer knocked on his car window. Michael Sussman, a lawyer for Henry's family, claims that witnesses, including passengers in the car, contradict the police account. The district attorney is coordinating an investigation.
The teammates were arrested in the chaotic aftermath of the shooting. Three allegedly interfered with getting medical aid to Henry and one was charged with breaking a store window.
Postponement requests rarely raise any opposition. But Zelman told the judge she "strenuously" objects, saying the prosecution's claim of an ongoing investigation "is simply insufficient excuse on which to deny our clients their right to a prompt arraignment."
Zelman said last month that her clients -- Daniel Parker, Joseph Garcia and Yves Delpeche, all 22, and Joseph Romanick, 21 -- were brutalized by officers at the scene. She has not publicly identified any officers.
Police say they have received no brutality complaint.
After the shooting, Henry was handcuffed and placed on the pavement by officers. Mount Pleasant police Chief Louis Alagno said last week that Henry received treatment from officers within three to five minutes of the first report of a shooting.
But some witnesses have alleged that Henry was neglected for up to 15 minutes after he was shot. Zelman said last month that Parker, of Lauderhill, Fla., knows CPR and begged police to let him try to save Henry, but instead "they put a gun to his ribs and they told him to back ... up or he would be next."
She claimed Garcia, of Floral Park, N.Y., and Delpeche, of Brooklyn, N.Y., were zapped with stun guns when they tried to intervene. Romanick, of Slidell, La., also was brutalized and was wrongfully charged with breaking a store window, she said.
Westchester County police said Parker, Garcia and Delpeche were charged with disorderly conduct and obstruction because they interfered with getting medical aid to Henry. Parker and Delpeche also were charged with resisting arrest. Police say only Delpeche had to be subdued by stun gun.
Romanick was arrested by Mount Pleasant police and charged with criminal mischief.
Zelman said she's fighting the postponement and seeking dismissal so "these false criminal charges won't be hanging over the heads of these innocent kids any longer." She also said some of the defendants' relatives have arranged to fly in from out of state.
Lucian Chalfen, a spokesman for the district attorney, said a request for an adjournment is common in the early stages of an investigation.