Kentucky Group Sues Over Nixed 'In God We Trust' License Plate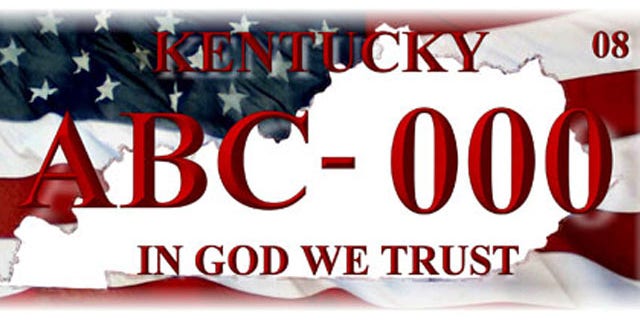 NEWYou can now listen to Fox News articles!
A Kentucky group has filed a lawsuit after being denied a request to create a specialty license plate bearing the motto, "In God We Trust."
Reclaim Our Culture Kentuckiana (ROCK) says it first applied for a Kentucky "In God We Trust" speciality license plate in 2007.
The Kentucky Transportation Cabinet creates specialty plates to spotlight various non-profit organizations. Motorists can purchase the plates in the process and may choose to make an additional donation to the non-profit in question.
ROCK, which says on its website that its mission is "to defend and sustain the founding principles upon which our country was built" and "a wholesome culture in which all families can flourish," said it planned to use those donations for education regarding the "dangers of pornography" and to provide help for "women and children victimized by pornography and the sex industry."
But even though ROCK says the application met all statutory requirements, the Transportation Cabinet denied it in 2008, saying the plate was designed to promote Christianity, Fox41.com reported.
"They stated that our primary purpose was the advancement of a particular religion because there is one bible verse that appears on the ROCK website," MaryAnn Gramig, director of policy and operations for ROCK, told FoxNews.com.
Kentucky law says in order to be eligible to create specialty license plates, a group must, among other things, be a non-profit based in Kentucky, contain no discrimination against any race, color, religion, sex or national origin, not be affiliated with any political party, and not be created by a group that, "has as its primary purpose the promotion of any specific faith, religion or antireligion."
"It was the judgment of the special plate committee in this cabinet that it just did not meet the statutory criteria that this panel laid out," Chuck Wolfe, a spokesman for the Transportation Cabinet told Fox41.com, saying the group violated the last tenet.
Gramig says ROCK does meet the religion clause.
"Even though ROCK is a faith-based organization, that's not our primary purpose…we focus on areas of decency," she said.
Wolfe said that mission wasn't reflected in the proposed plate.
"It just wasn't clear how the national motto -- somebody just seeing that on a license plate-- would be able to tell from that that this is an organization with the stated mission of being opposed to pornography and the sex industry," Wolfe told Fox41.com.
In response, ROCK filed a motion for summary judgment in Franklin Circuit Court last week requesting the court overturn the Transportation Cabinet's decision.
"Whether motivated by political expediency or simply faulty reasoning, the Transportation Cabinet improperly denied Reclaim Our Culture Kentuckiana's (ROCK's) specialty license plate application, even though ROCK's application met all requisite statutory criteria for issuance of the plate," the memorandum states. "The Cabinet's purported grounds for the denial are inconsistent with the controlling statutory language and the Cabinet's own prior decisions under this statute, are wholly unsupported by the record, and are contrary to law."
The case isn't the first time a debate over "In God We Trust" license plates had to be settled in the courts.
After a legal battle with the ACLU, Indiana secured the ability to offer "In God We Trust" license plates only after it agreed to stop waiving a $15 specialty plate fee.
Gramig says that case made ROCK more determined.
"We had indications from the ACLU that they would also attempt to sue any effort in Kentucky to bring a regular-issued state plate and so ROCK decided to bring one as a private group and still make it available to the citizens," she said.
Oral arguments in the case have been set for December 13.