Kentucky Derby horses to watch at Churchill Downs
Have your floral hats handy and your bow ties tightened, ladies and gentleman, because the 143rd Kentucky Derby is sure to excite. The annual horse race, taking place on Saturday, will be filled with fierce contenders — and a handful hoping to beat the odds.
Justify has charged ahead of the team, taking the No. 1 spot with 3-1 odds leading up to the May 5 race. Europe-based Mendelssohn trails closely behind with a 5-1 chance.
Following in the hoofs of crowned Derby winners, Justify will be posting up at gate 7. Six horses have won from the No. 7 post, most recently Street Sense in 2007.
When predicting winners, there are some important stats to remember.
Age matters. A horse that didn't start competing by age 2 hasn't won the iconic race since Apollo 135 years ago, The Washington Post reported.
The order also makes a difference. Horses located toward the center of track "often get swallowed up by the stampede to get to the rail" as soon as the gates open, the newspaper added.
Horse trainer Todd Pletcher has a leading four horses in the field: Magnum Moon, Audible, Vino Rosso and Noble Indy. He surpassed D. Wayne Lukas, his 82-year-old mentor, this year as the trainer with the most starters in Derby history with 52.
Pletcher won last year with Always Dreaming.
Here's a rundown of the most popular horses, according to the Kentucky Derby, and where they'll be posted up on the big day.
Justify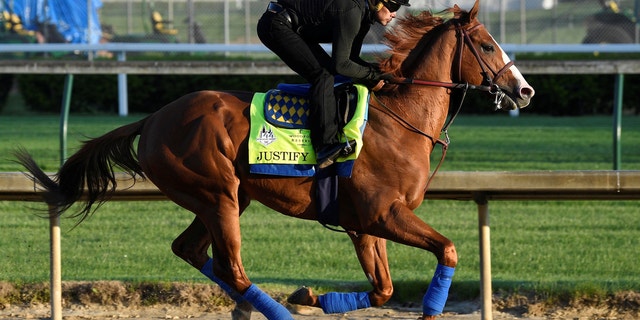 The top contender for this year's Kentucky Derby is Justify.
Justify secured his spot at the gate with his three-length victory over Bolt d'Oro in the $1 million Santa Anita Derby on April 7.
"The only reason I'm the favorite is because I beat Bolt d'Oro and he was the horse to beat," said Hall of Fame trainer Bob Baffert, referring to Justify's win over his rival last month.
Justify is one of two horses in Saturday's 1¼-mile race who didn't race at age 2. The other is 6-1 third choice Magnum Moon.
But Justify is on a winning streak. He's been 3-0 in his brief career, winning by a combined 19 lengths.
Mendelssohn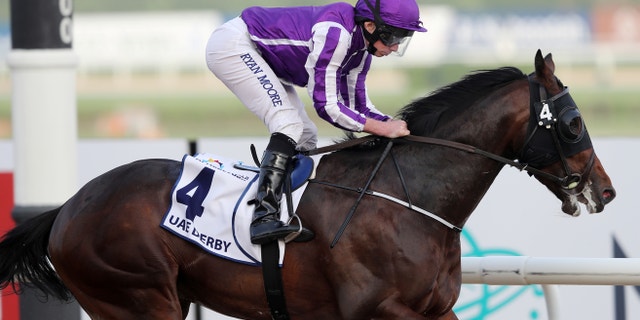 Mendelssohn is a close second when it comes to betting — with 5-1 odds. Trained by Irishman Aidan O'Brien, the horse will be placed at the No. 14 spot.
The horse shows promise, winning the $2 million UAE Derby at Meydan Racecourse in Dubai on March 31.
"The win was Mendelssohn's third straight for top Irish trainer Aidan O'Brien, who has had one of the best career's in racehorse-training history," according to a profile of the horse on the Kentucky Derby's website.
Mendelssohn will be O'Brien's sixth Kentucky Derby contender, and this time he's hungry for a win.
Magnum Moon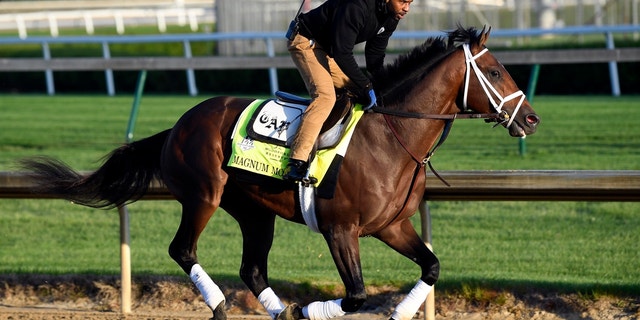 Don't underestimate Magnum Moon. The horse is on a 4-0 winning streak, taking first place at the Arkansas Derby and Rebel Stakes in his last two starts.
"He hasn't beaten a horse as good as Bolt d'Oro, and his speed figures have been a touch below the best of the three horses above him. But he belongs right in the top group," the Baltimore Sun reported.
Magnum Moon is currently sitting at 6-1 odds in gate No. 16.
The horse is one of the few that didn't start racing as a 2-year-old, but Pletcher thinks he can break that curse -- and Lukas agrees.
"I don't buy into the Apollo Curse or whatever at all, mainly because Bob Baffert and Todd Pletcher have got the horses," the four-time Derby-winning trainer said. "Todd's going to have his (horse) ready, and Baffert is going to have his."
Audible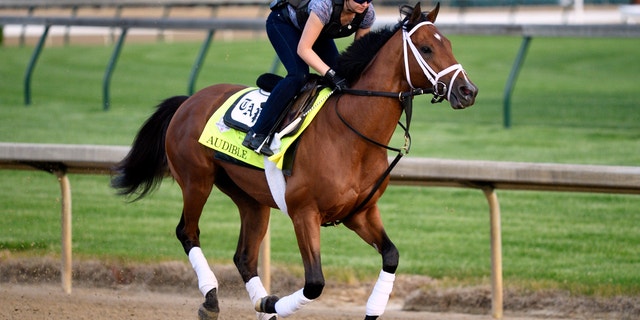 This Amazon-sponsored horse is going places. Audible is currently sitting at 8-1 odds in post No. 5.
Audible delivered the fifth Florida Derby win to both jockey John Velazquez and Pletcher in late March. The impressive win makes him a fan favorite.
Recent history predicts Audible will have a fighting chance to succeed at the Derby. Two previous Florida Derby winners — Always Dreaming in 2017 and Nyquist in 2016 — placed first in the Kentucky Derby.
"He's done everything right this year, and has shown he can win big races either by stalking the pace or coming from well back," the Baltimore Sun wrote. "He might be the second or third betting choice on Derby day, but he'll have many advocates."
Vino Rosso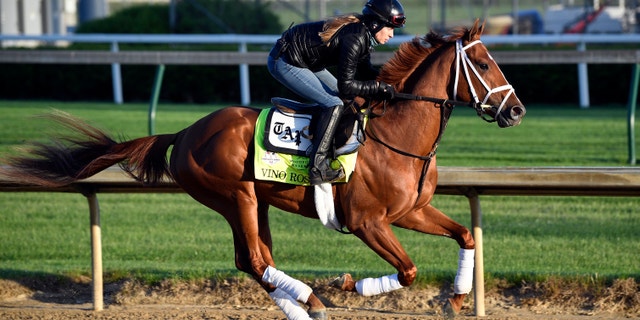 Another Pletcher favorite, Vino Rosso is sitting at 12-1 odds to win the Run for the Roses.
Ridden by John Velazquez, Vino Rosso ran 1 1/8 miles in 1:49.79 to win the $750,000 Wood Memorial (G1) at Aqueduct in Queens, New York, on April 7.
"Vino Rosso was a Keeneland September Yearling sale purchase for $410,000 by co-owners Repole Stable and St. Elias Stable," the Kentucky Derby site stated. "The Kentucky-bred showed substantial ability at age 2 and has lots of stamina in his pedigree to love classic distances."
However, top picks don't always win the $1,432,000 prize. You can find all 20 horses and their rank on the Kentucky Derby website.
The Associated Press contributed to this report.