Judges Ruling Sparks National Debate Over Cheerleading: Sport or No Sport?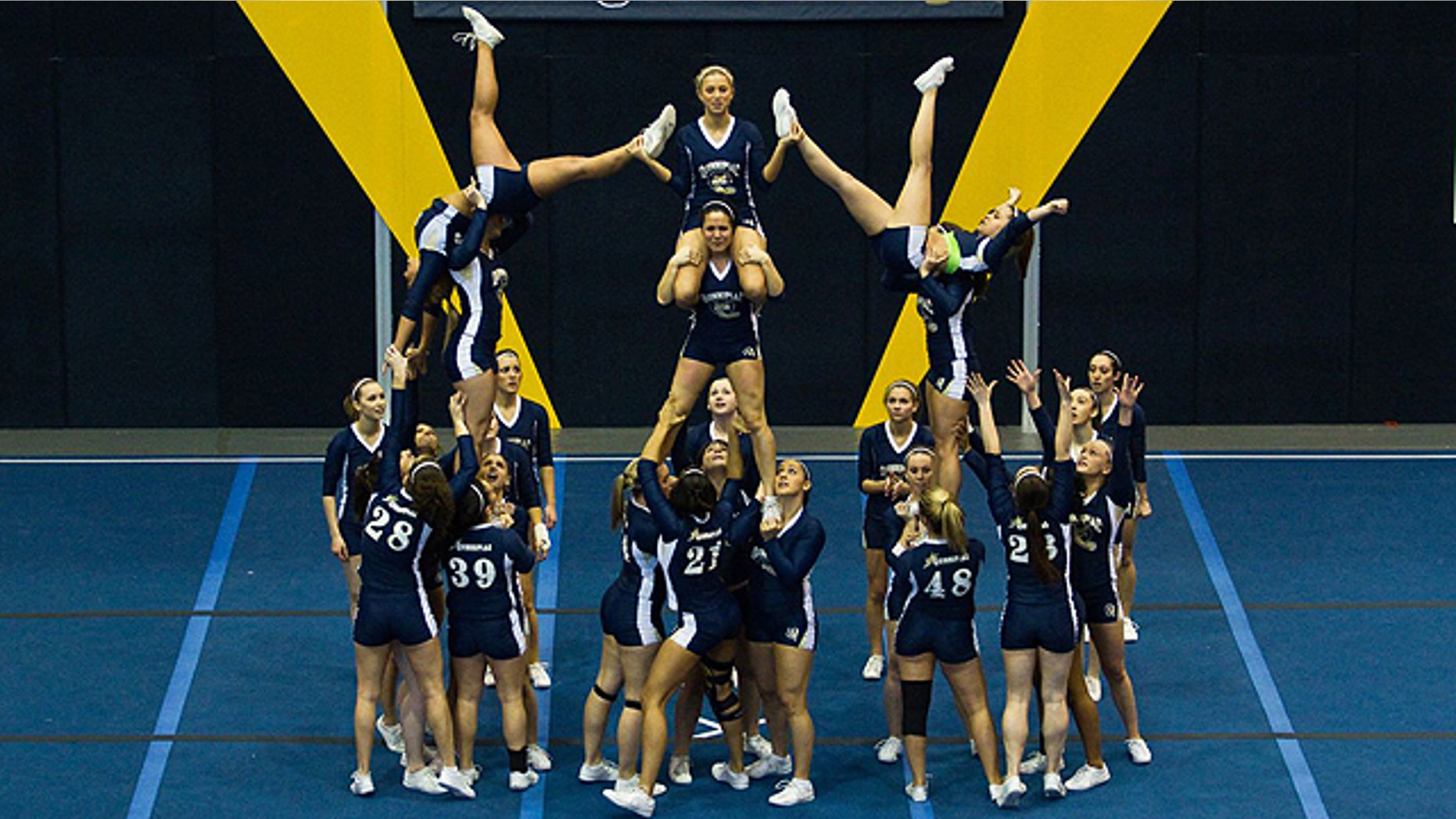 A federal judge's ruling that cheerleading is not a sport has taken a longtime debate out of the courtroom and into homes, gyms, schools and colleges nationwide. The never-ending question: Are cheerleaders athletes?
U.S. District Judge Stefan Underhill ruled Wednesday that Quinnipiac University in Connecticut could not replace its women's volleyball team with a competitive cheering squad, saying cheerleading is "too underdeveloped and disorganized" to be treated as an official collegiate sport.
Under the nation's Title IX regulations, which require universities receiving federal funds to offer equal athletic opportunities to both sexes, a sport must have coaches, practices, and competitions during a defined season. It must also have a governing organization, and its primary goal must be to compete, not just support other teams.
But cheerleading advocates say their activity meets those requirements and more.
"It's probably the hardest sport in any venue, whether it be club cheerleading, high school, recreational or college," said Jane Marella, director of the Gymnastics and Cheerleading Academy of Connecticut and cheerleading coach at Trumbull High School.
Cheerleaders do compete against other teams, Marella said -- just not one team at a time, like in traditional sports. And though cheerleaders cheer for other school teams, that's just a small part of the activity.
"This isn't about going in there and cheering for their football and basketball teams, it's about competing," Marella said. "The girls have to be gymnasts, they have to be able to tumble, they have to be dancers, they have to be able to be strong to lift other people or be lifted, they have to be able to have endurance . . . it's not the rah, rah with the pom poms."
And while the cheerleading isn't regulated to one defined season, Marella says that's only because it requires so much more physicality than most sports.
"The athletes for cheerleading need to be involved all year with the sport in order for it to be safe," she said. "And to me it definitely is a sport."
Former James Madison University cheerleader Eileen Lofrese says one of the problems might be the inconsistency in the activity from school to school.
"I don't think there's any way of keeping track of how many are competing and how many are not. If a team isn't competing, then it would be hard to classify them as a sport. I agree with that, if they're just simply supporting and leading cheers at other games," Lofrese told FoxNews.com.
"But if they were competing or trying to compete, then they should be considered a sport, and most collegiate cheerleaders that I knew, their goal was not for their football team to win, their goal was to compete at the national level."
The National Collegiate Athletic Association (NCAA) does not regulate cheerleading, Lofrese says, but there are governing organizations that oversee it.
"At the collegiate level especially, if the goal is to compete you have to actually qualify; you have to send in routines, you have to send in videos of what your squad can do to an actual organization. And they do have the UCA, the Universal Cheerleaders Association, and others as well that host camps all over the country."
If those governing organizations aren't sufficient, Lofrese says, the NCAA itself could regulate the sport.
"Given the number of injuries you've seen in the sport of cheerleading, the case is there for making this a sport and giving them better funding, coaching and guidelines to work with," she said.
If other schools do start to cut cheerleading programs because of Judge Underhill's decision, Lofrese says, it will be the schools that lose.
"I feel like these girls would still continue going to all-star gyms and competing on their own," she said. "The school would just be losing out on being associated with their accomplishments, and maybe lose some valuable students altogether."
But ACLU staff attorney David McGuire, a co-counsel in the case, said critics of the judge's decision aren't seeing the big picture of the effect it has in protecting Title IX and ensuring that schools are providing the appropriate number of male and female athletic opportunities in proportion to the number of male and female students at the school.
"This decision makes clear that schools can't make up numbers or just be creative in counting; they have to make genuine opportunities for women, and at this time the judge found that cheerleading doesn't constitute a genuine varsity athletic opportunity for women," McGuire told FoxNews.com.
"He did say that at some time in the future it may very well become one," he added.
Quinnipiac says it will do what it can to see to it that that happens as soon as possible.
"The University naturally is disappointed that the court has disallowed competitive cheer as a varsity sport," Lynn Bushnell, vice president for public affairs at Quinnipiac, said in a statement.
"We will continue to press for competitive cheer to become an officially-recognized varsity sport in the future."