Judge tosses out 2 charges against lawyer who shot his wife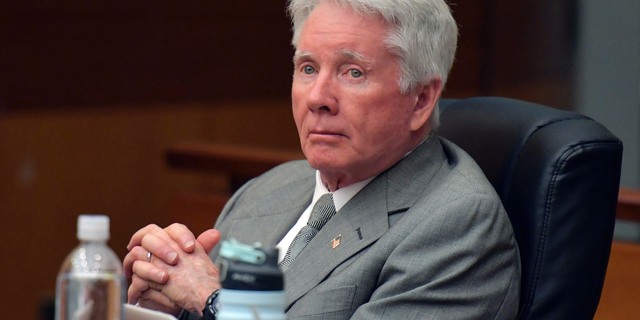 ATLANTA – A judge has tossed out two lesser charges against an Atlanta lawyer accused of murder in the fatal shooting of his business executive wife.
Claud "Tex" McIver, 75, still faces five charges in the September 2016 death of 64-year-old Diane McIver. His lawyers say their client loved his wife dearly and the shooting was a tragic accident, while prosecutors say McIver killed his wife intentionally for financial reasons.
The prosecution rested its case Tuesday after more than three weeks of testimony. Local media report that Fulton County Superior Court Chief Judge Robert McBurney on Wednesday dismissed two counts of influencing witnesses at the request of the defense.
The McIvers were wealthy and connected. He was a partner at a prominent labor and employment law firm and served on the state election board. She was president of U.S. Enterprises Inc., the parent company of Corey Airport Services, where she had worked for 43 years.
They were returning home from their ranch in rural Putnam County, about 75 miles (120 kilometers) east of Atlanta, on the evening of Sept. 25, 2016. Dani Jo Carter, a close friend of Diane McIver, was driving the couple's Ford Expedition, Diane McIver was in the front passenger seat and Tex McIver was in the back seat.
After hitting traffic on the interstate, Carter got off in downtown Atlanta. Concerned about the area where they exited, Tex McIver asked his wife to hand him a gun that was in the car's console. A short while later, McIver shot his wife in the back as they drove near a major park. Carter drove to Emory University Hospital, where Diane McIver died.
Bill Crane, a McIver family friend acting as a spokesman, told news outlets several days after the shooting that when the SUV was approached by people at an intersection, the McIvers were nervous about unrest surrounding Black Lives Matter protests and feared a carjacking. Crane testified that McIver later asked him to retract that statement.
Jurors also heard a voicemail that McIver left for Tom Carter, Dani Jo Carter's husband, in early October 2016 asking him to call him and saying that Dani Jo Carter was "about to send me to prison" and instructing Tom Carter to erase the message.
Prosecutors said McIver engaged in misleading conduct and was trying to prevent the communication of information about the case to investigators.
While those conversations may have been uncomfortable, they weren't criminal, McBurney said, according to The Atlanta Journal-Constitution.
McBurney did not dismiss a third influencing witnesses charge stemming from allegations that McIver told Dani Jo Carter to tell police she wasn't present when he shot his wife. The judge also left in place aggravated assault, gun and murder charges.