Judge accused of giving gun to felon is indicted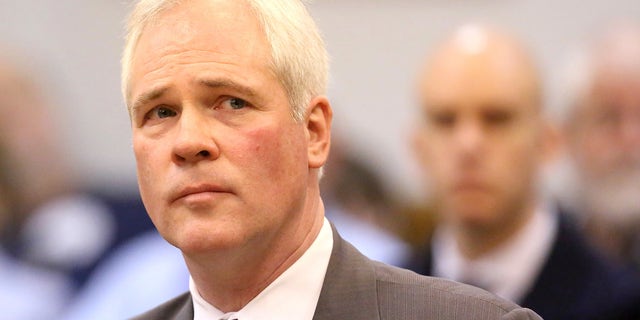 SALEM, Ore. – A Marion County Circuit judge who is fighting to convince the Oregon Supreme Court to let him keep his seat has been arraigned on felony charges that he twice provided a felon with a gun.
JUDGE REAFFIRMS DECISION TO KEEP DYLANN ROOF HEARING CLOSED
Vance Day was arraigned Thursday in Marion County Circuit Court in Salem, The Oregonian/OregonLive reported.
Day is also accused of misdemeanor official misconduct for allegedly using his official duties twice to obtain a benefit in late 2013 and early 2014.
The indictment doesn't give details about the benefits, but it names Brian Shehan as the felon Day allegedly aided and abetted in the crime of "felon in possession of a firearm," also in late 2013 and early 2014.
DYING GIRL CONVINCES JUDGE TO LET HER BODY BE FROZEN
An Oregon Department of Justice spokeswoman told the newspaper she couldn't provide further details about the charges Thursday.
Day spent leisure time with Shehan, a former Navy SEAL, who was in Day's Veterans Treatment Court program, according to a January 2016 report by the Oregon Commission on Judicial Fitness and Disability. Day drove Shehan to the home of Day's son-in-law in November 2013 so Shehan could do some work there, the report said.
Although Day had repeatedly told Shehan he was barred from being around guns, Day let Shehan handle a gun at the home, the report found.
Day couldn't be reached for comment through his defense attorney, Mike De Muniz. He hasn't been at work since Tuesday, said Phil Lemman, a spokesman for the Oregon Judicial Department.
Earlier this year the judicial fitness commission recommended that Day be ousted from his job for myriad reasons -- including that he allegedly refused to marry same-sex couples. Day is fighting the recommendation, with oral arguments scheduled before the state Supreme Court in April.