'It felt good knowing he would die': Woman accused of drowning fiance confessed, say prosecutors
The New York woman accused of drowning her fiancé in the Hudson River confessed to police that she had tampered with his kayak and "felt good knowing he was going to die," prosecutors said Wednesday, even as a body was pulled from the river nearly a month after Vincent Viafore disappeared.
"She stated that she tampered with the victim's kayak."
Angelika Graswald, who is charged with second-degree murder in the death of Vincent Viafore, appeared in court Wednesday for a bail hearing in Orange County, where details emerged of the Latvian woman's alleged confession. At the proceeding, Assistant District Attorney Julie Mohl said Graswald, 35, knew she was the beneficiary in two life insurance policies belonging to Viafore, 46. Graswald stood to gain $250,000 and "talked about what she could do with the money" after the death of Viafore, whose body has not been found, Mohl said.
"She stated that she tampered with the victim's kayak," Mohl said in recounting the alleged confession. "She knew it would contribute to his death."
Graswald told authorities she "felt happiness and relief" as she watched him go into the water, and that "it felt good knowing he was going to die," Mohl said.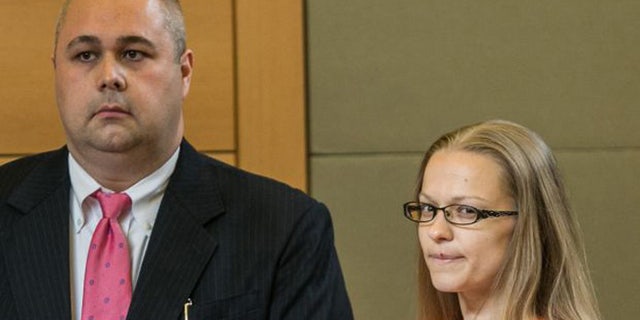 After the hearing, Graswald's lawyer, Richard Portale, appeared caught off guard by the apparent confession and said he statements may have been coerced or the result of a language barrier between police and Graswald, whose first language is Russian. Graswald's bail was set at $3 million in cash and she remains in jail. Prior to Wednesday's hearing, authorities had said there were "inconsitencies" in Graswald's story, but had not alluded to a confession.
"What's changed that has caused the government to now characterize my client's statements as a confession?" Portale said, according to the Journal News of Lower Hudson. "It's all going to come out, he added, saying he will determine whether his client's comments "were voluntary or forced."
Also on Wednesday, Poughkeepsie police said that a body was pulled from the Hudson shortly before noon, but would not comment on whether it was Viafore.
Prosecutors say Graswald killed Viafore and falsely reported she was unable to save him after he capsized on April 19. Police say they believe the crime happened on scenic Bannerman Island, 50 miles north of New York City.
The couple left Plum Point,on the eastern bank of the river, in separate kayaks at around 4:15 p.m. on April 19, according to authorities. They paddled to Bannerman's Island, where Graswald had worked as a volunteer, and stayed about two hours, Mohl said. When the couple was about two-thirds of the way back, "the victim's kayak filled with water, causing it to capsize," Mohl said. "The victim was holding onto the kayak ... he went under water and drowned," around 7:15 p.m.
Graswald did not call for help until 7:40 p.m., according to Mohl. When she did, she said she had visual contact with Viafore, but her call was cut off when her kayak tipped. Police say witnesses reported seeing Graswald "intentionally" capsize and, which she later told police she did because she wanted authorities to believe she tried to save Viafore, Mohl said.
The Associated Press contributed to this report