Iowa Town Dry After Flood Fears Cause Evacuations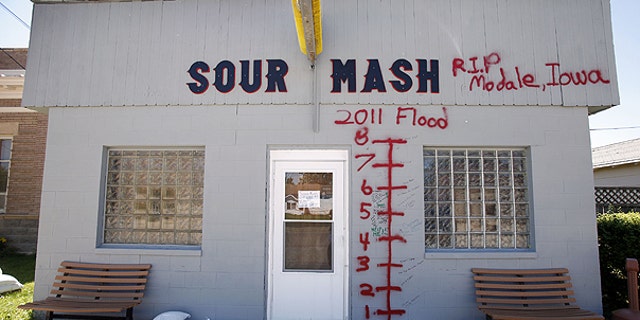 MODALE, Iowa -- Told their western Iowa town could be swamped by up to 4 feet of water, residents of tiny Modale pulled out their air conditioners, hauled off refrigerators and made plans to live elsewhere for weeks or even months.
Now, with the Missouri River at its height and the levees holding, many of the 300 residents are asking: Where's the water?
"It's almost like they put everyone in a panic, and they didn't have to," said Debbie Horan, manager of the United Western C-Store, which stores grain grown by area farmers. "Sitting and waiting. It's worse than anything else."
Horan said she and others are glad their community about 30 miles northeast of Omaha, Neb., hasn't been flooded by the surging Missouri River, but she wonders whether county officials overstated the danger when they explained the situation at a town meeting earlier in the month.
After being told that the Missouri would be at its highest level in nearly 60 years because of rain upriver and a massive Rocky Mountain snowpack, more than half the town left. Some taped notes printed with cell phone numbers to their buildings, then packed their belongings into trucks and drove off.
They can't help but wonder, was it worth it?
"It's all a big `if,"' said Clyde Robbins, a retired mechanic who hauled four semi-trailers full of engines and tractor parts to higher ground last week. "If the levees break. If the water comes. If it reaches Modale."
Harrison County Emergency Management Director Larry Oliver acknowledged frustration by residents, but he said it was their choice to leave. County officials simply informed them of inundation maps provided by the U.S. Army Corps of Engineers that made clear parts of Modale would be under up to 4 feet of water if levees broke, and that even more water was possible if heavy rain swept through the area. The last time the Missouri River was so high -- in 1952 -- flood waters swamped the town.
And while officials say the levees are holding so far, they note that the threat of a break remains.
"That was their decision to leave, and it would be their decision to return," Oliver said. "The flood threat remains as long as the high water remains. There's absolutely nothing on the table saying it's OK to go back, or anything like that."
Modale, a cluster of dusty grain bins and neatly trimmed neighborhoods, sits nearly 5 miles from the Missouri River within a flat spread of corn and soybean fields. The water has so far remained out of sight, held back by dikes closer to the river.
Only 75 miles downriver in Hamburg is evidence that levees lining the Missouri aren't foolproof. Several hundred feet of the levee collapsed there last week, sending water surging toward the southwest Iowa town that now is being protected only by a temporary levee.
Flooding has been a concern all along the river because of the massive amounts of water that the Army Corps of Engineers has released from six dams. Any significant rain could worsen the flooding especially if it falls in Nebraska, Iowa or Missouri, which are downstream of the dams.
During the next few days, the river is expected to rise as much as 5 to 7 feet above flood stage in much of Nebraska and Iowa, and as much as 10 feet over flood stage in parts of Missouri. It could stay above flood stage into August.
At Modale's sole restaurant, the Sour Mash Bar and Grill, co-owner Tracy Marshall said they had moved out their pizza oven and stopped serving lunch so they didn't have to store so much food. At home, they were living without a refrigerator, washer or dryer.
Marshall said people were living as if a flood had hit, but the town remained dry. With each passing day, she thinks more will resume normal lives and be off-guard should the levee break.
"When you're living in your house with no appliances -- no way of doing laundry or cooking -- it adds on to the frustration," she said. "People want to get on with life."
Connie Cleaver, who owns Memory Lanes photo studio in Modale, relocated her business to Denison, about 40 miles away, and has started taking new customers. Cleaver said the uncertainty about whether Modale would flood made it hard to decide whether to return.
Like others, she was relieved the town hadn't flooded, but she wondered about her decision to leave and whether she would ever return.
"Emotions are running really high right now," she said. "Not having any idea of what's to come. Everybody's in limbo -- for income, for their business, for the town. There's so much uncertainty."