Iowa teen says mom refused to help sister before she starved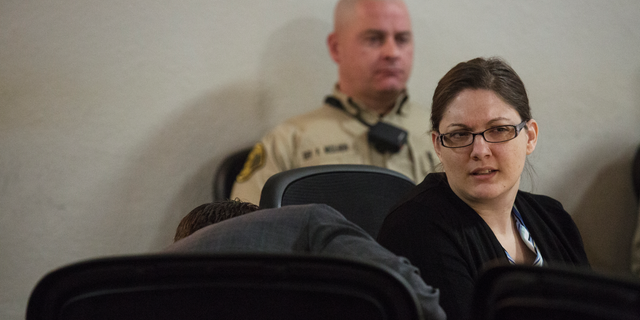 DES MOINES, Iowa – An Iowa teenager testified that his mother forced him and his two sisters to sleep on their bedroom floor in their own waste for months and that she refused to feed one sister in the days before she starved to death.
The teen told the Polk County jury on Wednesday that his sister Natalie had become too weak to get up to eat, but their mother told Natalie she wouldn't help her, the Des Moines Register reported .
"She said, 'Since you're not going to get up, I'm not going to feed you,'" he testified.
Nicole Finn, 43, was charged with murder, kidnapping and child endangerment after Natalie died in October 2016 at the age of 16. She's also accused of abusing her 16-year-old son and a younger daughter, who investigators say were severely malnourished and living in squalor in the family's West Des Moines home.
The son said Nicole Finn forced them to ask permission to eat, bathe or leave their room, but that she was often "not available" or "not willing" when they did ask. He said he and his sisters would sneak out of their bedroom window to beg for money to buy food, and that he once went two weeks without eating.
The teen also recounted Natalie's last night alive. He told jurors that he and his younger sister had been feeding Natalie water with a syringe in their room and that their mother told them to take a nap. They woke up around 8 or 9 p.m. and found Natalie had vomited and appeared to have no heartbeat, he said.
The younger daughter testified Thursday that her mother refused to let her and her siblings use the bathroom, so she had to resort to urinating on the bedroom floor. She said her mother knew how hungry she was because she fainted, and that she put a handwritten note in the bedroom window before her sister died that read: "Need food and money."
She and her brother testified that their mother gave CPR to Natalie before paramedics arrived at the house.
Nicole Finn's ex-husband, Joe Finn, is charged with kidnapping, neglect or abandonment and child endangerment. He wasn't living with the rest of the family when Natalie died. He has pleaded not guilty and his trial is scheduled to begin Jan. 8.
___
Information from: The Des Moines Register, http://www.desmoinesregister.com