Iowa State president says he will stop using school plane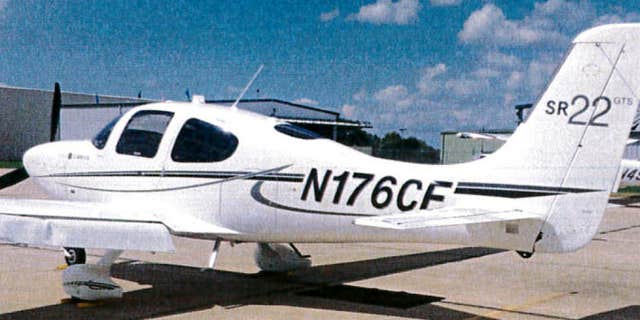 AMES, Iowa – The president of Iowa State University said Monday that he will no longer pilot a university airplane that he has used for trips that have mixed business and personal affairs.
President Steven Leath also said he and his wife will make a donation to the university's scholarship fund in the amount of costs associated with an accident in the Cirrus SR22 single-engine plane in July 2015. The university has said it paid $12,000 in repairs, in addition to costs to store the plane for weeks after the incident. The university said Leath wrote a check Monday for $15,000.
The moves come after The Associated Press reported Saturday that Leath suffered a hard landing in the plane in July 2015, on his way home from an 11-day trip to North Carolina, where his family owns a mountain cabin and Christmas tree farm business. The university has said Leath met with a potential donor in North Carolina and had personal business during the trip.
Leath said he reimbursed Iowa State for the cost of that flight as well as three other trips in the plane to North Carolina that included personal business. He has paid the school back at a rate of $125 per hour, which is well below the market rate for renting similar aircraft.
Leath said Monday that his reimbursements went "above and beyond what is required by Iowa State" policy because they covered the entire cost of the flights, not just the portion pertaining to personal business.
He also said the arrangement did not violate a state law that bars public officials from using state equipment or property "for any private purpose or for personal gain to the detriment of the state."
Leath said he believed that flying himself would allow for more flexibility in his busy schedule. He said his use of the plane was approved by the school's office of risk management and university counsel, who determined it would be allowed under Iowa State insurance policies.
He also said the university's senior leaders were aware he was flying himself. That contradicts a claim last week by recently retired senior vice president Warren Madden, who said any personal use of the aircraft was outlawed by school policy and that Leath would not be allowed to fly himself for safety and liability reasons. The school employs three professional pilots.
Leath has flown for about 10 years but earned his instrument rating for the Cirrus SR22 in January 2015 after receiving additional training. The university had purchased the aircraft at a cost of $498,000 months earlier, using private donations, university spokesman John McCarroll said Monday, adding that the school received a $28,000 credit for trading in an older plane.
The hard landing occurred when Leath was landing in Bloomington, Illinois, for a refueling stop. He has said gusty winds caused the plane's right wingtip to hit the ground, causing it to leave the runway. When the plane recovered, the left wing flap hit a runway light. An inspection found that both wings suffered "substantial damage." Leath and his wife, Janet, weren't injured.
Leath said he believed the accident would have been covered by insurance but the university didn't file a claim and paid for the costs itself for business reasons. Leath continued flying afterward, but he said Monday that he would stop doing so "to allay any future concerns."
State Sen. Rob Hogg, chairman of the Senate Oversight Committee, said he was pleased Leath was taking responsibility for the damage but that the lack of disclosure about the accident raised "significant concerns" about management of Iowa's three public universities.