Injuries reported after severe storms damage homes in North Carolina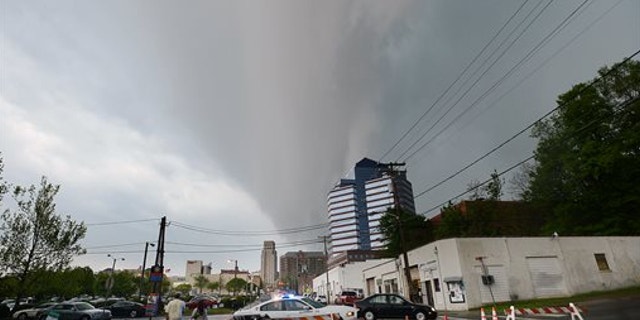 A series of strong thunderstorms rumbled through North Carolina late Friday, toppling trees, causing property damage and injuring several people.
Beaufort County Emergency Coordinator John Pack told AccuWeather.com that at least 15 people were transported to the hospital after a possible tornado moved through the county, located in the state's coastal plain.
Pack said there were also an undetermined number of "walking wounded" who went to the hospital. A state of emergency was declared late Friday evening restricting travel in areas east of the town of Washington, Pack added.
"The good news is that nobody died. That's remarkable in itself," he said.
According to AccuWeather.com, at least 140 homes were severely damaged or destroyed as the storm moved through Beaufort County. Officials also reported three mobile homes were damaged near the town of Chicod in Pitt County.
Emergency Services Director Noel Lee said he had no reports of significant damage and no evidence of any tornadoes despite numerous reports of funnel clouds.
The National Weather Service said late Friday night that it would send a survey team into Pitt and Beaufort counties on Saturday morning to assess damage from the storms, AccuWeather.com reported.
To the west, a strong storm took down trees and power lines in the Statesville area. The National Weather Service said the worst of the damage was northwest of the city, where a spotter reported garage doors blown in and siding ripped off homes.
Forecasters are predicting a significant chance of strong tornadoes this weekend across a large part of the nation's mid-section, an outbreak that could stretch from the Great Plains to the Midwest and South.
"Our run of relatively quiet weather may be about to come to an end," Bill Bunting, operations chief for the Storm Prediction Center in Norman, Okla., said Thursday.
Bunting said the coming system will start Saturday in the Plains — Nebraska, Kansas, Oklahoma, Texas and a sliver of South Dakota — and move eastward into Missouri, Arkansas and Louisiana on Sunday. The system is expected to stretch into parts of Illinois, Kentucky, Tennessee, Mississippi and Alabama later Sunday.
Strong winds in the upper and middle atmosphere will meet most air moving north from the Gulf of Mexico, creating conditions conducive for tornado development, Bunting said.
Bunting said that people in the affected areas should be aware that dangerous weather is possible. But when it comes to exactly where and how dangerous, he said it's too early to say.
Large hail and damaging straight-line winds of more than 70 mph are likely, in addition to possible tornadoes. The system is expected to bring heavy rain, so flash flooding and even some river flooding is possible, according to the National Weather Service.
The Midwest and South haven't seen many severe storms yet this spring, but Bunting noted that residents in the forecast area are accustomed to violent weather this time of year.
Bunting said people who are headed to outdoor activities, from golf outings to spring festivals, should make sure they can receive weather warnings in case they need to quickly find shelter.
If people need a reminder of how dangerous tornadoes can be, this weekend marks the third anniversary of a 175-twister, multi-day outbreak that killed 316 people, the third-deadliest outbreak in U.S. history.
The fatalities occurred as 122 tornadoes swept through on April 27, 2011, striking parts of Mississippi, Alabama, Tennessee, Virginia and Georgia.
The Associated Press contributed to this report.