Indiana man makes desperate 911 call after his truck plunges into an icy river
A quick decision by an Indiana man to call 911 right after his car plunged into an icy river on Wednesday ended up saving his life.
The Columbus Police Department said 66-year-old Gary Pugh was driving along a county road about 46 miles southeast of Indianapolis when his truck hit a slick spot, went down a steep embankment and landed upside-down in the Driftwood River.
"I hate to think what might have happened," Columbus Police Lt. Matt Harris told FOX59.
Dispatchers were able to use a GPS to find Pugh's exact location. In the 911 call, he could be heard describing his situation.
The dispatcher asked him: "You're upside down in your car?" Pugh calmly replied: "I am, yes."
When the dispatcher then asks if he is in the water and if the car is submerged, Pugh replied "partially."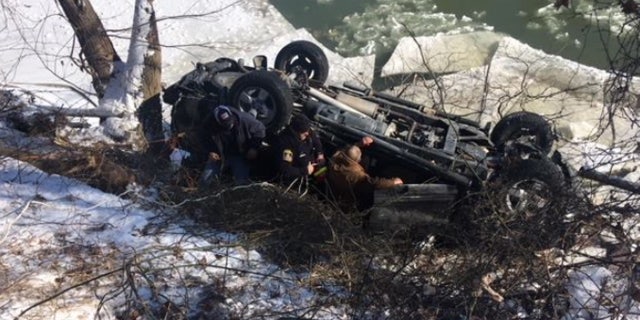 The dispatcher then tried to keep the 66-year-old calm, telling him to stay on the phone and that he was "doing a great job."
DRAMATIC VIDEO SHOWS GEORGIA FIREFIGHTER CATCHING CHILD DROPPED FROM BURNING BUILDING
Columbus Police said an officer who arrived at the scene slid down the river bank and forced a door open. Another officer was eventually able to remove Pugh from the vehicle after he spent about 15 minutes in the icy water.
"He was soaked when he got out the vehicle," Harris said. "He was very fatigued for being in cold water for as long as he was and was unable to get out of [the car] and up the bank without assistance."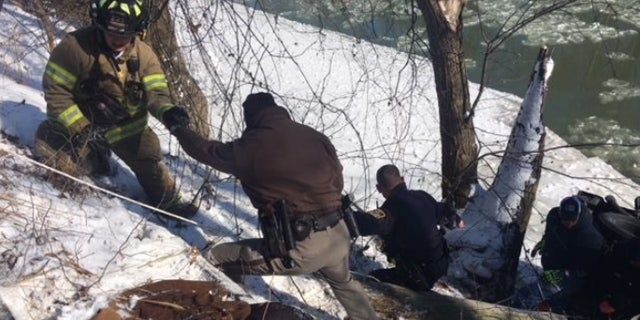 The 66-year-old was treated at the hospital for hypothermia and minor injuries from the crash. He has since been released.
Harris said the quick work by the 911 dispatchers and rescue workers helped turn the crash into a life-saving incident.
"We could've been looking at a much different scenario," he told FOX59.