Illegal immigrant suspected of killing Indianapolis Colts linebacker Edwin Jackson faces federal charges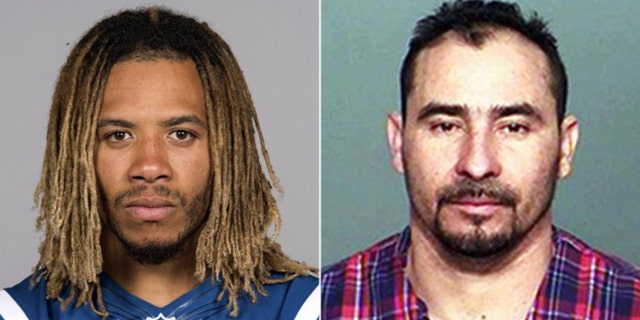 An illegal immigrant from Guatemala suspected of killing an NFL player Sunday in a drunken driving crash now faces federal immigration charges, the Justice Department told Fox News on Tuesday.
Manuel Orrego-Zavala, 37, had been deported but re-entered the U.S. illegally before the crash that killed Indianapolis Colts linebacker Edwin Jackson, U.S. Attorney Josh Minkler said.
"The defendant in this case allegedly re-entered the country illegally for the second time before he put the public safety of Indianapolis at risk and took the lives of two innocent men early Sunday morning," Minkler said in a news release. "In April, Attorney General Sessions directed all federal prosecutor to prioritize charging aliens that illegally re-enter the country, especially if they are a risk to public safety or there is a criminal history present. Following the rule of law is the foundation of our American democracy, and my office is committed to fulfilling the Attorney General's directive."
Authorities identified Orrego-Zavala as the suspected drunk driver who allegedly killed Jackson, 26, and Jeffrey Monroe, 54. The pair, who were standing on the shoulder on Interstate 70 in Indiana, died after being hit Sunday by a Ford F-150 pickup truck.
The suspect bolted from the scene but was arrested shortly thereafter by the responding officer. He then gave police the alias of Alex Cabrera Gonsales. Jail records viewed by Fox News on Monday morning said Orrego-Savala, under the alias of Gonsales, was driving without a license.
Orrego-Zavala previously was arrested by immigration officials in October 2006, according to Tuesday's news release, and was forced to return to Guatemala in 2007. He was not allowed to enter the U.S. for 10 years.
However in 2009, he was arrested again and sent back to his home country - and this time told he could not come back to the U.S. for 20 years, the news release said.
In a series of tweets on Tuesday, President Trump offered his prayers and sympathies for Jackson's family while emphasizing his argument on the need for immigration reform.
"So disgraceful that a person illegally in our country killed @Colts linebacker Edwin Jackson," Trump tweeted. "This is just one of many such preventable tragedies. We must get the Dems to get tough on the Border, and with illegal immigration, FAST!"
He continued: "We need a 21st century MERIT-BASED immigration system. Chain migration and the visa lottery are outdated programs that hurt our economic and national security."
Fox News' Jake Gibson and Greg Norman contributed to this report.