Hurricane Lane lashing Hawaii's Big Island with heavy rain, landslides reported as state braces for the worst
Heavy rains from the outer bands of Hurricane Lane are pounding Hawaii's Big Island on Thursday, spawning flash flood warnings and landslides as residents across the state braced for the most powerful storm to hit Hawaii since 1992.
The National Weather Service's Central Pacific Hurricane Center said in its 5 p.m. ET advisory Lane is still a Category 4 storm with winds of 130 mph and is located about 275 miles south of Honolulu, traveling northwest at 7 mph.
"On the forecast track, the center of Lane will move over, or dangerously close to portions of the main Hawaiian islands later today through Friday," the CPHC said. "Some weakening is forecast during the next 48 hours, but Lane is expected to remain a hurricane as it draws closer to the islands."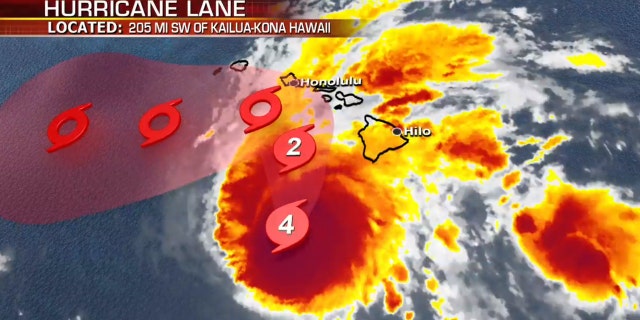 President Trump said he "authorized an emergency disaster declaration to provide Hawaii the necessary support" before the approaching storm.
"Our teams are closely coordinating with the state and local authorities," he tweeted Thursday. "You are in our thoughts!"
Hawaii Gov. David Ige said Wednesday he'd requested a presidential disaster declaration.
The storm is already dropping heavy rain on the eastern side of the Big Island, with as much as 8 inches of rain being reported so far, according to Fox News Meteorologist Adam Klotz.
The Hawaii Police Department said Highway 19 has been blocked in "multiple areas" due to landslides. "Roadways extremely hazardous due to debris and water on the roadway," Hawaii County Civil Defense Agency tweeted.
"As much as 20 inches of rain is expected on the Big Island," Klotz said Thursday. "The outer rain bands will spread across all of the other islands on Thursday. Winds will increase for residents as the storm approaches on Thursday, however strong upper level winds will weaken the storm overall."
Lane is expected to weaken to a Category 1 storm with winds between 74 and 95 mph by late Friday, but the track is still uncertain. Klotz added that landfall on any island is "not yet out of question."
HURRICANE LANE THREATENS HAWAII: WHAT TO KNOW ABOUT THE RARE STORM'S PATH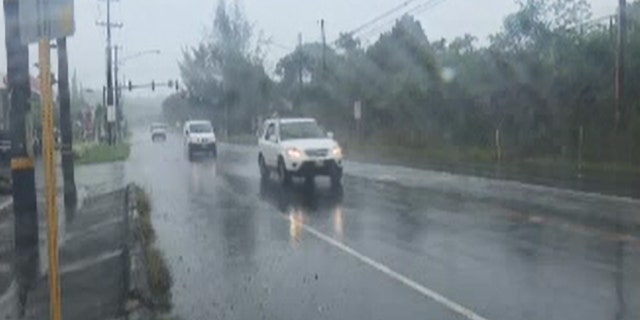 The hurricane has already triggered flash flood warnings on the Big Island, closing several roads and causing several rivers around Hilo to rise close to overflowing their banks.
The Hawaii County Civil Defense Agency said heavy rainfall continues on the westward side of the island as Lane slowly passes by.
"Major and secondary road closures are in effect," the agency said. "Stay off the roads unless absolutely necessary."
Mia Carter, who lives in Orchidlands Estates south of Hila, told KHON2 the rain bands are more severe than what the area typically experiences.
"Right now the rain bands are very pronounced as they hit," she told KHON2. "One minute it's torrential downpour with almost zero visibility and the next it is dry with clear skies. It's intensifying as the evening carries on."
Officials opened shelters on the Big Island and on the islands of Maui, Molokai and Lanai on Wednesday, but said the limited shelter space should be a "last resort." They urged those needing to use the Molokai shelter to get there soon, citing concerns the main highway on the south coast of the island could become impassable.
On the island of Oahu, which was put on a hurricane warning late Wednesday, shelters were scheduled to open Thursday. Officials were also working to help Hawaii's sizeable homeless population, many of whom live near beaches and streams that could flood.
HAWAII BRACES FOR HURRICANE LANE, AS OFFICIALS SAY THERE ARE NOT 'ENOUGH SHELTERS FOR EVERYONE'
Hawaii County Mayor Harry Kim told KHON2 flash flooding is a major concern, as Lane is expected to slowly move northwest and bring heavy rain to the island.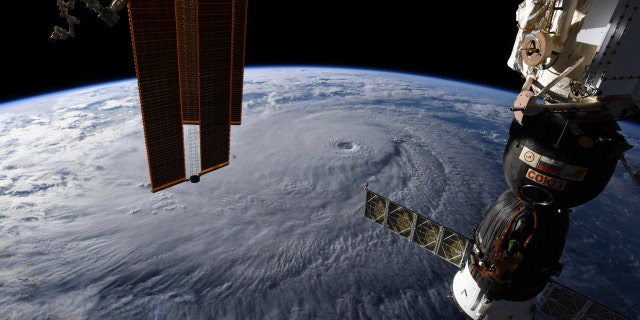 "When there's rain, there's obviously problems, but surf and surge, because we're a tourist industry here and people live by the beach, hotels all by the beach, we have thousands of people along the coastal area and this hurricane has a potential of generating some very huge surf and surge," he told KHON.
The Federal Emergency Management Agency has several barges with food, water and supplies that it moved into the region ahead of Hurricane Hector, which skirted past the islands more than a week ago, according to FEMA Administrator Brock Long. Trump approved an emergency declaration for Hawaii on Thursday, which allows FEMA to coordinate all disaster relief efforts.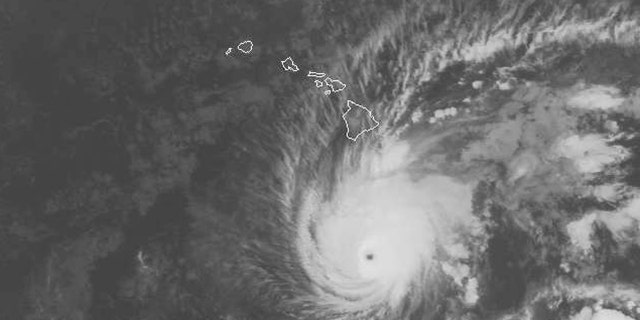 The U.S. Navy said Wednesday it was moving its ships and submarines out of Hawaii, adding all vessels not currently undergoing maintenance were being positioned to help respond after the storm, if needed.
The central Pacific gets fewer hurricanes than other regions, with about only four or five named storms a year.
For Hawaii, the "big one" came in in 1992 when Hurricane Iniki struck the island of Kauai as a Category 4 storm, causing $3.2 billion in damage and killing six people, according to Fox News Senior Meteorologist Janice Dean. Iniki is still the costliest and deadliest storm to hit the islands in recorded history, and only two other hurricanes -- an unnamed storm in 1871 and Dot in 1959 -- have hit a Hawaiian island within that time period.
Fox News' Lucas Tomlinson, Janice Dean, Elizabeth Zwirz and The Associated Press contributed to this report.