Hillary Clinton Captures Dem Nomination for President Making History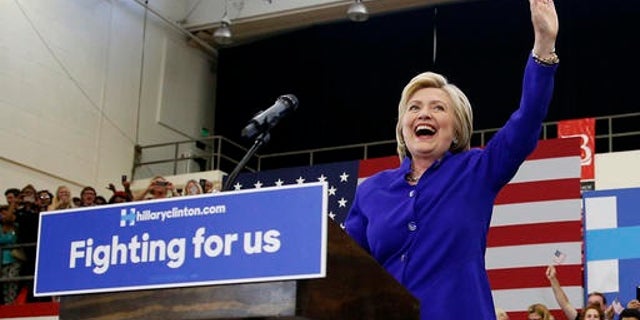 NEWYou can now listen to Fox News articles!
Hillary Clinton is the presumptive Democratic nominee. That's according to Associated Press tallies of delegates and superdelegates. The AP made the call about 8:45pm last night. Clinton heard the news right as she held a rally in Long Beach, California. Clinton saying, "I got to tell you, according to the news, we are on the brink of a historic, historic, unprecedented moment, but we still have work to do don't we?" Hillary Clinton is the first woman to be on top of a major party's ticket, and makes history as the presumptive nominee.
Nancy Pelosi endorsed Hillary Clinton this morning suggesting a Warren VP slot. Pelosi saying, "I'm a voter in California, and I have voted for Hillary Clinton to be President of the United States of America. I'm proud to endorse her."
We're also hearing Hillary Clinton will call Bernie Sanders tonight after the voting is done in California.
During our show voting will be underway in the last big "Super Tuesday," of the campaign. Voters head to the polls in California, Montana, New Jersey, New Mexico, North Dakota, and South Dakota.
It looks like it could be record turnout in California where fully ¾'s of the voters who are eligible are actually registered. New Jersey also expecting big turnout. Usually CA and NJ aren't competitive at this point in the election cycle.
Bernie Sanders sounding anything but conciliatory. His campaign almost immediately issuing a statement saying the mainstream media was in a rush to judgement. He has said he will carry on to a contested convention. Sanders is pinning all his hopes on a big win in California that would allow him to argue that superdelegates awarded to Hillary should change their minds before the convention. So far, very few superdelegates have been willing to entertain the socialist senator.
The President, meantime, is reportedly eager to join the race, and campaign for the Democratic nominee. He is expected to endorse this week, and will likely quickly join the campaign trail.
Today the President is meeting with India's Prime Minister.
On the GOP side, Donald Trump is refusing to back down in the face of incredible pressure from the left and the right over his attacks on the judge overseeing a lawsuit against Trump University. A leaked conference call with the Trump campaign showed that Donald Trump insisted his surrogates defend his attacks on the judge. Some Republicans are calling on Mister Trump to apologize. That appears unlikely.
On The O'Reilly Factor last night, Trump said "I don't care if the judge is Mexican or not. I'm going to do great with the Mexican people because I'll provide jobs."
Democrats in many states, and across the country have launched an apparently coordinated attack against Donald Trump over his comments about the judge.
Republican House Speaker Paul Ryan is set to unveil several major policy suggestions from the GOP as he continues to make efforts to unite the GOP. Ryan gave a tepid endorsement of Trump last week. This week he'll propose an overhaul of the nation's poverty programs.
In other news,
Heavy rains continue to pound the Southeast. Tropical Storm Colin moved across northern Florida dumping a ton of rain, and causing blackouts.
There was a fairly large earthquake off the West coast of Mexico. We'll watch for news from that.
A terror attack in Istanbul killed at least 11 people and injured several dozen. It targeted police.
Stocks were higher yesterday. Despite a terrible May jobs numbers, Fed chief Janet Yellen suggested the Fed is reconsidering immediate interest rate hikes, but the economy may still be strong enough to continue to slowly raise interest rates.
Verizon will bid $3 billion for Yahoo.
American Airlines is making major unpopular changes to its frequent flier program joining Delta and United. We'll talk with travel bloggers Gary Leff and Ben Schlappig about the future of loyalty programs and whether they are worth the bother nowadays.
For more news, follow me on Twitter: @ClintPHenderson