High school basketball coach suspended over players' pink jerseys for breast cancer awareness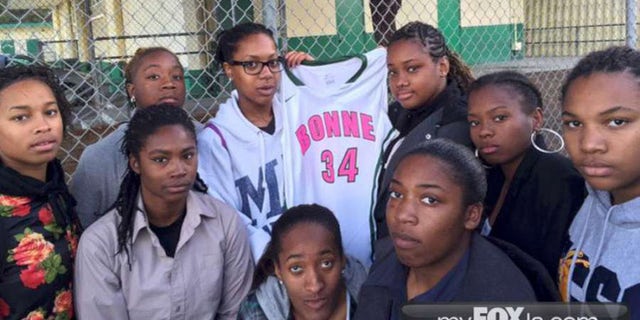 A Los Angeles high school girls basketball team whose unsanctioned support for breast cancer awareness got it banned from a high school tourney is back in, but their coach won't be there to guide them.
Coach Victoria Sanders has been suspended for the remainder of the season for allowing the girls' basketball team at Narbonne High School in Harbor City, Calif., to wear jerseys with pink letters and numbers as part of Breast Cancer Awareness Month.
The "Gauchos" team -- No. 1 in their division -- was initially ousted from the tournament over what officials deemed a uniform violation, but was reinstated Tuesday into the Section Open Division playoffs, according to Fox affiliate KTTV.
While the team will face Palisades High in the section championship game Saturday at Cal State Dominguez Hills, Sanders will not be allowed to be there.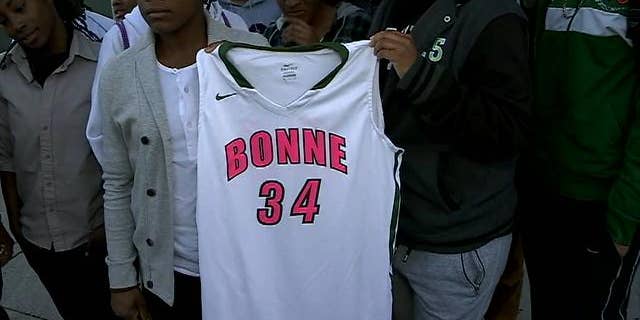 "We didn't do a crime. We didn't commit anything bad," Narbonne player Latecia Smith told KTTV. "This is all for a great cause."
An assistant section commissioner observed the players wearing the pink-lettered jerseys during last Saturday's semifinal game against View Park, the Los Angeles Times reported. The team's official school colors are green, gold and black.
Sanders told the newspaper she was unaware the team needed approval to wear the jerseys -- which the girls had sported during an earlier game this season with no complaints.
"I was under the impression we were able to do it," Sanders told the paper. "I didn't know we had to fill out a waiver."
City Section Commissioner John Aguirre originally ruled Narbonne would have to forfeit its semifinal win because the jerseys were in violation of City Section rules. However, a three-person appeals panel reinstated the team a day later as an attempt "to meet the spirit of the rule and place kids first," according to the paper.
But Sanders was subsequently suspended as a result, and the team will be placed on probation next season and banned from having any home playoff games.
"Breast cancer awareness is in October, and there's a process for people to request color change," Aguirre said prior to the reinstatement. "The principal didn't even know about these numbers. If they're going to blatantly disregard these rules and regulations, they're going to affect kids."
Narbonne was on probation for an earlier violation of City Section rules, which reportedly played a role in the decision, the Los Angeles Times reported.
"The kids had no idea that they were in violation. The parents had no idea that they were in violation," parent Crystal Franklin told KTTV.
Major breast cancer research groups, meanwhile, praised the players for wearing the jerseys -- despite their punishment from officials.
"Like it or not, breast cancer is a team sport," said Shirley Horn, communications director at the Dr. Susan Love Research Foundation in Santa Monica, Calif.
"The only way we are going to find the cause and learn how to prevent it is for women, like the Narbonne girls' basketball team, to participate in understanding and tackling the breast cancer problem," Horn said. "We hope that when these young women are older, they will participate in research through programs like our Army of Women® and Health of Women Study™."
Click for more from MyFoxLA.com
FoxNews.com's Cristina Corbin contributed to this report.