Hero Philadelphia cop arrested and charged with rape, other crimes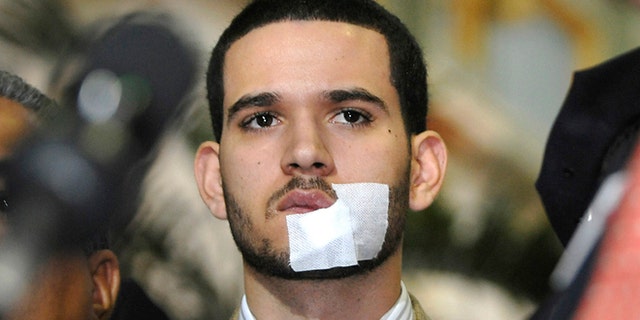 A former Philadelphia police officer once hailed as a hero and given a seat next to the first lady at a speech by President Obama has been arrested and charged with rape and other crimes.
Authorities allege that former officer Richard DeCoatsworth left a party with two females early Thursday and took them to another location, where they allege that he produced a handgun and "forced the two females to engage in the use of narcotics and sexual acts."
A police spokeswoman said the two called police after he left, and 27-year-old DeCoatsworth was charged with rape, sexual assault, terroristic threats and related offenses.
DeCoatsworth was hailed as a hero after he was shot in the face during a traffic stop in September 2007 but still managed to chase after his attacker, who was later sentenced to 36 to 72 years in prison.
DeCoatsworth was invited by Vice President Joe Biden to attend the president's televised February 2009 address to Congress and sat with first lady Michelle Obama. He said he didn't know why he had been singled out, but being in the presence of the nation's leaders was an honor "that I will keep with me for the rest of my life."
WCAU-TV, which first reported his arrest, said DeCoatsworth retired from the department on disability in December 2011.
Police said no other information on the alleged attack would be released Saturday to protect the victims and the integrity of the ongoing investigation. Authorities declined to give even general locations for the party and alleged crime scene and also wouldn't say when DeCoatsworth was arrested.
A listed number for DeCoatsworth has been disconnected and it was unclear whether he had an attorney.
Police Commissioner Charles Ramsey told a Philadelphia Daily News columnist in February of last year that he believed he had made a mistake in granting the former officer's request to go back to work too soon after he was shot.
"God bless him for still wanting to get out there and do police work, but did I act in his best interest? In hindsight, I would say probably not," Ramsey told columnist Sty Bykofsky.