Heartwarming moment man holds sleeping baby so mom can fill out paperwork goes viral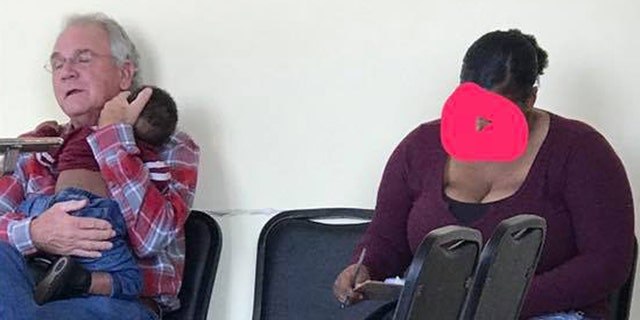 A touching moment at an Alabama doctor's office went viral after a man offered to hold a woman's sleeping baby so she could fill out paperwork.
When Jade West was handed forms to fill out in the waiting room, she struggled to balance her sleeping son, Jayce, on her shoulder while using the clipboard. That's when Joe Hale, who is a grandpa, went across the room and offered some assistance.
"My heart melted!" Natasha Wilson, a mother of seven who witnessed the heartwarming exchange, wrote in a now-viral social media post. "Racism is still VERY real in our society today BUT THIS MAN GAVE ME HOPE & a sweet memory I'll never forget!!"
Hale hummed and rocked West's son in the Florence waiting room until he was called away for his appointment.
The grateful mother told GMA she felt relieved and appreciated.
"He seemed really genuine," West said. "He talked about how he never stops being a 'paw paw' and how he loved kids and just about my baby in general! He was literally just loving on him and talking to him as if he was his own grandchild and had known him his whole life. He was just the sweetest."
Wilson said she gets emotional just thinking about it.
"For a stranger, a white man at that, asking a young black mother if he could hold her baby to help her out, then the way he loved on that baby like it was his own, it almost puts me to tears every time I think about the love you could see radiate from him for that baby," she said.