Hawaii volcano may threaten geothermal power plant; dozens of homes destroyed
The volcano spewing lava hundreds of feet into the air on Hawaii's Big Island may also threaten a geothermal power plant -- where tens of thousands of gallons of highly flammable liquid are stored.
Lava from the powerful Kilauea volcano has destroyed more than two dozen homes and threatened to take out even more. A photo taken by the United States Geological Survey on Sunday showed how a "lava lake" at the summit has reduced in size.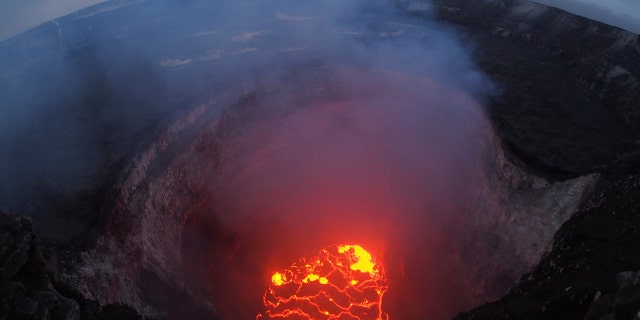 Moving walls of thick gooey molten rock consumed asphalt roads on the Big Island as crackling red hot lava glowed underneath and plumes of thick black smoke blanketed above.
Linda Jones, who honeymooned on the island 20 years ago and decided to move there, wept.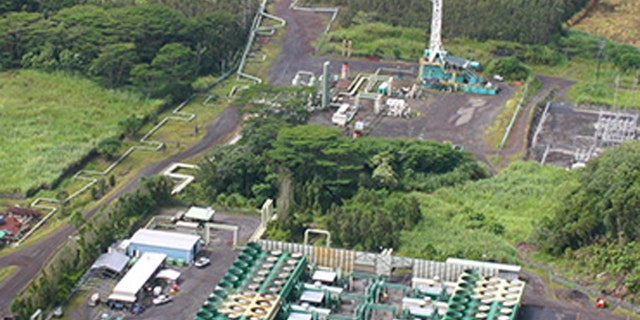 "Madame Pele. I have love and respect," she told Fox News, referring to the Hawaiian goddess whose home is in Kilauea's Halemaumau Crater. "I'm praying now, not only for our homes, but for her island too."
Hawaii County Civil Defense Administrator Talmadge Magno said Sunday at a news conference the Puna Geothermal Venture, a geothermal power plant, has been evacuated and an emergency shutdown procedure was conducted.
There are still nearly 50,000 gallons of pentane stored at the site, according to Hawaii News Now.
"Everything is still on property," Magno said. "They moved it to high ground just in case any flows would start coming that way, give them a little more time. But their plans are made to get them out of there if it gets to that next level."
Pentane is a clear colorless liquid with a petroleum-like odor that's a component of some fuels, and "is employed as a specialty solvent in the laboratory," according to PubChem, a public repository for information on chemical substances and their biological activities, run by the US National Institutes of Health.
The NIH lists pentane as an "extremely flammable liquid and vapor."
The councilwoman for the district where the plant is located, Eileen O'Hara, told Hawaii News Now she was informed plant officials are complying with an approved evacuation plan previously approved by the Environmental Protection Agency and state health department.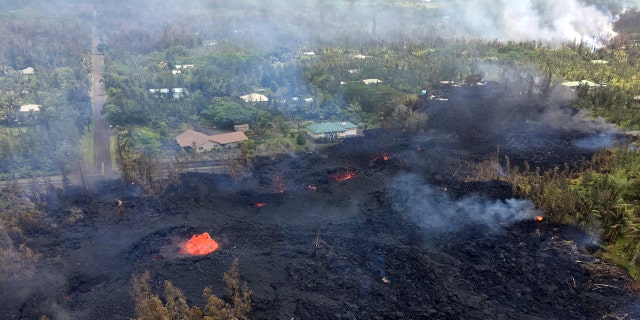 "If every drop of pentane that is being stored on site...were to ignite simultaneously, would it be able to cause a fire in the nearest residence? The evaluation says no. It might cause glass to shatter from the explosion, but it could not cause a fire at the nearest residence," she told the news outlet.
HAWAII VOLCANO SHOWS 'NO SIGN OF SLOWING DOWN,' DESTROYS DOZENS OF HOMES
The Puna Geothermal Venture, known as PGV, is a "geothermal energy conversion plant bringing steam and hot liquid up through underground wells," according to the Hawaiian Electric Company.
"The hot liquid (brine) is not used for electricity at this time. The steam is directed to a turbine generator that produces electricity," the power company said. "The exhaust steam from this turbine is used to vaporize (heat) an organic working fluid, which drives a second turbine, generating additional electricity."
Magno said the current volcanic activity appears to be "stabilizing" and moving in the opposite direction of the plant. But, if the lava were to change direction and go to "the next step," officials would then start to remove the materials off the property.
That wasn't enough for Leilani Estates resident William Braham, who told Hawaii News Now the plant was the main reason he chose to evacuate.
"I understand that the lava can come down, but much more likely, it's going to come over here," Braham said. "And that's directly in the line of the geothermal. And that makes me feel very, very unsafe."
Officials are begging tourists and self-described "lava chasers" to avoid traveling to Leilani Estates, where fumes are pushing through giant cracks in the ground.
"This is not the time for sightseeing. You can help tremendously by staying out of the area," Hawaii's civil defense said in a statement. Jessica Ferracane, a spokesperson for the Hawaii Volcanoes National Park, said the magnitude of Kilauea's recent eruption is "nothing that I've ever experienced on a personal level ever before."
Fox News' Barnini Chakraborty in Hawaii and The Associated Press contributed to this report.