Hawaii volcano emits massive cloud of ash into sky, but golfers seem oblivious
Even an erupting volcano can't keep some golfers from teeing off.
Stunning photos released Tuesday showed several people playing golf at Volcano Golf and Country Club on Hawaii's Big Island -- as plumes of ash and fire filled the sky in the background. The golf course appeared undisturbed by the Kilauea volcano's activity and some of the golfers appeared oblivious to what was occurring behind them.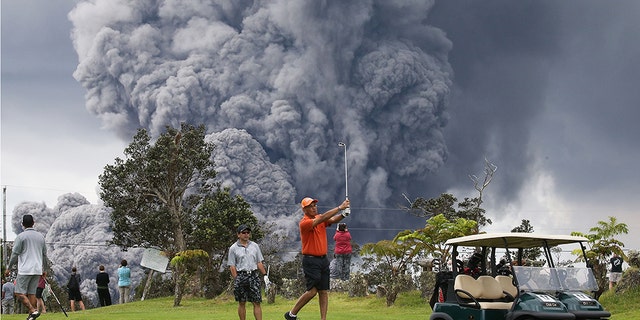 Several people were also pictured watching the massive ash cloud shooting up 12,000 feet from the crater.
"I was trying to get that shot, and, as I was shooting, I heard these guys call out to me that I was in the way of their game and could I step aside," Mario Tama, the photographer who captured the images, told the Boston Globe.
He added, "They were very gracious about it. Obviously, it didn't occur to me that I was impeding on someone's game. So I walked over to the left and got some shots of them as they were teeing off."
HAWAII VOLCANO ERUPTION INTENSIFIES, TRIGGERING 'RED' WARNING
Despite the mesmerizing site, the U.S. Geological Survey warned residents of an imminent eruption and "significant emission of ash" after upgrading its previous volcano warning from "orange" to "red." The toxic cloud spread ash for miles surrounding the Halemaumau crater.
Bright red lava spewing out of the volcano has destroyed dozens of structures and forced hundreds of people to evacuate their homes. The volcano began erupting nearly two weeks ago, and scientists say there's potential for larger eruptions to come.