Harvey causes 'catastrophic flooding' in Houston, thousands of rescue calls made
Tropical Storm Harvey continued to hit southeastern Texas on Sunday with "catastrophic flooding" in Houston, forcing residents to flee to their roofs and higher ground as officials respond to thousands of 911 calls for rescues in the "unprecedented" event.
The National Hurricane Center's 7 p.m. CDT advisory shows the center of Harvey 120 miles southwest of Houston. Forecasters said "some slight re-strengthening is possible after the center moves off the coast on Monday night and Tuesday."
Rainfall from Harvey could reach up to 50 inches in some spots, making it the highest ever recorded in the state, the National Weather Service announced.
"This event is unprecedented and all impacts are unknown and beyond anything experienced. Follow orders from officials to ensure safety," the National Weather Service wrote on Twitter.
The storm has so far affected about a quarter of the Texas population, or 6.8 million people in 18 counties.
Several hundred people arrived at the George R. Brown Convention Center in downtown Houston, which officials are using as a shelter as floodwaters have inundated much of the city. The center was also used as a shelter for Hurricane Katrina refugees in 2005.
The Red Cross is prepared to manage 1,000 people at the convention center. Authorities throughout Houston and the surrounding Harris County area are opening shelters as thousands continue to evacuate their homes due to severe flooding.
Texas Gov. Greg Abbott said during a news conference Sunday afternoon that Texas has now activated 3,000 National and State Guard members to combat the severe flooding and damage resulting from the storm. Abbott added that 500 vehicles and 14 aircraft have been put into service.
Harris County Judge Ed Emmett asked that anyone who has a boat or a high water vehicle to help with rescue efforts in the Houston area. Those sent to Houston to help from outside the city are unable to enter due to flooded roadways.
"We desperately need boats and high water vehicles," Emmett said. "We can't wait for assets to come from outside."
Between 1,500 and 2,000 high-water rescues have been conducted since Harvey began wreaking havoc in the area, the Harris County Sheriff's Department wrote. Houston Police Chief Art Acevedo wrote on Twitter that Houston Police have "completed 90 flood rescue missions resulting in over 1,100 community members being brought to safety."
Houston Mayor Sylvester Turner said in a news conference Sunday more than 2,000 calls to 911 for rescues have been made, assuring priority has been given to life-threatening calls. Turner also defended his previous decision not to ask residents to evacuate before the heavy rain swamped roads.
"If you think the situation right now is bad and you give an order to evacuate, you are creating a nightmare," Turner said.
The director of the Federal Emergency Management Agency, Brock Long, said the government is expected to conduct a "mass care mission" and predicted that the aftermath of the storm would require FEMA's involvement for years. More than 1,200 FEMA employees have been deployed to assist with Harvey response.
"This disaster's going to be a landmark event," Long said.
Acevedo said the city's 911 system has been "overwhelmed" since Harvey struck.
"Do not call 911 unless it is a life or death situation... [we're telling people] not to panic," Acevedo said, adding that "we haven't seen the worst of it yet."
Houston residents, attempting to escape the water quickly rising in their homes, were spotted on top of gates outside their homes and on kayaks. Acevedo urged residents not to go to their attics and instead seek refuge on their roofs.
"Reports of people getting into attic to escape floodwater — do not do so unless you have an ax or means to break through onto your roof," Acevedo wrote on Twitter.
Rising rainwater also forced Ben Taub Hospital, Harris County's public hospital, to be evacuated and patients to be dispersed to nearby hospitals because flooding problems in the basement are disrupting power service. The water was waist-deep at the Level 1 trauma center.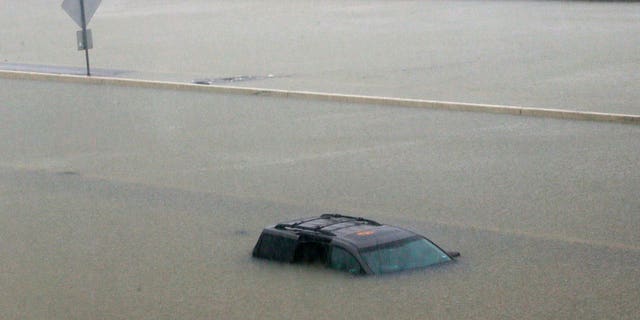 "We're going to get the sickest patients out first," Bryan McLeon, a spokesman for the Harris Health System said. "We have 16 or 17 people on ventilators."
McLeod said the staff is making sure everything is being done properly, including the transfer of medical records and charts. He added: "Our staff has been performing heroically."
Harris County sheriff's spokesman Jason Spencer said flooding throughout the county that includes Houston and the region is so widespread that it's "difficult to pinpoint the worst area."
"It's heartbreaking," Spencer said.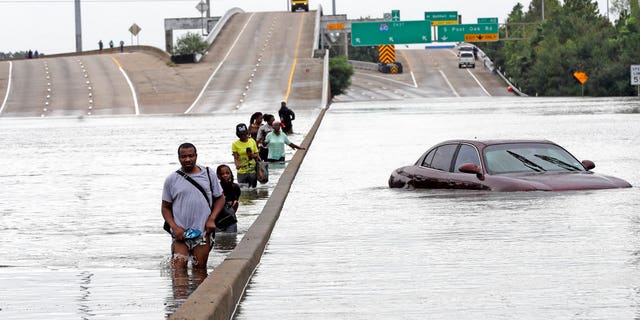 Acevedo said rainwater threatens to bring more flooding into the city in the coming days as it trickles down from other parts of the state.
"[I] cannot emphasize enough how much flooding there is on roadways. You are endangering yourself and our first responders by being out. Stay put," Acevedo wrote on Twitter earlier.
Meanwhile, Harris County Sheriff Ed Gonzalez and Turner continued urging residents on Twitter to "shelter in place" and stay off rain-swollen roadways.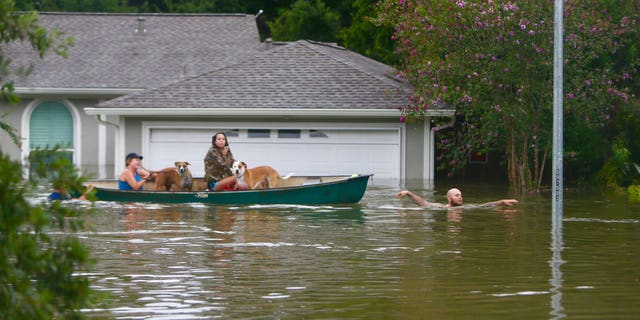 Gonzalez actively used Twitter overnight Sunday to field assistance for those trapped inside water-soaked homes, attics and vehicles. Those appealing for assistance or being steered to help via Gonzalez's Twitter feed included a person suffering "cardiac-arrest," and a woman who posted: "I have 2 children with me and the water is swallowing us up. Please send help."
Gonzalez at one point appealed for calm and patience, saying officials were "trying to make it to everyone as best we can."
Aransas County Sheriff Bill Mills said at least 35 of the emergency vehicles in his fleet have broken windows and windshields and are out of service. The smashed windows on the vehicles allowed rainwater to get inside, which shorted out the electronics in the vehicles and set off their sirens and lights mid-storm. Mills said some vehicles had six inches of water in them.
A sinkhole opened on a two-lane Texas highway, Farm-to-Market 762, about 25 miles southwest of Houston. Rosenberg Police tweeted a picture of the sinkhole, which could be seen filling with water. The department asked people to avoid the area.
Flights from William P. Hobby and George Bush Intercontinental airports were halted due to standing water on the runways, according to Fox 26. Thousands of flights were canceled and travelers were left stranded in the area.
The U.S. Army Corps of Engineers plans to begin releasing water Monday morning from the Barker and Addicks Reservoirs to prevent uncontrollable flooding of downtown Houston and the Houston Ship Channel. The dams were built during the 1940s in response to a 1935 flood that inundated much of downtown Houston.
Col. Lars Zetterstrom said the water contained in the dams is "unparalleled in the dams' history," with waters rising about 4 inches per hour.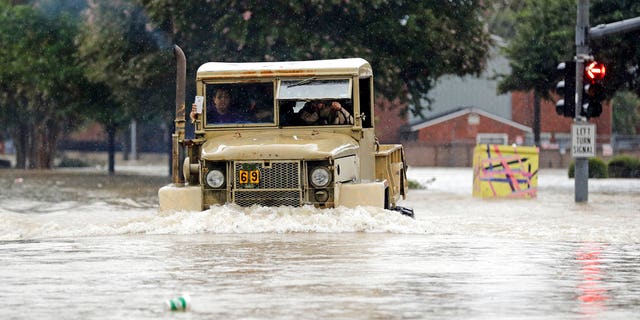 Harvey made landfall as a Category 4 hurricane late Friday night, but downgraded to a tropical storm by Saturday. The hurricane center said in its 4 a.m. Sunday update that the tropical storm has maximum sustained winds of 45 mph and remains stationary about 45 miles northwest of Victoria, Texas.
At least one person died due to the flooding, Houston Fire Department's Sheldra Brigham said. Paramedics found the individual in a vehicle just before 10 p.m. A doctor, a passerby who stopped to help, was already at the scene and pronounced the person dead. A second person was confirmed dead in a house fire as the hurricane came ashore Friday night. Aransas County Judge C.H. "Burt" Mills Jr. told the Austin American-Statesman that 12 to 14 other people were injured.
Harris County Flood Control District Meteorologist Jeff Lindner said all of the county's 22 watersheds have spilled over their banks and are experiencing record flooding. Watersheds are creeks and bayous that take water away from the Houstin area and eventually drain into Galveston Bay.
It may take until Sunday night, well into Monday or possibly Tuesday "to get the water out of these areas that have been impacted so hard," Lindner said.
A video, taken from aboveground and posted to Twitter by the Coast Guard Heartland, shows an unidentified area majorly submerged in water as part of the aftermath of Harvey.
The White House confirmed Sunday that Trump will travel to Texas on Tuesday. Press Secretary Sarah Sanders said the White House is working to coordinate the logistics of his trip with state and local officials.
The president had previously tweeted that he would go to Texas "as soon as that trip can be made without causing disruption. The focus must be life and safety," Trump tweeted. The president said on Saturday he was "closely monitoring" the storm from Camp David.
On Sunday evening, Trump took to Twitter to add that with the "HISTORIC rainfall in Houston, and all over Texas," that the "Spirit of the people in incredible."
Abbott said Trump's response to the storm was "extremely professional, very helpful" and offered any resources the governor needed. He added it's still unclear what amount of money will be needed for storm damage repairs, but estimated to be "billions of dollars."
Abbott on Sunday said the number of counties declared federal disaster areas has increased from six to 18, a number which has been approved by Trump. There have already been 50 counties declared state disaster zones — 30 earlier in the week and 20 on Saturday.
Nearly seven million people live in the 18 counties now covered by the disaster declaration Trump approved, including Houston — the nation's fourth-largest city.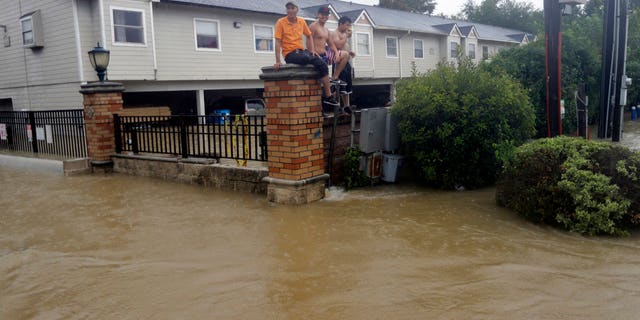 During the news conference Sunday, Abbott thanked a number of states for their help providing resources in Texas, including Nebraska, Tennessee, Utah, California, Missouri, Ohio, Arizona and New York.
The Coast Guard, which received more than 300 requests for help, deployed five helicopters and asked for additional aircraft from New Orleans.
Harvey arrived as the fiercest hurricane to hit the U.S. in 13 years and the strongest to strike Texas since 1961's Hurricane Carla, the most powerful Texas hurricane on record.
For those who want to help those affected by Harvey, please visit www.RedCross.org.
Fox News' Barnini Chakraborty and The Associated Press contributed to this report.