Gulf Oil Dome Has Successful History, Says Expert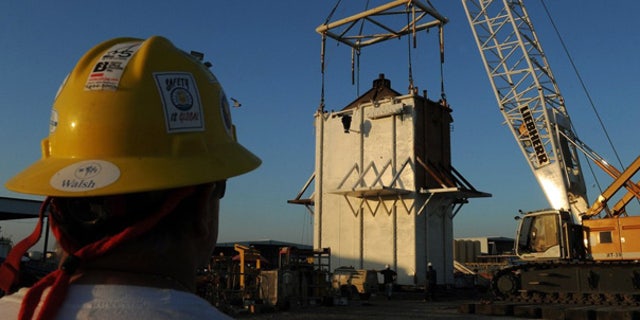 NEWYou can now listen to Fox News articles!
NEW ORLEANS -- The best short-term solution to bottling up a disastrous oil spill threatening sea life and livelihoods -- a tremendous dome BP will lower a mile to the sea floor -- has proven successful in the past.
The contraption, called the Subsea Oil Recovery System, is a 100-ton structure is designed to be placed over the largest source of oil leaking 5,000 feet beneath the Gulf of Mexico. The system collects the leaking oil and pumps it through a funnel and pipe to a tanker at the surface, which stores it and ships the oil to shore.
Dr. Bill Eustes, an associate professor with the Colorado School of Mines, told Fox News correspondent Phil Keating that he hasn't heard of anyone trying anything like this since the 70s, when oil company ARCO attempted a similar feat. The company (which was subsequently bought by BP) lowered a rudimentary funnel over a naturally occurring oil leak in Santa Barbara Channel.
By all accounts, ARCO's efforts were a success says the professor, whose Golden, Colorado, school graduates many of the world's best petroleum engineers. Eustes described as clever BP's plan to use containment boxes like these; in the past, such domes have been used only in shallow water for containment during hurricanes.
The Subsea Oil Recovery System -- essentially a 40-foot tall steel and concrete chimney -- is being shipped to the Gulf oil leak, where it will be lowered to the ocean floor, a process that can take up to two days.
It should be on the seabed by Saturday, and as early as Sunday should start pumping oil up to the Deepwater Enterprise, which is capable of storing 139,000 barrels of oil, processing it at a rate of 15,000 barrels per day.
BP hopes it will be able to collect as much as 85 percent of the oil leaking from the sea floor. The company, along with contractor Wild Well Control, are also building two other domes at a manufacturing facility in Port Fourchon, LA, just south of Houma. The other two domes should follow a few days behind the first.
"We don't know for sure" whether the equipment will work, BP spokesman Bill Salvin hs said. "What we do know is that we have done extensive engineering and modeling and we believe this gives us the best chance to contain the oil, and that's very important to us."
Meanwhile, chemical dispersants piped 5,000 feet to the main leak have significantly reduced the amount of oil coming to the surface, BP said. The company has already managed to shut off one of the smaller of three leaks, though that plug might not reduce the flow much, said Doug Suttles, BP PLC's chief operating officer.
"It's a gift of a little bit of time. I'm not resting," U.S. Coast Guard Rear Adm. Mary Landry said.
The Associated Press contributed to this report.