Group's Super Bowl billboards call for NFL to allow players to smoke marijuana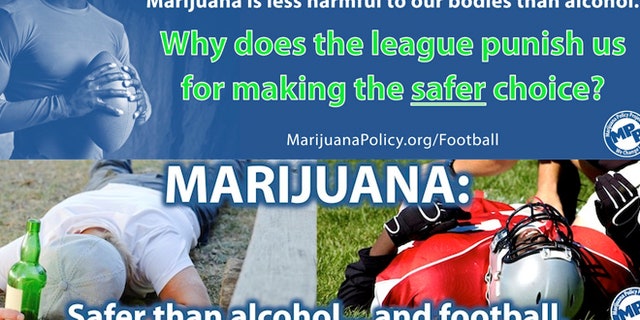 A pro-marijuana group is using the Super Bowl as high time to get its message out about what is sees as the NFL's hypocrisy regarding the drug's use.
"Marijuana is less harmful to our bodies than alcohol. Why does the league punish us for making the safer choice?" exclaims two 60-foot-wide digital billboards near MetLife Stadium in East Rutherford, N.J., the home of Super Bowl XLVIII.
The Marijuana Policy Project, which paid $5,000 for the five digital signs, told FoxNews.com that the deal ends at midnight after the Super Bowl. A spokesman from the group said in a statement, "If it is okay for athletes to douse each other with champagne in front of the cameras, it should be okay for them to use marijuana privately in their homes."
[pullquote]
To be sure, the group's call comes at a time marijuana advocates appear to be on the offensive. Medical marijuana is legal in 20 states and the District of Columbia, and Colorado and Washington state allow recreational use.
Smoking marijuana, however, is still illegal under the NFL's collective bargaining agreement.
When asked if a player might ever be allowed to use medical marijuana in states where it's legal, NFL Commissioner Roger Goodell told ESPN.com he could envision a time when players use medical marijuana in states where it's legal.
"I don't know what's going to develop as far as the next opportunity for medicine to evolve and to help either deal with pain or help deal with injuries, but we will continue to support the evolution of medicine," he said.
Earlier this month, Davone Bess, a wide receiver on the Cleveland Browns, posted photos on his Twitter account of a small package containing what appears to be marijuana. Some of the substance is out of the bag and on the table. A team's spokesman said the team is looking into the photos.
The Marijuana Policy Project also launched a Change.org petition calling for the NFL to change its current policy, which has received 12,000 signatures.
Fox News' Edmund DeMarche and The Associated Press contributed to this report