Georgia soldier gets hearing in death of pregnant wife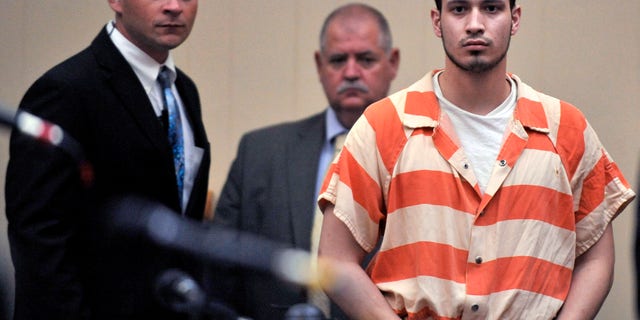 SAVANNAH, Ga. – Two years after Army Sgt. Deirdre Aguigui died suddenly in the middle of her pregnancy, military prosecutors in southeast Georgia plan to reveal at last why they believe she was killed by her husband, a young soldier accused by civilian authorities of using insurance money from her death to buy weapons for an anti-government militia group.
A military hearing for Pvt. Isaac Aguigui is scheduled to begin Monday at Fort Stewart, where he and his pregnant wife were stationed when she died in July 2011. The Army charged him in April with murder and with causing the death of his unborn child. A hearing officer will weigh evidence presented before advising commanders on whether to seek a court-martial for Aguigui, 21, of Cashmere, Wash.
"We still have never been told anything about how she died," said Regina Ross-Schmid, an Army spouse who befriended Deirdre Aguigui at Fort Stewart. "People want to know what happened. Why did one of their fellow soldiers die with no explanation?"
The Article 32 hearing, similar to a civilian grand jury, is expected to uncover even more twists.
Aguigui and two fellow Fort Stewart soldiers already face the death penalty in the double-slaying of a former member of their infantry unit and his teenage girlfriend, who were shot in the woods outside the Army post just a few months after Aguigui's wife died.
Civilian prosecutors say Aguigui recruited disgruntled soldiers to commit thefts, buy weapons and even kill for him as part of a militia group that talked of bombing a park fountain in nearby Savannah, poisoning apple crops in Washington state and even killing the U.S. president. Prosecutors said in court last year that Aguigui funded the group with $500,000 he received from his wife's life insurance.
Aguigui's military attorney, Capt. Scott Noto, and his lawyer in the civilian murder case, capital defender Newell Hamilton Jr., both declined to comment.
Exactly how Deirdre Aguigui died has never been disclosed publicly. Army investigators refused to say what caused it when they charged her husband with her murder months ago, and the military has denied requests for autopsy records and other documents by citing the ongoing criminal investigation. Ross-Schmid said soldiers in the woman's unit were simply told she laid down for a nap and never awoke.
She said Deirdre Aguigui was about midway through her pregnancy when she died. She had recently found out she was expecting a boy.
Isaac Aguigui met his wife, according to her obituary, at the U.S. Military Academy Prep School that prepares cadets for admission to West Point. But neither became an officer. By November 2010, both of them were stationed at Fort Stewart. Aguigui worked as an intelligence analyst in the Army's 3rd Infantry Division, while his wife was an Army linguist. She became pregnant after returning from a deployment to Iraq.
Authorities jailed Isaac Aguigui nearly eight months later, but for a different crime. On Dec. 5, 2011, fishermen found the bodies of former Army Pvt. Michael Roark and his 17-year-old girlfriend, Tiffany York, in the woods of rural Long County near Fort Stewart. Both had been shot in the head just two days after Roark was discharged from the Army.
Investigators arrested Aguigui and three other soldiers -- Sgt. Anthony Peden, Pvt. Christopher Salmon and Pfc. Michael Burnett -- and charged them with the deaths about a week after the bodies were found.
It was Burnett who turned on the others last summer. In a plea deal with civilian prosecutors, he agreed to testify that Aguigui led an anti-government militia group he'd formed inside the military called F.E.A.R. -- short for Forever Enduring Always Ready.
He said Aguigui had Roark and his girlfriend killed because he was leaving the Army and they knew too much about the group. Roark's father has said Aguigui would give his son money to buy weapons for the militia. Burnett testified that he saw Peden and Salmon shoot them in the head after leading them into the woods at night.
Civilian prosecutors used Burnett's testimony to expose what they contend were homegrown terrorist plots stretching from Georgia to Washington state. In all, at least 11 suspects -- most of them current and Army former soldiers -- have been arrested in connection with the militia group on charges ranging from theft and drug dealing to murder. But none have been charged with committing or plotting acts of terrorism.
Military authorities were still investigating the death of Aguigui's wife when investigators questioned him about the killings of Roark and York. According to civilian prosecutors, Aguigui was recorded telling investigators he was "the nicest cold-blooded murderer you will ever meet."