Georgia parents infuriated after porn played on school's cafeteria television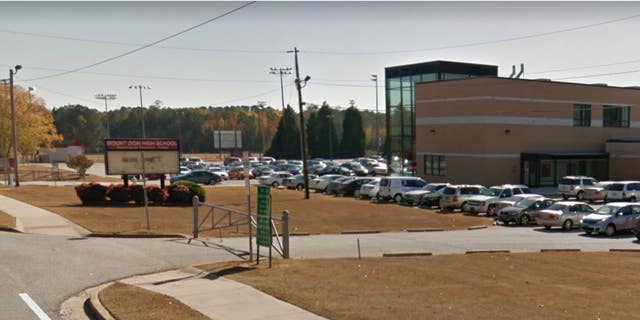 NEWYou can now listen to Fox News articles!
Parents were outraged after students at a Georgia high school reported that a pornographic video was shown on the school's cafeteria television on Wednesday.
Daphne Raines, a mother of a student enrolled at Mount Zion High School in Jonesboro, Ga., told WSB-TV her daughter texted her with an X-rated picture of what she saw on the school's television.
"She was like, 'Momma, look what was playing when we was eating. Came on the TV.' And I just happened to look at it. And I had to just open it up and look at it real good. And I'm like, 'Oh, my God,'" Raines told WSB-TV.
GEORGIA PRISONS: 2 INMATES APPARENTLY KILLED THEMSELVES
Raines said the photo her 10th-grade daughter sent her made her mouth drop due to the context.
"It was ridiculous. It was just horrible because. This is horrible because somebody had to have control of that situation," Raines said.
The video was reportedly shown for more than a minute before the school's principal, Melvin Blocker, ran into the cafeteria and turned it off, AJC reported.
TEACHER, 36, AT CHRISTIAN SCHOOL ARRESTED FOR 'CHEST RUBBING,' KISSING AND 'SEXY TALK' WITH TEEN BOY STUDENT
A Clayton School District official told AJC a student was responsible for the video and would be disciplined. The official said the incident was being investigated. "We don't know how that's going to affect her or the other kids at school," Raines said.
The student's parents and guardians will receive a letter detailing the incident.
Fox News' request for a comment from the school was not immediately answered.