George Floyd death: The cities where people are protesting and rioting
The death of George Floyd, an unarmed black man who died in police custody after a white officer kneeled on his neck for more than 8 minutes, has sparked widespread violent protests in dozens of American cities.
Floyd, 46, was pronounced dead Monday night after he was pinned to the ground under the knee of Minneapolis police officer Derek Chauvin, who is white. In a video recorded by a bystander, Floyd is heard saying he could not breathe.
Four police officers – Chauvin, Tomas Lane, Tou Thao, and J. Alexander Kueng – were fired from the force Tuesday. Chauvin was arrested Friday and charged with murder in the third degree.
In the days since his death, unrest in every corner of the country left charred and shattered landscapes in dozens of American cities. Here is a list of some of the cities where protests have erupted:
Minneapolis, Minn.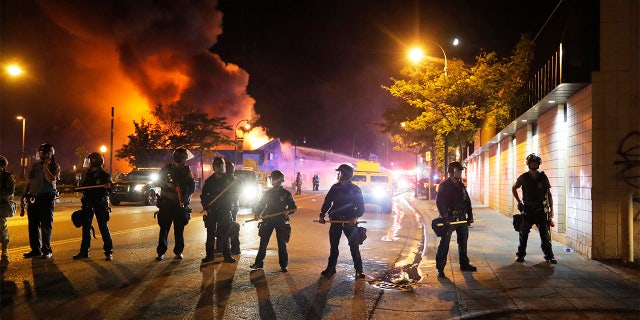 Minneapolis has been the epicenter of protests since the death on Memorial Day of Floyd after a police officer pressed his knee on Floyd's neck for several minutes. The protests have spread to cities across the United States.
Peaceful protests broke out a day after Floyd's death. The demonstrations quickly escalated to outright violence and looting. For several days after, city residents woke up to fires still burning from the violent protests.
The building of the Minneapolis Police's 3rd Precinct was overtaken by protesters and burned down by the end of the week.
Be Saturday, protesters were seen defying curfew orders issued by Frey as firefighters sought to put out several business fires after the fourth night of unrest. The curfew lasts from 8 p.m. until 6 a.m. and any violation of it could lead to a misdemeanor charge, which entails 90 days in jail and a $1,000 fine.
MINNESOTA GOVERNOR, MAYOR SLAMMED BY LOCAL PRESS, POLITICIANS FOR RESPONSE TO DEATH, RIOTING
Gov. Tim Walz, who authorized the "full mobilization" of the state's National Guard, said it's the largest civilian deployment in the state's history. He said it was three times the size of what was in place during the race riots of the 1960s.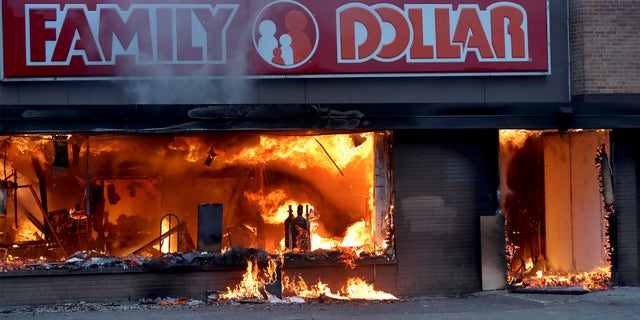 The Pentagon has been ordered to prepare troops to be sent to the Twin Cities, a move said to be rare in nature.
"This is no longer about protesting," Frey said Saturday. "This is about violence and we need to make sure that it stops."
NIKE RELEASES AD IN WAKE OF GEORGE FLOYD DEATH: 'FOR ONCE, DON'T DO IT'
After the fifth day of protests, police said early Sunday they succeeded in stopping violent protests that ravaged parts of the city for several days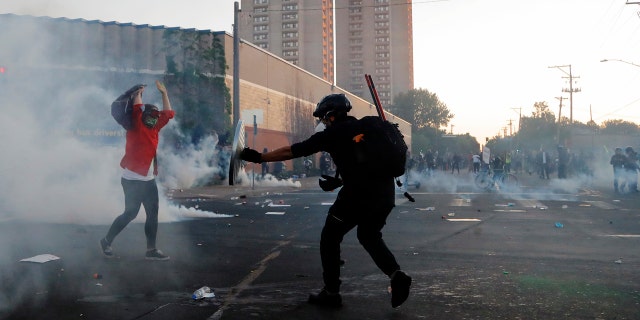 Police, state troopers and National Guard members moved in to break up protests after an 8 p.m. curfew took effect, firing tear gas and rubber bullets to clear streets outside the city police's 5th Precinct and elsewhere. The show of force came after three days where police mostly declined to engage with protesters.
The tougher tactics also came after the state poured in more than 4,000 National Guard members and said the number would soon rise to nearly 11,000. Dozens of people were arrested as of Sunday morning, FOX9 reported.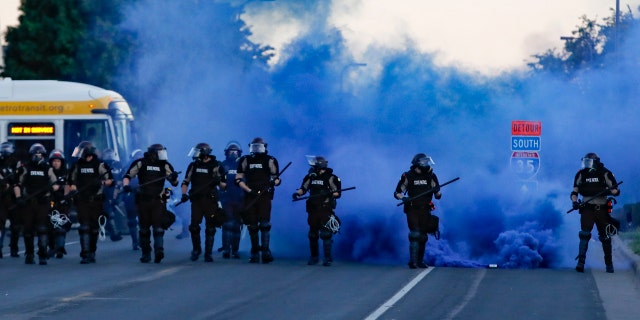 As Minneapolis streets appeared largely quiet, Corrections Commissioner Paul Schnell said the heavy response would remain as long as it takes to "quell this situation."
The tougher tactics came after city and state leaders were criticized for not more strongly confronting violent and damaging protests.
Authorities made a new round of arrests on Sunday night as they worked to enforce the curfew, FOX9 reported.
Hours earlier, a semitrailer sped toward a crowd of people protesting on an interstate bridge in a harrowing series of events, forcing the protesters to run for safety.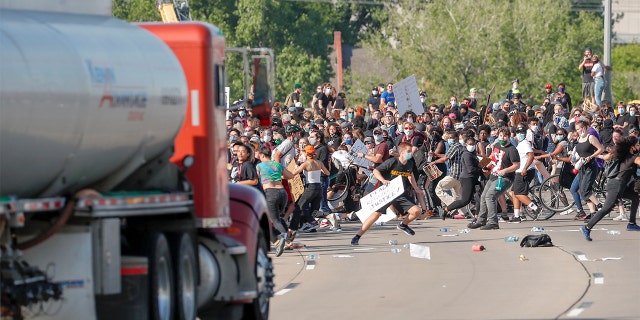 The driver was later identified by the Hennepin County Sheriff's Office as Bogdan Vechirko, according to Fox 9. Police said he's being held on suspicion of assault.
Los Angeles, Calif.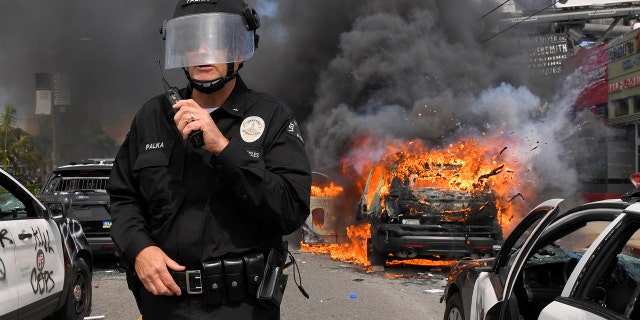 Protests in Los Angeles began two days after Floyd's death, with dozens temporarily blocking Highway 101. The demonstrations turned violent in the days after and lasted through the weekend.
On Saturday morning, police worked to disperse crowds in downtown Los Angeles as multiple businesses were looted. Hundreds were reportedly arrested, and at least five police officers were injured, multiple media outlets reported.
By later in the day, Los Angeles Mayor Eric Garcetti imposed a rare citywide curfew and called in the National Guard after demonstrators clashed repeatedly with officers, torched police vehicles, and pillaged businesses in a popular shopping district.
Garcetti said Saturday he asked Gov. Gavin Newsom for 500 to 700 members of the Guard to assist the 10,000 Los Angeles Police Department officers.
Garcetti said the soldiers would be deployed "to support our local response to maintain peace and safety on the streets of our city."
LA MAYOR GARCETTI CALLS FOR NATIONAL GUARD HELP: 'THIS IS NO LONGER A PROTEST. THIS IS DESTRUCTION'
Firefighters responded to dozens of fires, and scores of businesses were damaged.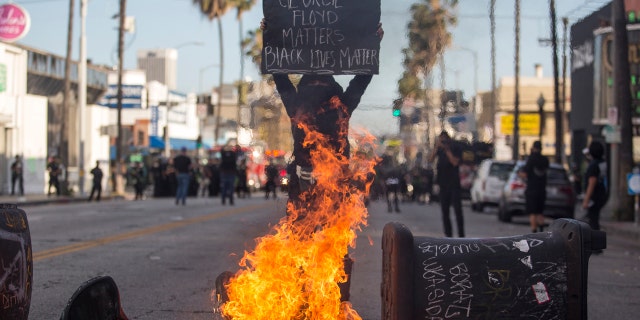 "If you're in pain, I feel that pain. If you're angry, I get it. But this has moved from a being a protest, to vandalism to destruction, and nobody should be out there making a mistake," Garcetti told FOX11.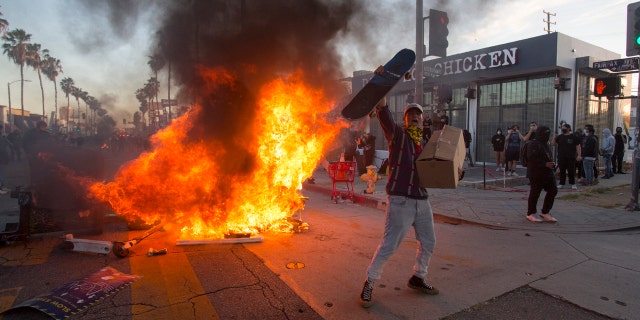 One of the hardest-hit areas was the area around the Grove, a popular high-end outdoor mall west of downtown where hundreds of protesters swarmed the area, showering police with rocks and other objects and vandalizing shops.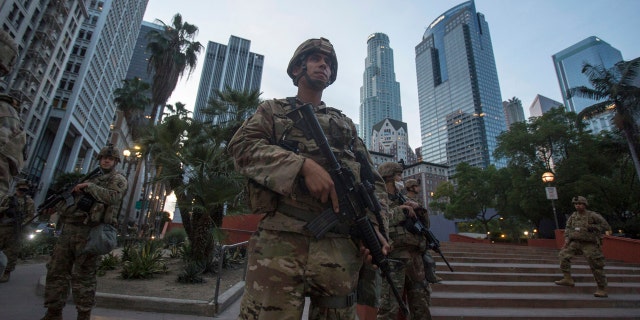 A countywide curfew was in effect Sunday night into Monday morning after another day of violence and destruction throughout parts of Los Angeles city and county, FOX11 reported.
The Los Angeles Police Department estimated there were 398 arrests on Saturday night and Sunday morning related to the police protests.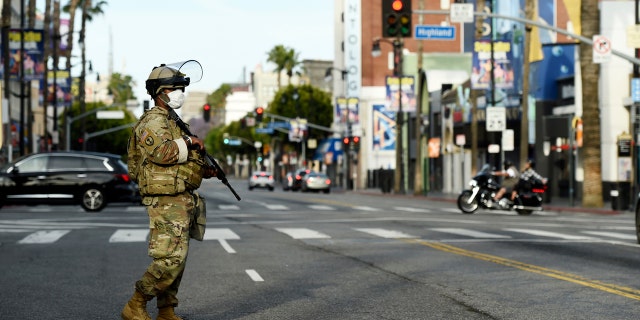 During a press conference Sunday afternoon, LAPD Chief Michel Moore said at least five officers were injured with two being hospitalized. One officer was hit on the head with a brick and suffered a fractured skull but is expected to recover, according to Moore.
The scale of the destruction in Los Angeles was being compared to the 1992 riots when there was more than $1 billion in property damage. There was no estimate of how many businesses suffered damage since protests began Wednesday, but it was clearly extensive.
New York, N.Y.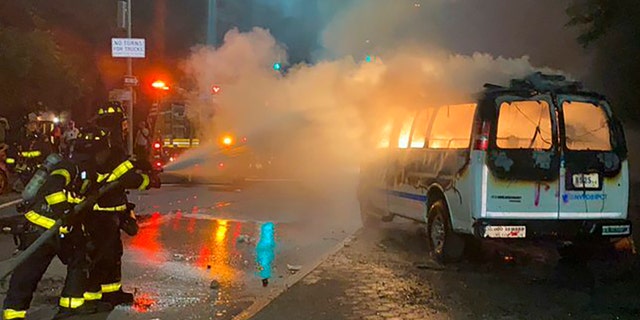 Demonstrators took to New York City streets in protest of Floyd's death and invoked the names of other black people who died at police hands. Street protests have spiraled into some of the worst unrest the nation's largest city has seen in decades.
Fires burned, windows got smashed and dangerous confrontations between demonstrators and officers flared Friday and Saturday amid crowds of thousands decrying police killings.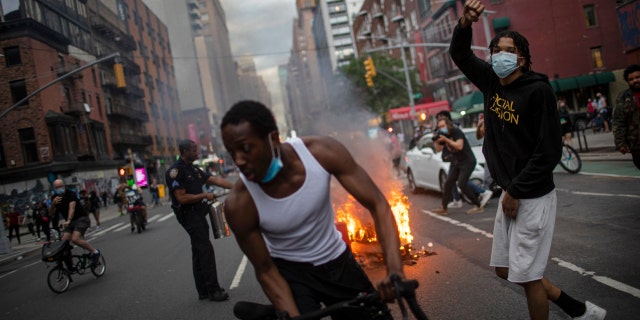 The names of black people killed by police, including Floyd and Eric Garner, killed on Staten Island in 2014, were on signs carried by those in the crowd, and in their chants.
But as day turned into night, a handful of stores in Manhattan had their windows broken and merchandise stolen.
Officers sprayed crowds with chemicals, and video showed two police cruisers lurching into a crowd of demonstrators on a Brooklyn street, knocking several to the ground, after people attacked it with thrown objects, including something on fire. It was unclear whether anyone was hurt.
WARNING: GRAPHIC CONTENT
Since the protests began days ago, at least 790 people have been arrested, 33 officers have been injured and 27 police vehicles have been damaged or destroyed, police said.
New York City Mayor Bill de Blasio, a Democrat, blamed the destruction on a small number of agitators who he said "do not represent this city" and were purposely trying to incite violence against police.
"We appreciate and respect all peaceful protest, but now it is time for people to go home," de Blasio told reporters outside the city's emergency management headquarters just after 11:30 p.m.
"What we're seeing is people coming in from outside, a lot of them are purporting to speak about the issues of communities of color, but a lot of them are not from communities of color," de Blasio said on NY1.
NY WOMAN FACES ATTEMPTED MURDER CHARGES FOR THROWING MOLOTOV COCKTAIL AT NYPD VAN DURING RIOTS: REPORTS
The mayor said he was upset by videos of confrontations "where protesters were handled very violently" by police, including one that showed a woman being needlessly thrown to the ground.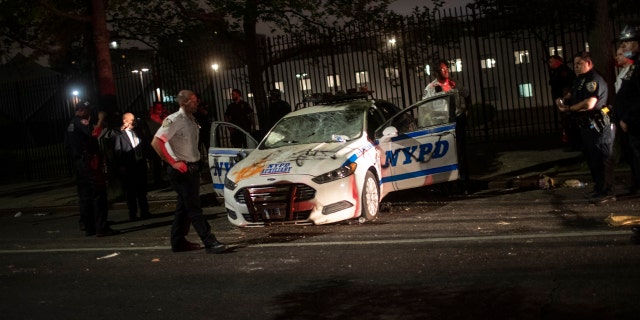 But he defended officers in the streets, saying they were being subjected "to horrible, vile things."
Of the video of officers driving into a crowd Saturday, de Blasio said it would be investigated, but that the officers acted because they were being attacked.
DE BLASIO PROMISES 'INDEPENDENT REVIEW' AFTER ANTI-COP RIOTS IN NEW YORK CITY
The mayor's daughter, Chiara de Blasio, 25, was among those arrested Saturday night, a law enforcement official told the New York Post.
The arrest report, obtained by the New York Post, said she refused to leave a Manhattan street cleared by officers because people were throwing things. Chiara de Blasio, who is black, was later given a court summons and released.
Gov. Andrew Cuomo said Saturday he stood with the Minnesota protesters.
"Nobody is sanctioning the arson, and the thuggery and the burglaries, but the protesters and the anger and the fear and the frustration? Yes. Yes. And the demand is for justice," Cuomo said.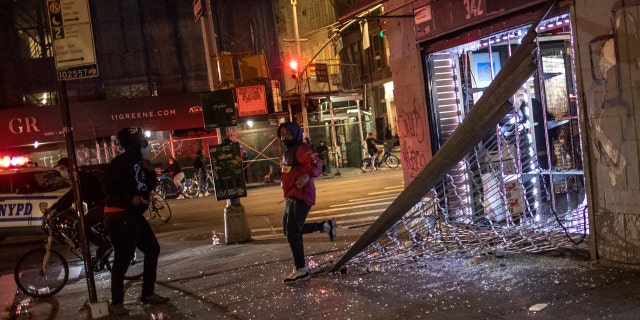 By Sunday, a fourth day of protests against police brutality saw thousands mass through multiple neighborhoods. During the day the demonstrations remained peaceful, but after dark ugly confrontations once again appeared.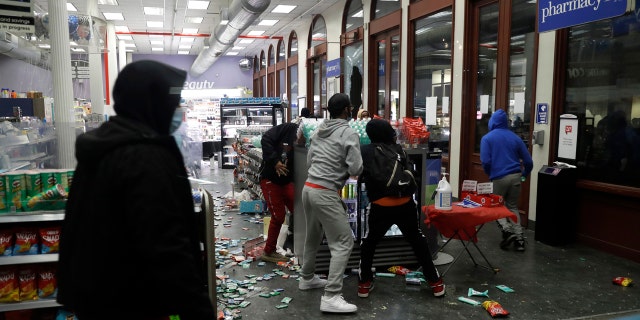 Demonstrators in downtown Brooklyn and parts of Manhattan pelted officers with objects and set fires. Officers charged into crowds to clear streets, sending people sprawling and battering bystanders who couldn't get out of the way.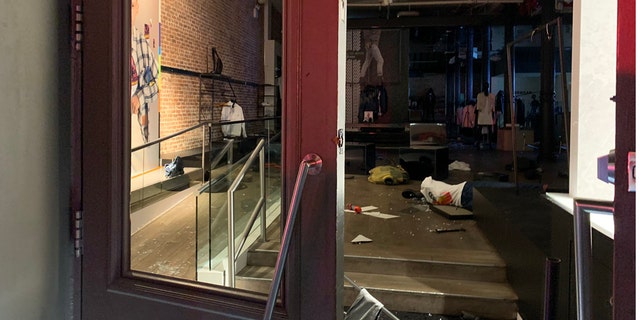 Early Monday morning in Manhattan's Soho neighborhood, mobs of people rampaged down the sidewalks, smashing into numerous luxury shops to steal merchandise.
Hundreds of people marauded through the area, breaking into Rolex, Chanel and Prada boutiques as well as clothing and electronics stores.
Philadelphia, Pa.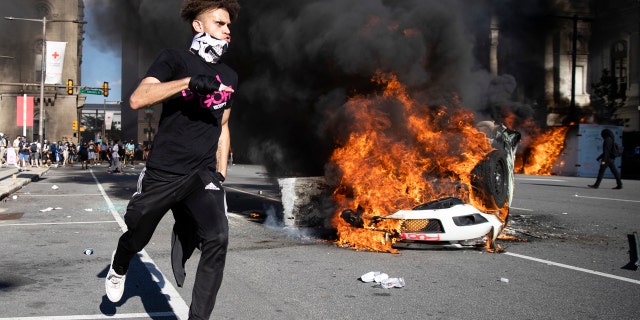 Authorities in Philadelphia said a peaceful demonstration on Saturday protesting the death of George Floyd later turned violent, and at least 13 police officers have been injured amid incidents of arson and store break-ins in the city's downtown.
Police Commissioner Danielle Outlaw said at least four police vehicles were set ablaze and other fires were set throughout downtown Saturday afternoon.
Protesters smashed windows and stole merchandise from stores as police tried to worked to corral the crowd, which Outlaw estimated numbered about 3,000.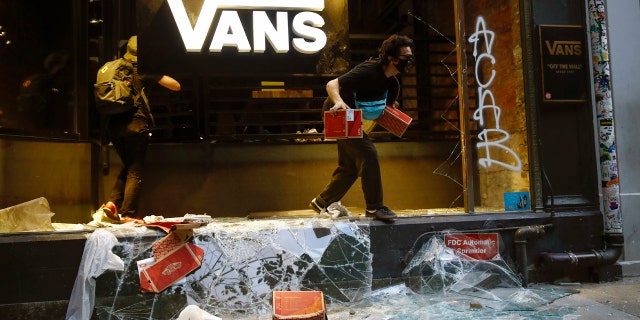 Philadelphia Mayor Jim Kenney has implemented a mandatory city-wide curfew that went into effect at 8 p.m. Saturday and will continue on Sunday evening.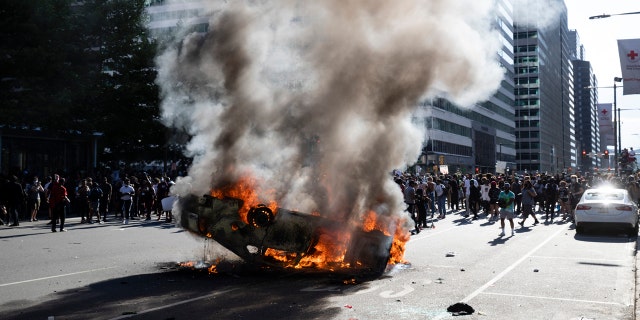 "The peaceful protests earlier were touching showings of our collective grief. The anger being displayed now cannot continue. Please have respect and dignity for each other and return home," the mayor tweeted Saturday night.
Protesters also sprayed graffiti on a statue of former Philadelphia Mayor Frank Rizzo, tried to topple it, and set a fire at its base.
PHILADELPHIA POLICE SAY GEORGE FLOYD UNREST LEAVES MORE THAN A DOZEN OFFICERS INJURED
One officer who was was riding a bike toward a group of suspected looters was injured after being struck by a vehicle that later drove off, FOX29 reported.
Looters were back out ransacking parts of Philadelphia on Sunday afternoon.
Video captured by Fox 29 showed what appeared to a hijacked police car crashing into another vehicle. Other protesters could be seen ransacking another police car, smashing its windshield, and emptying its contents out onto the street.
The lingering unrest prompted city officials to order retail businesses closed and issue a curfew from 6 p.m. Sunday to 6 a.m. Monday.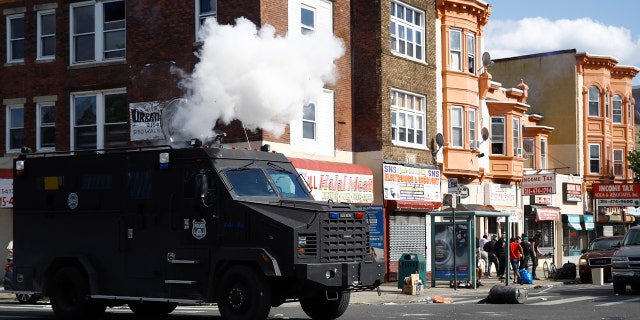 The National Guard has since arrived in the city, according to FOX29.
"The Pennsylvania National Guard is ready to provide safety and protection to our communities," said Maj. Gen. Anthony Carrelli, Adjutant General of Pennsylvania. "Our troops are trained to protect life, preserve property and ensure people's right to peacefully demonstrate."
Nashville, Tenn.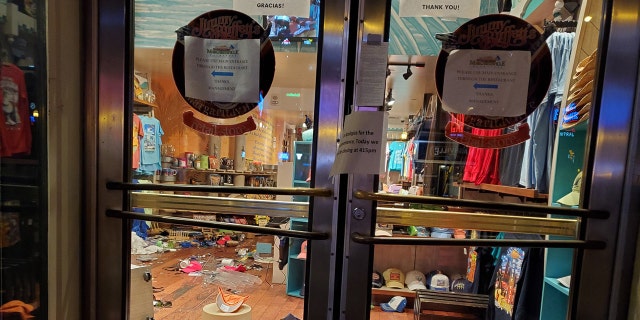 A state of civil emergency was declared Saturday in Nashville, Tenn., after protesters set a fire inside the Metro Courthouse in the state's capital city.
Thousands had rallied near the Capitol building Saturday afternoon to peacefully protest police brutality and racism but things turned violent after darkness fell.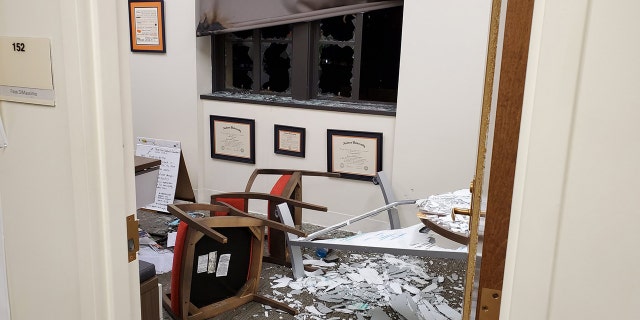 Protesters broke windows in government buildings and caused other property damage, FOX17 reported.
Police deployed tear gas and began warning demonstrators that the protest was unlawful.
The Metro Nashville Police Department said that more than 30 businesses and buildings were damaged in Saturday's riots, and 28 people were arrested downtown. Of those arrested, all but three were Tennessee residents, according to police.
Mayor John Cooper said the courthouse was the site of "reprehensible vandalism."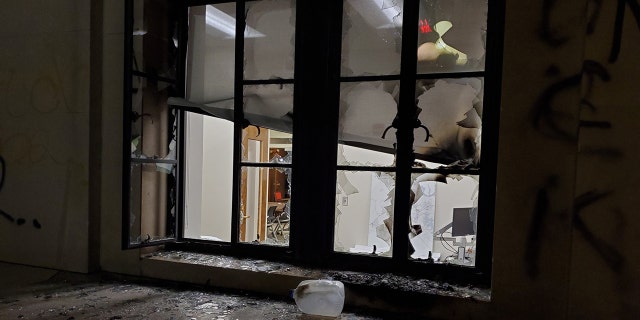 Gov. Bill Lee issued an order Saturday night for the National Guard to mobilize "in response to protests that have now taken a violent, unlawful turn in Nashville."
A curfew was put into place started at 8 p.m. on Sunday.
The MNPD said Sunday that 25-year-old Wesley Somers was arrested on charges of felony arson, vandalism, and disorderly conduct for setting fire to Nashville's Historic Courthouse Saturday night.
San Francisco, Calif.
San Francisco's iconic Union Square saw people stealing leather bags from the Coach store and shoes from the Salvatore Ferragamo location as protests erupted across the Bay Area on Saturday.
Streets were littered with bras from Victoria's Secret and cushioned jewelry boxes from Swarovski. Police fired tear gas to disperse protesters, the Mercury News reported.
San Francisco Mayor London Breed said a citywide curfew would go into effect from 8 p.m. Sunday to 5 a.m. Monday. She also asked the governor to put the National Guard on standby.
"People are hurting right now. They're angry. I'm angry," Breed tweeted. "We can't tolerate violence and vandalism."
San Francisco Police Chief Bill Scott said he understood why protesters are angry at police. But he warned that if anyone assaulted officers, "we will not tolerate that."
San Francisco police officers seized firearms and explosives and arrested at least 80 people Sunday night on violating a curfew and looting charges.
Scott said demonstrations that drew about 1,000 people carrying signs and chanting "George Floyd" and "Black lives matter" were overwhelmingly peaceful Sunday and the vast majority of demonstrators dispersed without incident before the 8 p.m. curfew.
But a relatively small number of "defiant individuals" who had gathered in the Civic Center area refused to disperse, threw bottles at officers and started trash fires, Scott said.
In response, officers and deputies with the sheriff's office began making arrests, he said.
Detroit, Mich.
Some 1,500 people demonstrated peacefully Friday in Detroit as part of the nationwide protests.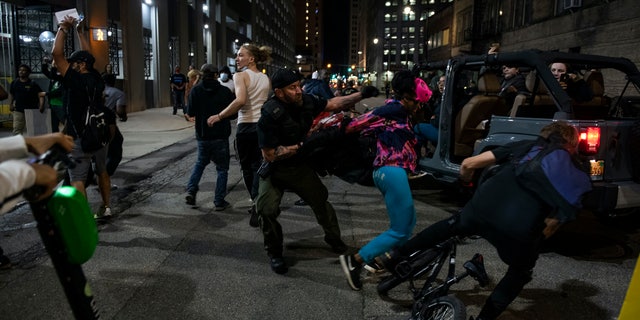 Police Chief James Craig said one person was killed and more than 40 people were arrested. He said at least three-fourths of the demonstrators were from outside of the city.
A DPD spokesperson said a grey Dodge Durango pulled up and fired into the crowd, striking a 19-year-old man. The shooting did not involve the police.
Tear gas was deployed Sunday night after protesters refused to obey a new curfew in Detroit, FOX2 reported.
"We advised them of the curfew," said Detroit Police Chief James Craig. "The officers took rocks, bottles and railroad ties at some point."
Portland, Ore.
Police in Portland, Ore., declared a riot after demonstrators on Friday smashed store windows and broke into the Multnomah County Justice Center, where office cubicles were set ablaze. "ENOUGH!" Mayor Ted Wheeler wrote on Twitter before declaring a state of emergency and instituting an overnight curfew.
Portland's mayor declared a state of emergency for Portland after riots damaged numerous businesses and public buildings Friday night. A curfew has been enacted, starting at 8 p.m. and continuing until 6 a.m.
CIVIL RIGHTS ATTY: DEMS NOT STANDING UP AGAINST CRIME IN FLOYD PROTESTS BECAUSE THEY'RE AFRAID TO ALIENATE BLACK VOTE'
Dozens were arrested on Saturday as hundreds took to city streets again.
Over the course of five hours, police told FOX12 that businesses were vandalized in downtown and the Lloyd District. The vandalism included fires, smashed windows, looting and illegal use of construction site materials for blocking streets and traffic.
Confrontations continued on Sunday as police deployed tear gas to disperse a large crowd downtown after authorities said projectiles were thrown at officers.
Earlier, police said protesters smashed windows at the federal courthouse, and authorities on loudspeakers declared the gathering a civil disturbance.
Thousands of people marched throughout Oregon's largest city on Sunday, the third day of George Floyd protests in Portland. For much of the afternoon and evening protesters were largely peaceful, but there were reports of increased violence directed at police into the night.
Memphis, Tenn.
Protesters took to the streets of Memphis Friday night to speak out against police brutality and the recent deaths of three African-Americans at the hands of police.
The first demonstrators arrived just before 6:30 p.m. Within an hour, the crowd had grown to about 300, the largest of the protests so far.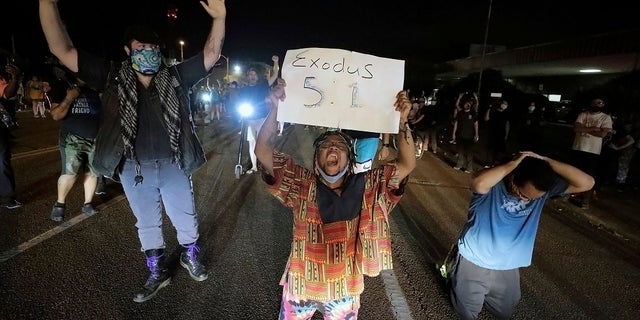 That was despite a series of road closures set up by the Memphis Police Department at every entrance into the area. While Wednesday, the overarching emotion seemed to be anger, Friday night's protest seemed to be about unity and healing.
During protests on Sunday night, some stores were damaged after rioters smashed several building storefronts, FOX13 reported.
Chicago, Ill.
Mayor Lori E. Lightfoot (D)
Dozens of protesters wearing face masks — many with the communist group Revolution Club Chicago and the organization Refuse Fascism Now, which is calling for President Donald Trump's removal — gathered in downtown Chicago and marched through the streets for hours Friday evening.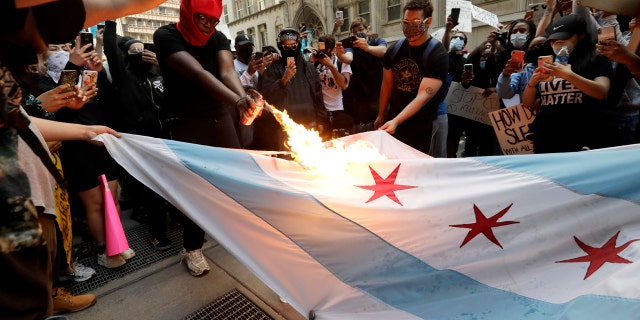 The group chanted "say his name, George Floyd" and "black lives matter." Some held signs that said "Justice 4 George" and "I can't breathe."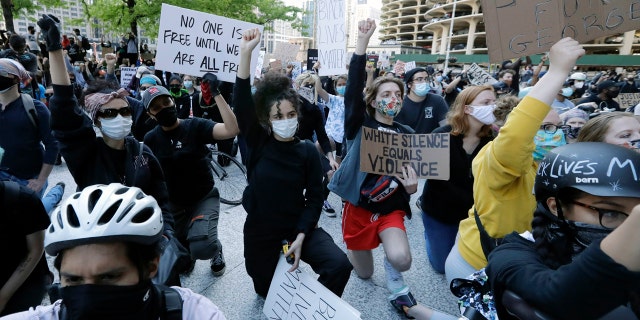 At one point, the group blocked a major highway, stopping traffic as police created a barricade with their bicycles. Later on, the group stopped outside the Metropolitan Correctional Center and chanted "we love you," according to videos posted to social media.
CHICAGO MAYOR TELLS TRUMP 'F-U' AFTER TWEET ABOUT MINNEAPOLIS LOOTING
The peaceful protest took a turn early Saturday morning, with demonstrators breaking the windows of several downtown storefronts. Multiple people were arrested, police said.
Another protest in Chicago on Saturday evening took a more violent turn.
A video posted to Twitter on Saturday evening showed protesters in Chicago physically clashing with police as a bystander filmed the confrontation. The crowd surrounds one police officer and begins to hurl objects in his direction after pushing him repeatedly. It then becomes a free-for-all of plainclothes citizens and uniformed officers hitting one another.
Chicago Mayor Lori Lightfoot announced an overnight curfew in the city running from 9 p.m. Saturday until 6 a.m. Sunday, and she said police would crack down on any violence.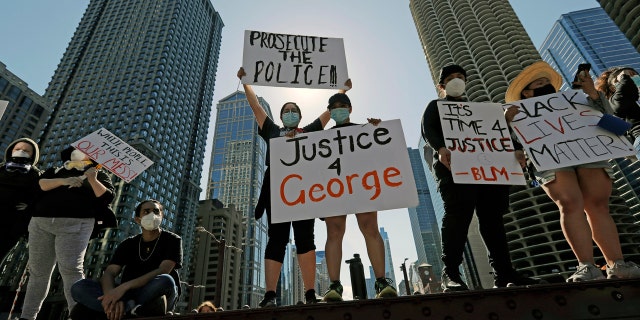 Lightfoot said that peaceful protesting "devolved into criminal conduct."
The mayor added that police will be aggressive with arrests for anyone caught damaging property.
"We can have zero tolerance for people who came prepared for a fight and tried to initiate and provoke our police department," she said.
Officials in Chicago have taken to such tactics as raising bridges along the Chicago River in order to limit access to downtown on Sunday morning.
At least six people were shot downtown, one of them fatally, during the protests Saturday in Chicago, FOX32 reported.
Widespread looting was reported Sunday throughout the South and West sides of Chicago and some suburbs after authorities blocked access to the city's downtown, according to FOX32.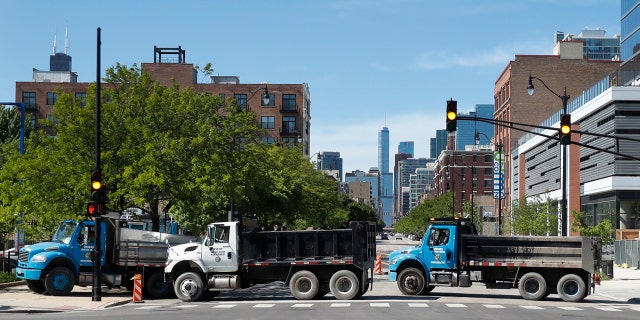 Illinois Gov. J.B. Pritzker ordered the National Guard to support Chicago police following the violent protests.
Atlanta, Ga.
Mayor Keisha Lance Bottoms (D)
A state of emergency was declared in Atlanta hours after hundreds of protests converged outside CNN's downtown headquarters late Friday. Activists spray-painted over a large CNN logo outside the building, broke a window and tagged doors.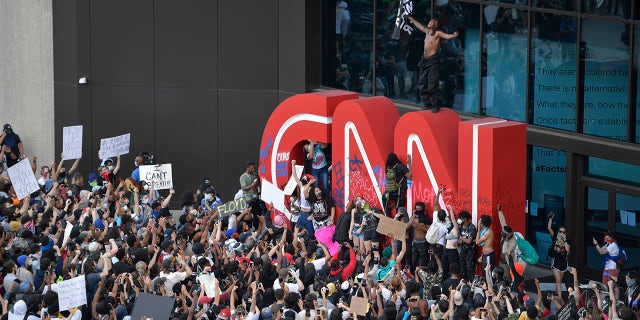 Protesters pelted officers who came over with bottles, striking some of them. Other bottles thrown at authorities exploded behind the police line, but no officers appeared to get hit. Protesters chanted, "Quit your jobs."
The officers backed their line away from the group of protesters who were throwing objects at them. Police ordered demonstrators to leave the street and threatened to arrest them if they did not leave quickly.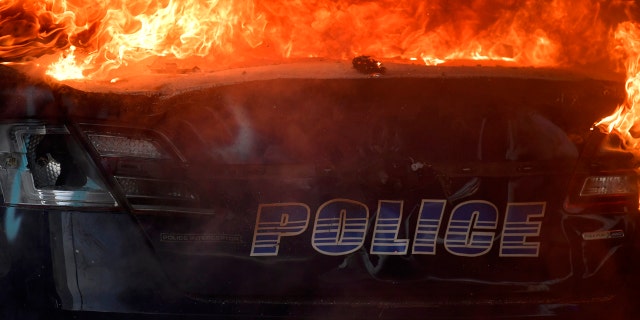 Protesters used an accelerant to burn an American flag. People were watching the scene from rooftops, some laughing at skirmishes that broke out and vandalism by the protesters.
MLK'S DAUGHTER, ATLANTA MAYOR AMONG LEADERS CONDEMNING RIOTS AFTER GEORGE FLOYD'S DEATH
Mayor Keisha Lance Bottoms said: "This is not a protest … this is chaos."
Georgia Gov. Brian Kemp said Saturday he is expanding a state of emergency to authorize the deployment of up to 3,000 National Guard troops to protests in cities across the state.
Kemp said he was prepared to send Guard soldiers to Athens, Savannah and any other Georgia cities where demonstrations were planned Sunday.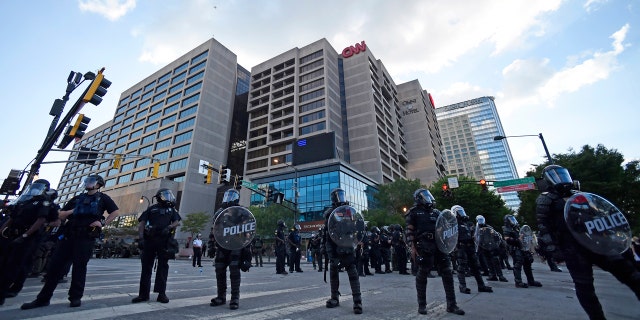 "Hopefully, we don't have to," the Republican governor told WSB-TV late Saturday.
Kemp had already approved up to 1,500 Guardsmen to help enforce a 9 p.m. Saturday curfew in Atlanta.
Atlanta police said in a statement late Saturday they had made more than 50 arrests as protesters threw rocks at officers and broke windows in the downtown area. The curfew was imposed after demonstrations Friday night turned violent with people setting fires and smashing windows at businesses and restaurants.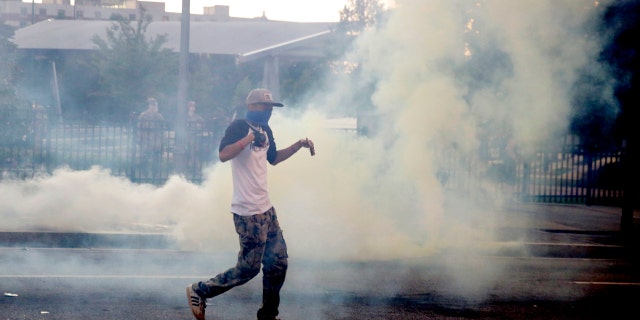 "The protesters need to know we're going to support their efforts in a peaceful, nonviolent protest," Kemp said. "The agitators need to know that we'll be there ... to take them to jail if they're destroying lives and property."
In downtown Atlanta, authorities fired tear gas on Sunday night to disperse hundreds of demonstrators.
Bottoms said two officers had been fired and three placed on desk duty after a video showed police surrounding a car Saturday, then pulling a woman out of the passenger seat and appearing to use a stun gun on a man who was driving. Police Chief Erika Shields called it "really shocking to watch."
Washington, D.C.
Angry protesters arrived at Pennsylvania Avenue, sparking a lockdown at the White House Friday night.
Videos showed a large group of protesters gathering, with some burning flags and knocking over barricades. The protesters then moved from the White House to another part of the city.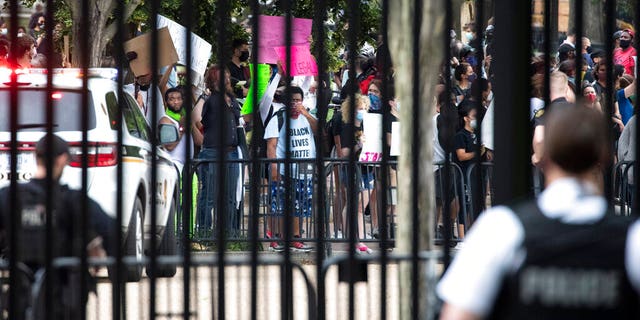 Multiple reporters posted that they were inside the White House and that the Secret Service was not letting them leave the grounds during the lockdown.
In Lafayette Park, the angry group of protests appeared to turn its rage on a Fox News crew early Saturday, chasing and pummeling reporter Leland Vittert and his crew. They were punched and hit by projectiles as they fled.
President Trump on Saturday praised the Secret Service for its protection of the White House on Friday night, calling them "very cool & very professional" – and warned that any protesters who breached the fence would have met by "vicious dogs" and "ominous weapons."
On Sunday, it was revealed that more 60 Secret Service officers and special agents sustained multiple injuries in three days worth of violent clashes. Famed monuments in the nation's capital have also been damaged.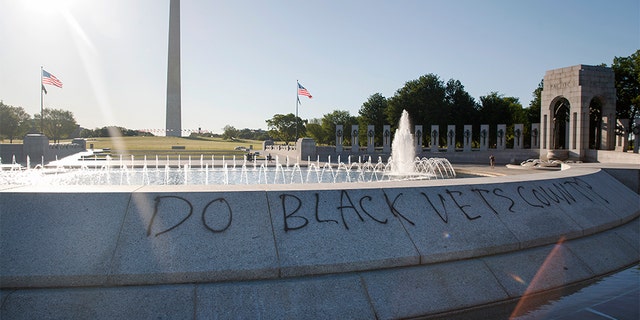 The violence escalated on Sunday night as fires set by rioters blazed near the White House as the entire Washington, D.C. National Guard was being called in to help with the response to protests, according to two Defense Department officials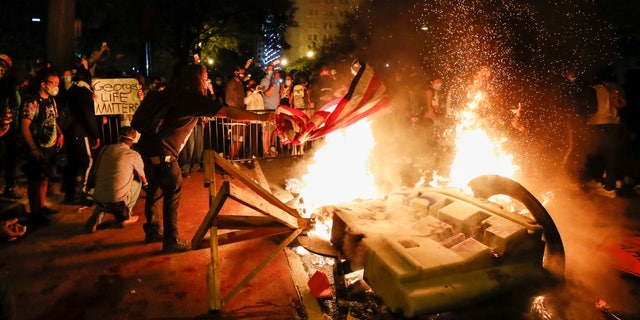 Washington Mayor Muriel Bowser said Sunday that she had requested 500 DC Guardsman to assist local law enforcement. Later on Sunday, as the protests escalated, Army Secretary Ryan McCarthy ordered the rest of the Guardsman — roughly 1,200 soldiers — to report.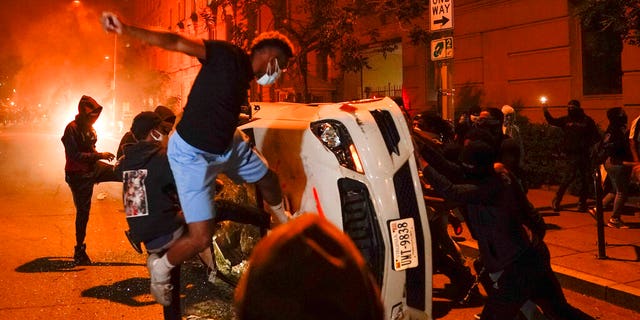 As authorities clashed with demonstrators for the third straight night, the parish house connected to the historic St. John's Episcopal Church across the street from the White House was set on fire late Sunday.
Madison, Wis.
Mayor Satya Rhodes-Conway (D)
A total of 75 businesses on State Street in Maidson, Wis., were damaged or looted after a protest on Saturday in the Wisconsin capital turned violent.
The Madison Police Department said in a news release that after a demonstration ended at 4:30 p.m. on Saturday, a group of 150 people remained and "began damaging property."
One MPD squad care was broken into, driven a short distance, and set on fire. Police said two rifles were stolen from the vehicle. Video posted to Twitter showed the vehicle being driven away.
One officer was injured, and many were pelted with rocks and bottles throughout the night.
Officials said so far, three arrests have been made in connection with the violence in Madison.
Fifteen people were arrested after a second night of violence erupted Sunday night in Madison, Wisconsin, with police firing tear gas as protesters again threw rocks and damaged store downtown stores following an afternoon peaceful protest. Madison police reported Monday that multiple stores were looted in the State Street area.
Denver, Colo.
Mayor Michael Hancock (D)
Denver Mayor Michael Hancock called for calm and unity Friday after the first of several planned city protests over Floyd's death turned violent, declaring, "Let not the story be about the riots and protests. Let's keep the focus on the life that was lost."
"I can tell you not to go out and demonstrate but the reality is it's going to happen," Hancock said at a news briefing, stressing he shared outrage over what he's called the "senseless and tragic murder" of Floyd in Minneapolis.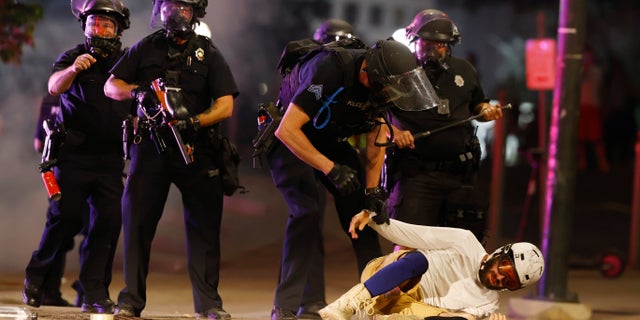 Hancock and Police Chief Paul Pazen blamed what they called a minority of agitators among peaceful protesters for inciting violence throughout downtown on Thursday.
That violence included throwing rocks at police officers, setting small fires, and breaking windows and damaging cars at the state Capitol and at businesses. Pazen said three officers were injured and that 13 people were arrested for burglary, criminal mischief, and assault.
A curfew was implemented at night after violence and looting continued.
Santa Monica, Calif.
A peaceful protest in Santa Monica, Calif., on Sunday over the death of George Floyd descended into chaos after some of the protesters started looting local businesses, with the ransacking caught on video.
Not far from a peaceful demonstration, a group broke into a Gap and a Vans sneaker store, where people walked out with boxes of shoes.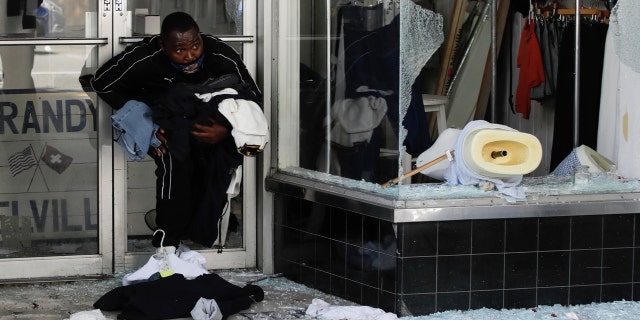 Others shattered the windows of an REI outdoor supply store and snatched folding chairs, a bike, and backpacks. A fire broke out at a restaurant across the street.
San Diego, Calif.
Mayor Kevin Faulconer (R)
The violent unrest gripping the nation spread Saturday night to a suburb of San Diego, where rioters burned two banks to the ground and looted and destroyed many other businesses.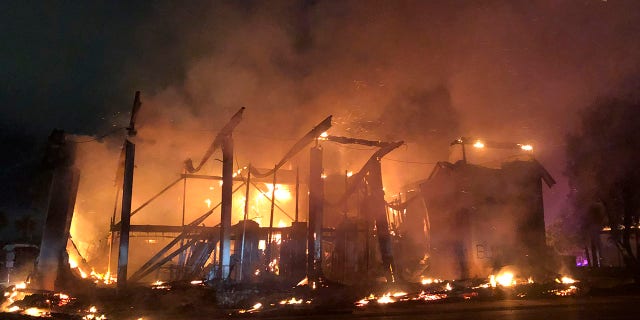 Images showed the fire engulfing one bank, leaving behind a gutted skeleton of lumber and twisted metal by morning in La Mesa.
Demonstrations continued Sunday in San Diego, with officials later ordering people to disperse after an "escalation of violence and vandalism" downtown.
Highways and bridges were closed as the city and nearby suburbs issued curfews, FOX5 reported.
Boston, Mass.
A Sunday afternoon of mostly peaceful protests in Boston broke at nightfall when protesters clashed with officers, throwing rocks, breaking into several stores and lighting a police vehicle on fire.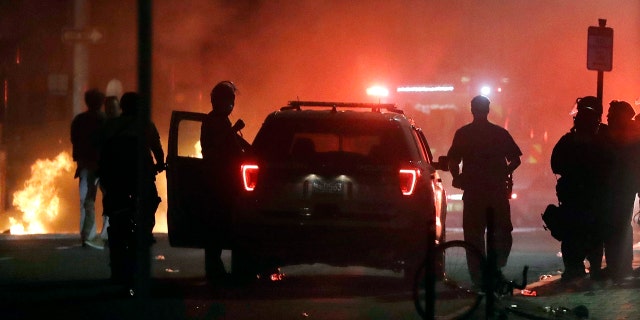 Boston police tweeted that at least 40 people had been arrested as of 3 a.m. Monday. Police said seven police officers had been hospitalized and 21 police cruisers were damaged.
A National Guard unit had been called in to help quell the clashes.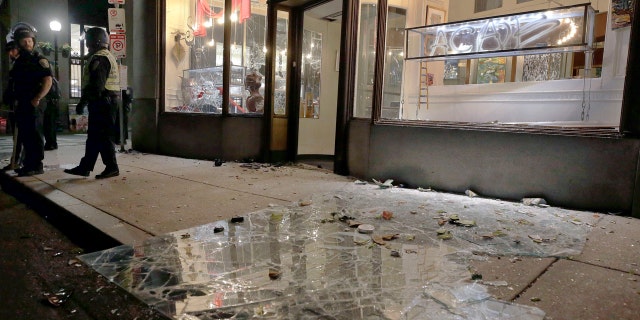 Republican Gov. Charlie Baker called the violence "criminal and cowardly" in a tweet. The nighttime destruction was a stark contrast to the several protests earlier Sunday that featured thousands of demonstrations marching peacefully.
Miami, Fla.
City of Miami Police enforced a curfew on Sunday night after peaceful protests give way to tense confrontations with police and vandalism at area businesses.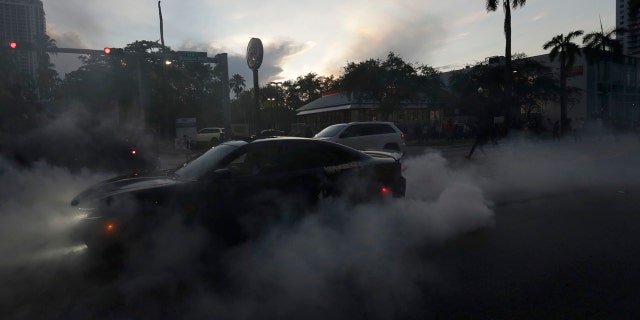 Various videos show people vandalizing shops across the city over the weekend. Looters targeted stores at shopping centers in Midtown Miami and downtown, according to WSVN.
Protestors also shut down portions of interstates in the city as they marched throughout the day.
Oklahoma City, Okla.
Peaceful protests in Oklahoma City on Sunday turned violent, as officials declared a state of emergency due to violence downtown.
Mayor David Holt ordered a curfew overnight for downtown after violence was reported, according to FOX25.
On Saturday, over a dozen were arrested and tear gas was used after vandalism and assault on officers was reported after nightfall, FOX 25 reported.
Scottsdale, Ariz.
YouTuber Jake Paul issued a response after sparking outrage by filming inside an Arizona mall as it was being looted by protesters during Saturday night's unrest at Scottsdale Fashion Square.
Video showed Jake Paul outside of the mall while people are seen stealing clothes and tennis shoes.
[WARNING: The video below contains graphic language.]
Jake Paul, who resides in Los Angeles, is not an Arizona native and has more than 20 million subscribers on YouTube.
Paul posted a statement on Twitter stating he did not participate in looting or vandalism.
"We were gassed and forced to keep moving," Paul said.
Hundreds came to the mall under "the guise of protesting police violence," officials told FOX10.
"While some may have indeed come to join what they believed would be a peaceful protest, what occurred was neither peaceful, nor a protest," wrote Scottsdale Police. "It was a riot that saw several dozens of individuals collectively damaging property at and near the mall, breaking into businesses and looting the interiors."
Windermere, Fla.
A group of about 10 protesters gathered Friday near a home that belongs to Chauvin, the police officer charged with killing Floyd, after social media postings listed an address in the community of Windermere outside Orlando.
They carried signs that said, "He said I can't breathe. Justice for George," and "We see you, we hear you … we love you! #Justice for George."
CLICK HERE FOR THE FOX NEWS APP
The Orange County Sheriff's Office tweeted from its official account that Chauvin is not at the residence and is not expected there. The office says it's confirmed he has no plans to be in the area.
Albuquerque, N.M.
Albuquerque police used a helicopter and tear gas Friday as they retreated from a crowd of people after a confrontation that followed a protest on the start of a violent weekend across the country.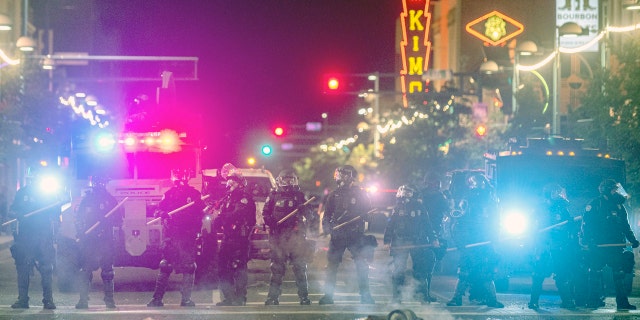 Another protest along the historic Route 66 into downtown Albuquerque turned violent early Monday after police reported demonstrators setting small fires and officers say they were fired upon.
Albuquerque police spokesman Gilbert Gallegos told the AP officers reported shots fired at them in front of the historic Kimo Theater early Monday after a mostly peaceful demonstration disbanded.
Gallego said there was damage to several properties in the area, including broken windows and some stealing from stores. No injuries were reported.
Before the chaos, hundreds of people on Sunday marched down historic Route 66, protesting the death of George Floyd.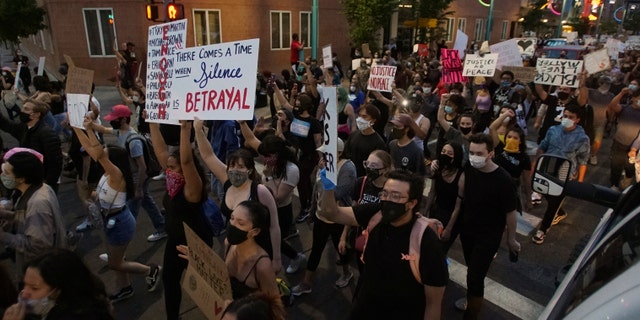 Protesters in New Mexico's largest city held signs, wore masks and chanted, "Say his name: George Floyd" and "Hands up, don't shoot."
Sioux Falls, S.D.
South Dakota Gov. Governor Kristi Noem activated the National Guard after protests in Sioux Falls turned violent.
The protest in South Dakota's largest city started Sunday afternoon with a march downtown. Police said dozens of protesters later congregated at the Empire Mall and began throwing rocks at officers and breaking windows.
Police said protesters had dispersed by 11 p.m. Noem said about 70 Guard members are in Sioux Falls and will remain until they are no longer needed.
Fontana, Calif.
Mayor Acquanetta Warren (R)
Nine people were arrested after rocks were thrown at businesses, vehicles and officers during a Southern California protest stemming from the death of George Floyd.
The violence erupted Thursday night in Fontana as about 100 people moved up and down a thoroughfare and blocked traffic. Police say an unlawful assembly was declared and the crowd was ordered to disperse but some persisted.
Elsewhere in the region, demonstrators gathered outside Los Angeles police headquarters but there was no repeat of Wednesday evening's action in which protesters blocked freeway traffic and attacked two Highway Patrol cruisers.
Columbus, Ohio
Mayor Andrew J. Ginther (D)
Five people were arrested and two police officers were injured by protesters throwing rocks and bricks at them on the second straight night of protests in Ohio's capital city.
Police also reported broken windows and spray-paint graffiti in the Short North. Business owners boarded up their buildings, and a couple stood outside well after midnight, with guns, to protect their properties.
Protesters converged earlier in the night on Columbus police headquarters, where they staged a peaceful protest.
Houston, Texas
Mayor Sylvester Turner (D)
On Friday, several thousand people attended a rally in front of city hall in Houston, where Floyd grew up.
The rally was mostly peaceful but police had apparently taken into custody a woman who had a rifle and had tried to use it to incite the crowd.
The crowd marched through downtown Houston to get to city hall, blocking traffic and at times chanting "No justice, no peace" and "Say his name. George Floyd." Many held up signs that said, "I Can't Breathe" and "Justice For George."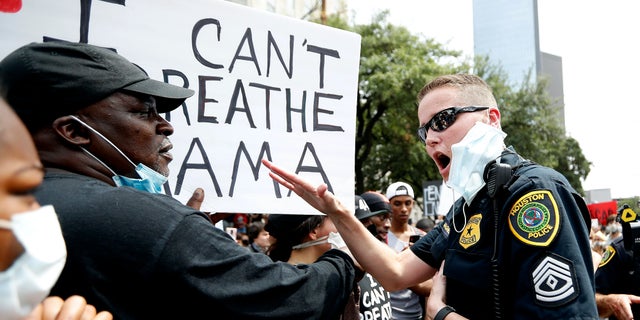 Eventually, the protesters ended up alongside U.S. Highway 59, one of the major thoroughfares in Houston. A group of about 60 to 70 shut down the freeway for at least half an hour. Houston police accompanied the protesters as they marched for less than half a mile along the freeway before they walked off of it. No arrests were made.
Houston Police Chief Art Acevedo said he welcomed the rally.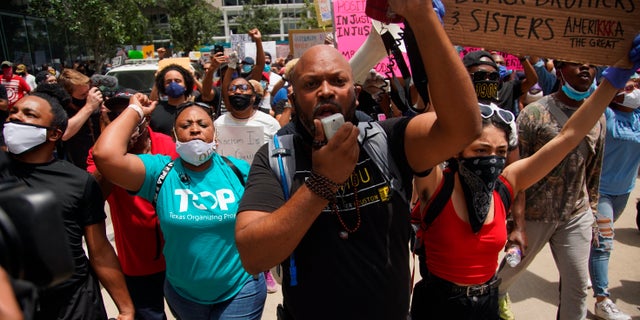 "We stand with them protesting what happened in Minnesota," said Acevedo. "I'm happy that they're here today because people need to be heard, voices need to be heard."
One of those protesting Floyd's death was 19-year-old Jimmy Ohaz, who came from the nearby city of Richmond, Texas.
"My question is how many more, how many more? I just want to live in a future where we all live in harmony and we're not oppressed."
Phoenix, Ariz.
Hundreds rallied in downtown Phoenix, marching from Phoenix City Hall to the state Capitol on Thursday night into Friday morning. They carried signs reading, "Silence is violence" and "Being black should not be a death sentence," The Arizona Republic reported.
Around 11 p.m. Friday, Phoenix police declared an unlawful assembly around the Capitol building. Protesters refused to leave the area, news outlets reported.
FEDERAL PROTECTIVE SERVICE OFFICER KILLED, ANOTHER INJURED IN OAKLAND SHOOTING AMID GEORGE FLOYD PROTESTS
The newspaper reported that rocks and water bottles were thrown at police. Video from local TV stations showed protesters hammering on the window of a police car, and the newspaper reported at least one police car window was broken. The Arizona Department of Public Safety and Phoenix police responded by firing pepper spray and rubber bullets at the crowd.
Phoenix police fired tear gas on Sunday night at protesters who marched downtown after the city's curfew, witnesses told FOX10.
Arizona Gov. Doug Ducey declared a state of emergency Sunday and announced a statewide, weeklong curfew to go into effect each night from 8 p.m. to 5 a.m. after several nights of protests turned destructive and violent.
Louisville, Ky.
Looking to defuse tensions in Louisville, Floyd's mother on Friday called on protesters to continue demanding justice but to do it in "the right way without hurting each other."
Kentucky Gov. Andy Beshear read the statement from Breonna Taylor's mother hours after gunshots erupted, wounding at least seven people, during protests late Thursday outside City Hall. At least one person was in critical condition, Louisville Metro Police said early Friday.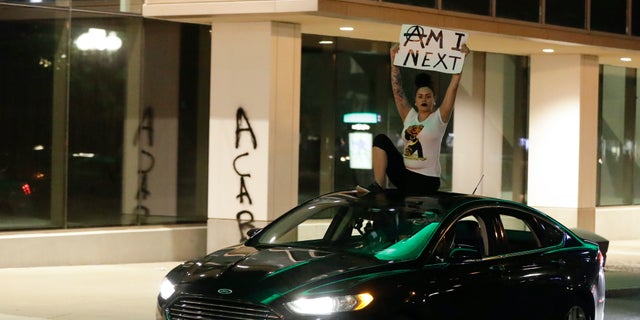 "No officers discharged their service weapons," and all seven people shot were civilians, police spokesman Sgt. Lamont Washington wrote in an email to The Associated Press.
In her statement, Tamika Palmer said her daughter — an emergency medical technician — devoted her life to others, and the "last thing she'd want right now is any more violence."
Demonstrations continued over the weekend.
The police chief of Louisville said police officers and National Guard soldiers enforcing a curfew in Louisville killed a man early Monday when they returned fire after someone in a large group fired at them first.
Louisville Metro Police Chief Steve Conrad confirmed the shooting happened around 12:15 a.m. outside a business on West Broadway, where police and the National Guard had been called to break up a large group of people gathering in defiance of the city's curfew.
Someone fired a shot at them and the officers returned fire, the chief said. It was unclear if the person killed is the one who fired at the law enforcers, he said.
"Given the seriousness of the situation, I have authorized the Kentucky State Police to independently investigate the event," Beshear said in a statement Monday morning.
Davenport, Iowa
Two people were killed and several others-- including a Davenport police officer-- were injured during unrest in Iowa from Sunday night into early Monday.
Davenport Police Chief Paul Sikorski told reporters on Monday that officers responded to 45 serious disturbance calls around the city on Sunday night, including "dozens" of shots fired incidents.
One of the shooting incidents occurred near a Walmart where four people were shot and two died.
In another incident, around 3 a.m., three Davenport officers on patrol were ambushed in their vehicle by a shooter who fired several rounds at them.
Jacksonville, Fla.
A fifth night of unrest following the death of George Floyd saw protests in Florida turn violent, with several deputies suffering injuries as businesses were looted and set on fire.
A deputy in Jacksonville was either stabbed or slashed in the neck when a peaceful protest turned into a destructive riot, the Jacksonville Sheriff Mike Williams told reporters Saturday night. The deputy is recovering at a hospital.
"He was out here doing his job when he was attacked," Williams said, adding that he believes that the violence was instigated by "an out-of-town influence."
Jacksonville Mayor Lenny Curry issued a citywide curfew Sunday "due to criminal activity that threatens first responders."
St. Louis, Mo.
Demonstrators in St. Louis stopped traffic and, in some cases, lashed out violently at the police and National Guard to protest Floyd's killing.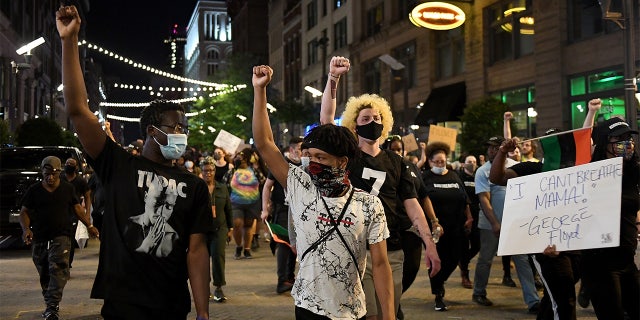 A man reportedly was dragged and killed by a FedEx truck early Saturday after protesters blocked off a downtown street with their cars. They were seen setting something in the road on fire when the truck approached.
Las Vegas, Nev.
Mayor Carolyn Goodman (I) 
More than 400 people demonstrated on the Las Vegas Strip on Friday afternoon calling for policing reforms.
Oakland, Calif.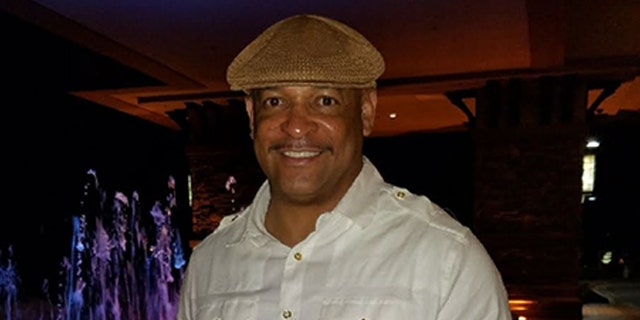 A Federal Protective Service (FPS) Officer was killed and another injured Friday in a shooting at a federal building in Oakland, Calif., amid protests and violence in the city over the death of Minneapolis man George Floyd.
"We have witnessed an outright assault on our law enforcement community last night in Oakland, California," Acting Homeland Security Secretary Chad Wolf said at a Saturday news conference. "An assassin cowardly shot two Federal Protective Service contractors as they stood watch over a protest."
According to the FBI's San Francisco branch, the shooting occurred at the Ronald V. Dellums Federal Building when a vehicle approached the building and opened fire at the security officers.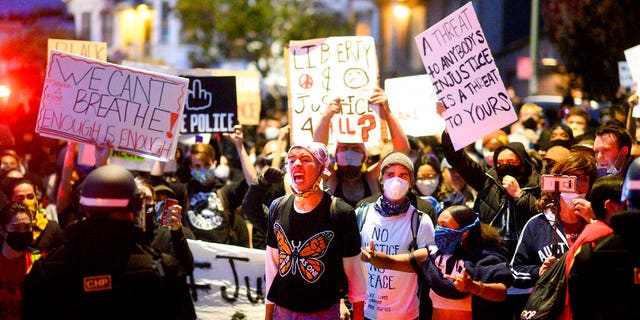 Family members identified the officer on Sunday as 53-year-old Patrick Underwood.
Underwood's sister, Lancaster City Councilwoman Angela Underwood Jacobs — who briefly ran for Congress — confirmed the death of her brother in a short post on Facebook.
Underwood was killed while the second officer was wounded and remains in critical condition. His identity has not yet been released.
Protests in California raged on overnight into Sunday, while some riots saw buildings damaged with smashed windows, graffiti on the walls, and fires lit.
About 60 people were arrested in Oakland, including three detained Monday on suspicion of assault with a deadly weapon on officers. The three allegedly shot at the department's headquarters from a car just after midnight. No officers were injured, authorities said.
The Oakland Police Department said the trio was arrested about a mile north from police headquarters but gave no other information.
The city of 430,000 people across the bay from San Francisco has not imposed a curfew.
Fox News' Brooke Singman, Bradford Betz, David Aaro, Stephen Sorace, Adam Shaw, Vandana Rambaran, Tyler Olson, Tyler McCarthy, Gregg Re, Charlie Creitz, Nick Givas, Gregg Re, Caitlin McFall, Dom Calicchio, and the Associated Press contributed to this report.