LIVE UPDATES: Riots break out across America after George Floyd death
All Times ET
1:10 a.m. -- On that note, we will end our live coverage on a night that saw America convulsed by protests from New York City to Los Angeles, from the White House in Washington to CNN Center in Atlanta. However, the center of the storm remains Minneapolis, the place where George Floyd died.
Stay with Fox News and FoxNews.com for continuing coverage.
1:00 a.m. -- Minnesota Gov. Tim Walz says the National Guard is on the ground in the Twin Cities.
12:55 a.m. ET -- Presented without comment: Harvard Divinity School professor Cornel West on CNN tonight: "I think we are witnessing America as a failed social experiment. And what I mean by that is that the history of black people for over 200-something years in America has been looking at America's failure.
"Its capitalist economy could not generate and deliver in such a way that people could live lives of decency. The nation-state, its criminal justice system, its legal system could not generate protection of rights and liberties."
Cornel West will be on "Fox News Sunday" with Chris Wallace this week.
12:48 a.m. -- Ted Cruz spoke to "Tucker Carlson Tonight" about the video of George Floyd's arrest: "He is handcuffed, he's clearly incapacitated. He's begging for his life. And what we saw was wrong. There's no legitimate law enforcement purpose for what we saw right there."
12:40 a.m. -- Fires are burning across Minneapolis. Here's the last contact from Mayor Jacob Frey.
12:25 a.m. -- The Los Angeles Police Department has just declared an unlawful assembly in downtown Los Angeles due to "repeated acts of violence & property damage."
12:20 a.m. -- Georgia Gov. Brian Kemp says he has issued a state of emergency for Fulton County and activated up to 500 National Guard troops.
12:18 a.m. -- It's raining in Washington D.C. Leland Vittert: "The Secret Service is very clear: they do not want to make arrests out here. They really don't want it to get to that point."
12:15 a.m. -- New York City Mayor Bill de Blasio has tweeted about the situation in Brooklyn.
12:05 a.m. -- Earlier tonight, rapper and activist Killer Mike had some strong words for CNN: "Stop feeding fear and anger every day. Stop making people so fearful. Give them hope!"
Meanwhile, Jonathan Serrie reports, "it appears that things are beginning to calm down in downtown Atlanta."
12:00 a.m. -- A Secret Service officer, not wearing a riot shield, appears to have been injured and is getting patched up behind the riot line. Meanwhile, in Minneapolis, a Shell gas station is on fire.
11:57 p.m. -- There appears to be a lull in the situation outside the White House. The common thread between what's happening here and in other cities tonight: Very few, if any, confirmed arrests.
11:52 p.m. -- Leland Vittert reports protesters outside the White House have broken through Secret Service barricades that were held together by handcuffs. The Secret Service is now trying to push people back. Vittert estimates there are about 200 protesters in and around Lafayette Park and approximately 100 Secret Service officers in riot gear.
11:45 p.m. -- More Vittert: "The Secret Service has taken incredible abuse throughout the day from these protesters." He notes the protests began close to six hours ago.
By the way, as Vittert points out, President Trump is at the White House tonight. He is scheduled to travel to Florida tomorrow for the scheduled launch of a manned SpaceX rocket.
11:40 p.m. -- Secret Service officers in riot gear are clashing with protesters in front of barricades on the north side of the White House. Leland Vittert reports water bottles and bricks are being thrown. Leland Vittert reports: "Things are at a little bit of a stalemate."
11:30 p.m. -- It has been two-and-a-half hours since a curfew for the Twin Cities went into effect. Here's the latest: "A citywide curfew in Minneapolis appeared to be ignored Friday night as crowds continued to gather and set fires -- continuing three days of chaotic demonstrations following the death of George Floyd that included the torching of a police station Thursday night."
11:25 p.m. -- Fox News' Steve Harrigan in Minneapolis: "The mood right now is celebratory, but we've seen how quickly these things can turn on a dime, and, you know, there's no one in charge here. There is no one to enforce law and order."
11:20 p.m. -- Bit of background on the Atlanta protest: According to WAGA, one group of protesters gathered this afternoon in Centennial Olympic Park and another group gathered at CNN Center. The two groups marched to the Georgia State Capitol, then went back to Centennial Olympic Park. They were supposed to go to Atlanta Police Headquarters, but changed plans because the streets were blocked. At some point after that, clashes between protesters and police occurred at CNN Center.
11:17 p.m. -- Police fire tear gas at a crowd of demonstrators in downtown Atlanta while Fox News' Jonathan Serrie is on air with Shannon Bream.
11:14 p.m. -- Fox News' Mike Tobin reports from Minneapolis: "Another night of anarchy, another night of mob rules the street, but you don't necessarily have the concentration or the intensity that you saw last night."
11:10 p.m. -- The White House is no longer on lockdown, but there is a significant crowd gathered in Lafayette Park near the North Lawn. Fox News' Leland Vittert reports the crowd there has gotten "progressively angrier" as the night has gone on.
11:00 p.m. -- The Ramsey County Jail has released a booking photo of Derek Chauvin, the former Minneapolis police officer who was charged with third-degree murder and manslaughter in the death of George Floyd.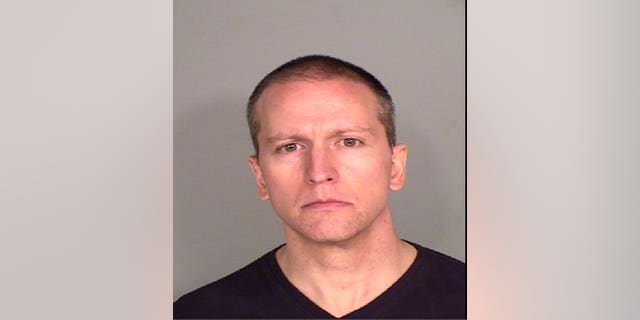 10:50 p.m. Protesters in Brooklyn have set an NYPD van on fire outside the 88th Precinct in Clinton Hill.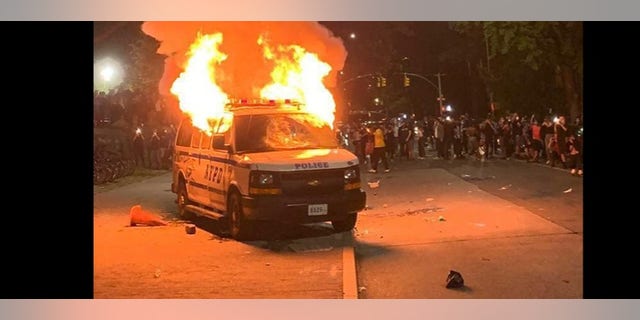 10:38 p.m. -- Fox News' Steve Harrigan reports from the scene of a car fire, which he says is "one of many" burning in Minneapolis. He also reports hearing 9-millimeter gunfire and says he has not seen a single law enforcement officer in the past two hours. A curfew was supposed to go into effect about 90 minutes ago.
Laura Ingraham: "The curfew hasn't worked."
10:35 p.m. -- Add Charlotte to the list: "Hundreds of people turned up in Charlotte, N.C., to march in protest Friday night. But the demonstrations turned destructive as at least one police car tire was slashed and several windows were broken at the Charlotte-Mecklenburg Police substation, according to a local news outlet. Police officers responded by throwing tear gas at protesters and several people have been arrested, the police department said."
10:26 p.m. -- WAGA-TV's aerial coverage shows multiple cars burning in downtown Atlanta.
10:25 p.m. -- Retired Los Angeles police detective Mark Fuhrman describes the death of George Floyd as a "slow-motion homicide" on "The Ingraham Angle."
10:20 p.m. -- Rep Dan Crenshaw, R-Texas, joined "The Story" earlier tonight to discuss the George Floyd case.
"I think two things are true. George Floyd should be alive," Crenshaw said. "There's a very clear injustice there and I think there's also wide agreement on what should happen with respect to bringing justice to not just that one officer, but we're looking at all of them. There's no disagreement there.
"But there also shouldn't be disagreement on what's happening with these riots and the injustice that is occurring against innocent people in Minneapolis because of this. And I'm a little confused that some people that want to just brush right past that and make excuses for it. That's also not OK."
10:10 p.m. -- Fox News' Jonathan Serrie tells "The Ingraham Angle" that he's never seen anything like tonight's violence in Atlanta, where he's lived off and on since the early 1980s.
10:05 p.m. -- Fox News has obtained an internal memo from FBI Director Christopher Wray to employees about the George Floyd case.
It reads, in part: "Law enforcement officers have indispensable and often dangerous jobs, but that doesn't diminish the crucial, overarching role we play in society – to protect and serve all citizens no matter their race, creed, orientation, or station in life. This, of course, includes those citizens who are in law enforcement custody.
"When we fail to honor their rights, we not only tarnish the badge we wear, we completely erode the trust so many of us in law enforcement work so hard to build, particularly within minority communities. The events this past week in Minneapolis clearly illustrate just how quickly that trust can be lost."
10:00 p.m. -- The news from Atlanta: "A crowd gathered in front of the CNN Center and grew over the course of several hours, initially breaking windows and spray-painting the CNN sign, and later throwing objects -- including what appeared to be a firecracker that exploded -- and reportedly shooting BB guns into the lobby."
9:55 p.m. -- The New York Post reports one man was arrested in lower Manhattan tonight and accused of punching an NYPD sergeant in the head with brass knuckles. Police have also deployed pepper spray at an "unruly" demonstration of more than 1,000 people outside the Barclays Center in Brooklyn.
9:50 p.m. -- Earlier tonight, the White House was placed on lockdown for more than an hour as hundreds of protesters gathered in Lafayette Park. The demonstators chanted "Hands up, don't shoot!", "Who are you protecting?", and "F--- Donald Trump!"
9:43 p.m. -- Fox News' Mike Tobin reports that an impromptu march has broken out in Minneapolis as authorities enforcing an 8 p.m. CT curfew have retreated.
9:40 p.m. -- Good evening and welcome to our ongoing coverage of riots that have broken out across America following the death of George Floyd. Washington D.C., Brooklyn, and Atlanta are just a few of the places that have seen unrest as the sun went down tonight.