FOX NEWS FIRST: Volcano eruption kills at least 25; Antifa violence in Portland; Giuliani challenges Mueller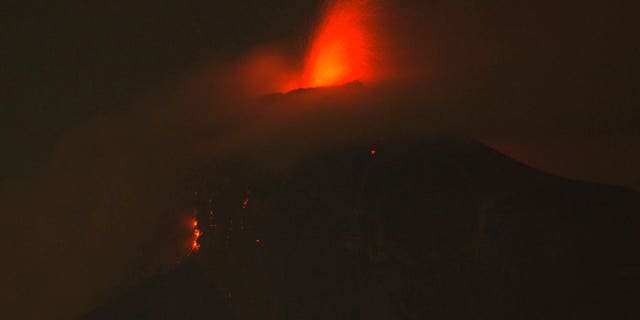 Welcome to FOX News First. Not signed up yet? Click here.
Developing now, Monday, June 4, 2018
A volcano eruption near Guatemala's capital leaves at least 25 people dead
Violence breaks out in Portland, Oregon when Antifa members rush a Patriot Prayer rally
Rudy Giuliani challenges Special Counsel Robert Mueller's team to 'man up' and make a decision about their investigation without seeking to subpoena President Trump
China raises the odds of a possible trade war by saying it will not buy more U.S. products if the Trump administration slaps tariffs on billions of dollars of Chinese imports
Bill Clinton says in an interview that impeachment hearings would already be underway if a Democrat was president and faced Russian collusion allegations
First lady Melania Trump will skip the upcoming G7 summit in Quebec and will not travel to Singapore for her husband President Trump's planned sit-down with Kim Jong Un, her spokeswoman tells Fox News
THE LEAD STORY - 'VOLCANO OF FIRE': At least 25 people were killed Sunday after a volcanic eruption near Guatemala's capital, and authorities feared the death toll could rise with an undetermined number of people unaccounted for ... The Volcan de Fuego, Spanish for "volcano of fire," exploded in a hail of ash and molten rock shortly before noon Sunday, blanketing nearby villages in heavy ash. Then it began sending lava flows down the mountain's flank and across homes and roads around 4 p.m. local time. Eddy Sanchez, director of the country's seismology and volcanology institute, said the flows reached temperatures of about 1,300 degrees. Dramatic video showed a fast-moving lahar, or flow of pyroclastic material and slurry, slamming into and partly destroying a bridge on a highway between Sacatepequez and Escuintla.
BLOODY SUNDAY IN PORTLAND: Violence broke out in downtown Portland, Ore., on Sunday as Antifa activists stormed a Patriot Prayer rally — about a year after similar dueling rallies triggered bloody fights and arrests ... Some protesters on Sunday hurled bottles and fireworks at police officers while others were caught with knives and other weapons, Portland Police tweeted. Officials encouraged people to get out of the immediate area "for their safety." Many of the Antifa activists wore black and covered their faces. Some protesters said they were demonstrating against police brutality; one sign bluntly read "F--- the police." Patriot Prayer, which bills itself as a peaceful First Amendment advocacy group, organized a rally — "Tiny's Freedom March," a going-away event for Tusitala John Toese, who's close with group leader Joey Gibson — for 5 p.m. The Rose City Antifa scheduled a counter-protest for 4 p.m. "to show Patriot Prayer, just as we showed them last year, that their violence and hatred has no place in Portland."
'COME ON, MAN UP': Special Counsel Robert Mueller is sensitive to pulling "another Comey" as the Russia probe enters its final months, Trump attorney Rudy Giuliani said in an interview Sunday ... Calling the investigation a "long nightmare with the American people," Giuliani also issued a challenge directly to Mueller's team, telling investigators to "man up" rather than seek to subpoena President Trump. "They have to make a decision without it," Giuliani said on ABC's "This Week," noting that the Trump team has already made available several witnesses and turned over more than a million documents. "So, come on, man up and make your decision." Meanwhile, former Trump campaign manager Corey Lewandowski told "Fox News Sunday" that President Trump's legal team will "take it to court" if Mueller subpoenas him as part of the Russia probe.
TRADE WAR RUMBLINGS: China has balked at stepping up its purchases of American products, raising the odds of a trade war, if President Donald Trump follows through on his threat to tax billions of dollars' worth of Chinese imports ... The warning from Beijing came after delegations led by U.S. Commerce Secretary Wilbur Ross and China's top economic official, Vice Premier Liu He, wrapped up talks on Beijing's pledge to narrow its trade surplus. White House advisers were insisting on fundamental changes in ties between the world's two biggest economic powers. At the outset of the event Ross said the two sides had discussed specific American exports China might purchase, but the talks ended with no joint statement and neither side released details.
BILL CLINTON TALKS IMPEACHMENT: Former President Bill Clinton argued Sunday that impeachment hearings would already be in full swing if a Democrat were in the Oval Office and if the special counsel's investigation into Russian meddling in the 2016 election were as deep as it is now ... "I think if the roles were reversed — now, this is me just talking, but it's based on my experience — if it were a Democratic president, and these facts were present, most people I know in Washington believe impeachment hearings would have begun already," Clinton told "CBS Sunday Morning." Clinton is no stranger to impeachment hearings. After a lengthy investigation by independent counsel Ken Starr, the Republican-controlled House in 1998 voted to impeach him for perjury and obstruction of justice in relation to the Monica Lewinsky scandal.
MELANIA TO MISS G7, NORTH KOREA SUMMITS: First lady Melania Trump will not join her husband at the G7 summit in Quebec later this week and there are "no plans" for her to travel to Singapore to meet with North Korea's leader later this month, a spokeswoman told Fox News late Sunday ... Mrs. Trump stayed behind Friday when President Donald Trump, and family-- including his daughters, eldest son and son-in-law-- went to the Camp David retreat for the weekend. She hasn't made a public appearance since before her five-day hospital stay in mid-May for treatment of a kidney condition the White House only described as benign. Mrs. Trump took to Twitter last week to dispel rumors circulating about her whereabouts.
__________________________________________________________
Consider yourself an Influencer? Become a trusted adviser in our FOX News community and help guide our brand's future. Click here to find out how.
Members of FOX News Influencers:
Have the opportunity to be heard
Be part of a special network of peers
Get to influence new ideas and initiatives 
Receive updates on what we've learned and how your input has made impact 
Fill out our qualification survey and join us. Thank you for your continued support in our company's growth.
__________________________________________________________
AS SEEN ON FOX NEWS WEEKEND
ABOUT THOSE PREDICTIONS OF A 'BLUE WAVE' ... : "I actually believe we are closer to a 'red wave' than a 'blue wave.'" – Newt Gingrich, on "Sunday Morning Futures," sounding off on why pundit predictions pf Democrats possibly gaining a majority in the House and the Senate in the November midterms may be premature. WATCH
PELOSI - THE GOP'S SECRET WEAPON?: "I just don't even know how to begin to say anything other than, 'Please, God, let Nancy Pelosi continue to be the voice of the Democratic Party for the midterm elections,' because it's the best thing that the Republicans could possibly have." – Former Arkansas governor Mike Huckabee, on "FOX & Friends Weekend," arguing that House Minority Leader Nancy Pelosi's controversial remarks are great for the Republican Party. WATCH
TRENDING
Kansas gubernatorial hopeful calls out 'snowflake meltdown' after riding jeep with replica gun at parade.
Arizona slaying may be fourth in string, including JonBenet Ramsey case doc, police say.
Dog found dead in crate during Delta Air Lines layover for cross-country flight.
LaVar Ball to NFL protesters: Stand for the national anthem or 'get out.'
Patriotic business pushes back after town tells it to remove 'excessive' American flags.
THE SWAMP
Despite drop-ins by Alec Baldwin, Robert De Niro, Mississippi election season sees unexpected star: civility.
OOPS: Cynthia Nixon's campaign spells Ithaca, NY, as 'Ithica' in email invites.
Bernie Sanders takes job-killing stands at Disney workers' rally, critics say.
ACROSS THE NATION
Facebook 'disagrees' with report saying it gave companies extensive access to users' data without consent.
Texas ex-cop describes falling prey to drug addiction in dentist's chair.
Dallas woman says she killed husband for beating their pet cat, cops say.
MINDING YOUR BUSINESS
'Sunday Morning Futures': Nunes warns Google, other tech giants of hearings if bias continues.
FDA wants to shorten new drug monopolies to cut costs.
Bayer launches $7B cash call to fund Monsanto deal.
FOX NEWS OPINION
Doug Schoen: The Democrats are at war -- with each other. And it could spell disaster in November.
Hans A. von Spakovsky: Why should states that protect illegal immigrants be rewarded with more political power?
Steve Hilton: Is Loony Left Gov. Jerry Brown killing California? What does that mean for America?
HOLLYWOOD SQUARED
'Solo: A Star Wars Story' plummeting at the box office.
'Fight Club' author learns big reason why he's broke, apologizes.
Jimmy Fallon gives surprise speech at Stoneman Douglas graduation.
DID YOU HEAR ABOUT THIS?
Maine police rescue a dozen ducklings from sewer grate.
Legal bare-knuckle boxing kicks off in Wyoming.
Teacher accused of feeding live puppy to turtle faces charge.
STAY TUNED
On FOX News:
FOX & Friends, 6 a.m. ET: As President Trump marks his 500th day in office, Charlie Kirk, founder of Turning Point USA, will take a look at his accomplishments. Dr. Nicole Saphier, radiologist and breast cancer specialist, breaks down a possible breakthrough in breast cancer research. And are New York City's sanctuary policies putting residents in danger? A special analysis.
Hannity, 9 p.m. ET: Mark Levin and White House press secretary Sarah Sanders join Sean to break down the biggest stories of the day and the Trump administration's latest moves.
On FOX Business:
Mornings with Maria, 6 a.m. ET: Guests include: MagneGas CEO Ermanno Santilli.
Varney & Co., 9 a.m. ET: Special guests include: FOX News senior political analyst Brit Hume.
On FOX News Radio:
The FOX News Rundown podcast: The 9/11 Memorial & Museum at the World Trade Center will be modified to honor of the first responders and all who were sickened by contaminated air following the attack. FOX News' Rick Leventhal speaks with Alice Greenwald, president and chief executive officer of the National September 11 Memorial & Museum, about the new plans. It's officially hurricane season and after being hammered by Hurricane Irma last year, Florida residents are much more prepared this time around. Florida Keys Emergency Manager Martin Senterfitt explains how his team is training residents for this year's hurricanes. Plus, commentary from Marie Harf, co-host of "Benson & Harf."
Want the FOX News Rundown sent straight to your mobile device? Subscribe through Apple Podcasts, Google Play, and Stitcher.
The Brian Kilmeade Show, 9 a.m. ET: New York Post columnist Michael Goodwin on why James Comey is not above the law; political commentator and historian Victor Davis Hanson on how President Trump will be viewed in history. Republican Senate hopeful for Massachusetts Beth Lindstrom on her plan to defeat Sen. Elizabeth Warren.
#OnThisDay
1998: A federal judge sentences Terry Nichols to life in prison for his role in the 1995 bombing of the Alfred P. Murrah Federal Building in Oklahoma City.
1986: Jonathan Pollard, a former U.S. Navy intelligence analyst, pleads guilty in Washington to conspiring to deliver information related to the national defense to Israel. (Pollard, sentenced to life in prison, would be released on parole on Nov. 20, 2015.)
1972: A jury in San Jose, Calif., acquits radical activist Angela Davis of murder and kidnapping for her alleged connection to a deadly Marin County courthouse shootout in 1970.
FOX News First is compiled by Fox News' Bryan Robinson. Thank you for joining us! Enjoy your Monday! We'll see you in your inbox first thing Tuesday morning.