FOX NEWS FIRST: Trump mulls sending National Guard to U.S.-Mexico border; Suspected shooter had feud with YouTube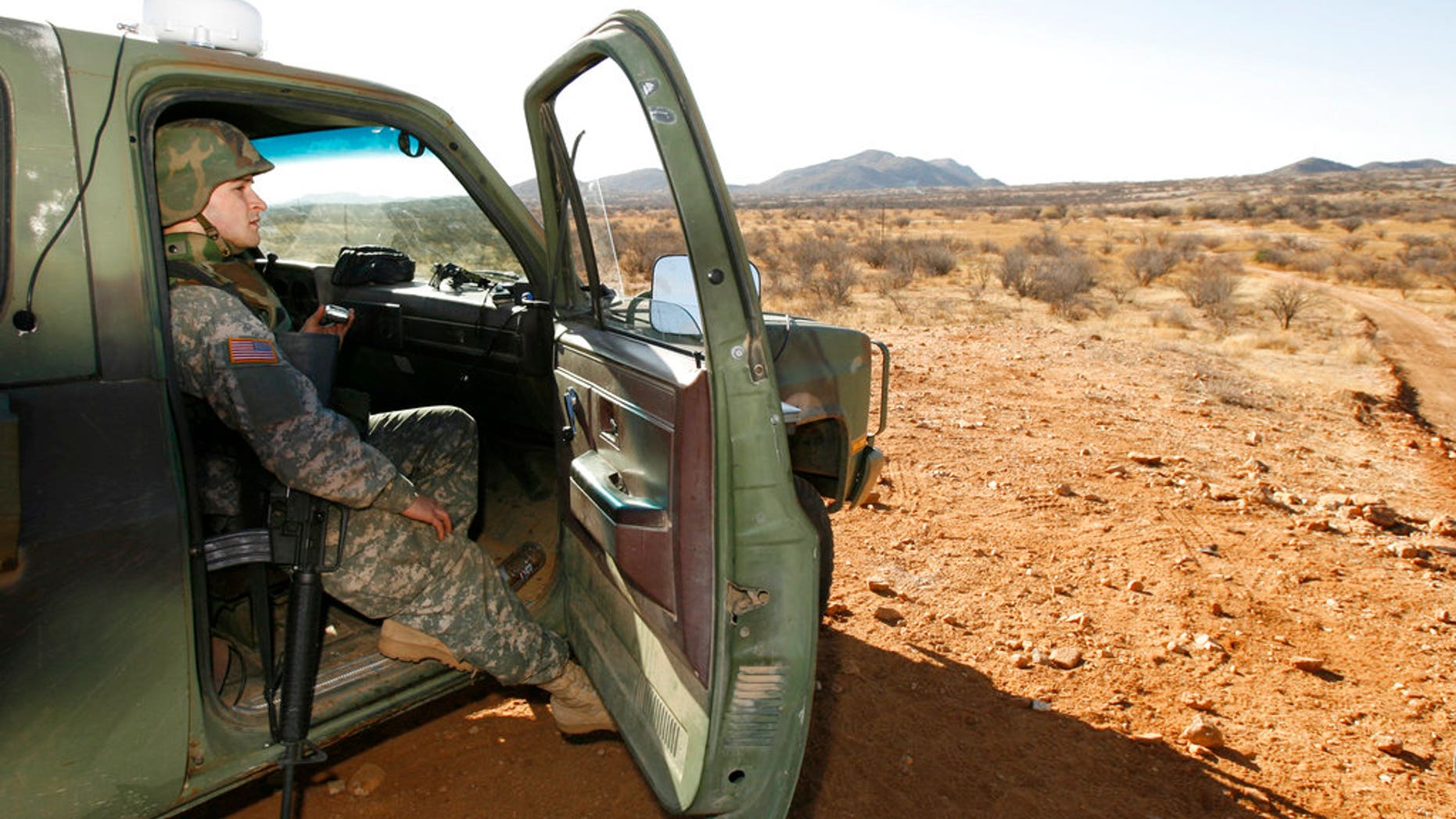 Welcome to Fox News First. Not signed up yet? Click here.
Developing now, Wednesday, April 4, 2018
President Trump is considering mobilizing the National Guard to secure the U.S.-Mexico border until a wall can be built, Fox News has learned
Trump is not a criminal target of Special Counsel Robert Mueller's Russia investigation, according to one report
YouTube was a source of frustration for an armed woman who shot three people before killing herself at the company's headquarters, her father says
Extra tariffs on Chinese products entering the U.S. are the Trump administration's answer for alleged theft of U.S. intellectual property
Three Hart Tribe children still missing after last week's SUV plunge off a California cliff might not have been in the vehicle, authorities say
Wednesday marks 50 years since Martin Luther King Jr.'s assassination
THE LEAD STORY - GUARDING THE BORDER: President Trump said the National Guard may secure the U.S.-Mexico border until a wall can be built. The president is considering a plan involving "substantial" mobilization of the Guard, a White House official told Fox News ...  Trump made his remarks Tuesday during a meeting with Baltic leaders, where he said he had discussed the matter with Defense Secretary Jim Mattis. "Until we can have a wall and proper security, we're going to be guarding our border with the military," he said. "That's a big step, we really haven't done that before, or certainly not very much before." Trump's move appears to be at least partly motivated by a caravan of over 1,000 Central American migrants heading toward the U.S. border. BuzzFeed, which first reported on the caravan, said Mexican officials had not yet attempted to stop the flow.
TRUMP NOT A TARGET: Special Counsel Robert Mueller told President Trump's attorneys last month that he does not consider Trump to be a criminal target in his investigation of Russian actions during the 2016 campaign, the Washington Post reported Tuesday night ... The paper, citing "three people familiar with the discussions," reported that Mueller made the comments while negotiating with Trump's attorneys about a potential interview with the president. Citing "two people with knowledge of the conversations," the Post also reported that Mueller reiterated his need to interview Trump to determine whether the president intended to halt the Russia investigation while in office. According to the Post, Trump has "privately expressed relief" at Mueller's description of his legal status. However, some advisers have warned that the special counsel may be baiting the president into letting his guard down for any interview.
SHOOTER'S FEUD WITH YOUTUBE: The woman suspected of shooting three people at YouTube headquarters in San Bruno, Calif., before killing herself was furious with the company because it had stopped paying her for videos she posted, her father said late Tuesday ... The police identified the shooter as Nasim Aghdam, 39, of Southern California -- and said they had a run-in with her earlier in the day. Ismail Aghdam said he reported his daughter missing Monday after she did not answer her phone for two days. He said the family received a call from Mountain View police around 2 a.m. Tuesday saying they found Nasim sleeping in a car. He said he warned them she might be headed to YouTube because she "hated" the company. Authorities said they are still probing Nasim Aghdam's motive, and that there are no indications she knew the victims.
Aghdam reportedly maintained a personal website alleging that YouTube compensated her unfairly and censored her views. In online postings last month, she alleged that YouTube tries to "censor and suppress people who speak the truth."
TARIFF TIT FOR TAT: The Trump administration said Tuesday that it plans to slap 25-percent tariffs on approximately 1,300 products from China in response to Beijing's alleged theft of U.S. intellectual property ... According to the U.S. Trade Representative's office, the mainly non-consumer products account for approximately $50 billion in annual imports. The items include industrial chemicals, motorcycles and medical devices. However, the proposed tariffs would not take effect before a public comment period ends May 11. The announcement comes 11 days after Trump levied "protective" tariffs on Chinese steel and aluminum in response to what the administration has described as unfair trade practices. In response, China raised import duties on American pork, fruit, aluminum and other products. China's government said earlier its imports of those goods last year totaled $3 billion.
HART TRIBE MYSTERY DEEPENS: Authorities investigating the California cliff plunge that is believed to have killed two adults and their six adoptive children have left open the possibility that three of the children may not have been in the vehicle ... Lt. Shannon Barney, of the Mendocino County Sheriff's Office, told the New York Daily News that first responders located the bodies of Jennifer and Sarah Hart near the crash site, along with the bodies of Markis, 19, Jeremiah, 14, and Abigail, also 14. However, authorities have been reportedly unable to locate Hannah, 16, Devonte, 15 and Sierra, 12. "Right now, we have to leave open the possibility they could be in Washington or Oregon or elsewhere in California," Barney told the paper. "There is always that possibility and we have to leave it open."
MLK'S WORDS, WISDOM AND COMPASSION NEEDED NOW MORE THAN EVER - A REFLECTION: As we pause to reflect on the life and assassination of one of the greatest and most courageous leaders in history – 50 years ago on April 4, 1968 – I recall how Dr. Martin Luther King Jr. became a hero to me, when I was a poor and often homeless white boy all those years ago ... Black history began for me when I was an 8-year-old boy living in abject poverty. That's when I first became aware of a young black man attempting to change the nation and the world for the better. As I stood in our tiny public housing apartment kitchen, my mother was fixated by the scene playing out on the screen of our 13-inch black and white television resting on a counter that served as a regular highway for the cockroaches that infested our home.
AS SEEN ON FOX NEWS
'INVENTING A CRIME': "There's no such crime as 'collusion' in the federal statute."– Alan Dershowitz, on "Hannity," saying collusion may be a "political sin" but Congress would first have to pass a resolution declaring it a federal crime. WATCH
A MORE 'CHRISTIAN' ATTITUDE TOWARD MEXICO: "Mexico is not the problem, Mexico is not the enemy." – Juan Hernandez, a member of ex-Mexico President Vicente Fox's Cabinet, on "The Story with Martha MacCallum, arguing that President Trump should adopt a "more humanitarian Christian attitude" toward Mexico. WATCH
THE SWAMP
Death penalty for women having abortions? No, candidate clarifies.
John Kasich, in New Hampshire, hints at Trump 2020 challenge.
Three Republicans in West Virginia battle to oust vulnerable Democratic senator.
Trump, GOP go on offensive in Calif., where Democrats lay stakes for big midterm wins.
ACROSS THE NATION
Four Marines feared dead in helicopter crash near U.S.-Mexico border.
'Nightmare bacteria' cases seen in 27 states, CDC reports.
Girl forced to watch boyfriend's brutal killing before she was murdered, tossed down mine shaft, prosecutors say.
Robbed of memories and money, a 96-year-old veteran gets his Mustang back in full glory.
MINDING YOUR BUSINESS
Ari Fleischer: Trump's going after Amazon because of the Washington Post.
Spotify IPO pops over 25 percent on trading debut
U.S. ObamaCare 2018 exchange enrollment drops 3 percent: CMS
FOX NEWS OPINION
Jason Chaffetz: 10 things Congress should do, but won't.
John Stossel: Hold onto your sodas! When politicians are looking for money, nothing is safe.
Jimmy Kimmel's attack on Melania Trump is despicable and wouldn't be tolerated for any other immigrant.
HOLLYWOOD SQUARED
'Roseanne' not as pro-Trump as reported, Kareem Abdul-Jabbar says.
Jimmy Kimmel mocks Melania Trump's accent, trolls White House Easter Egg Roll.
'Austin Powers' actor Verne 'Mini Me' Troyer reportedly hospitalized
Kathy Griffin unloads on Billy Bush and Anderson Cooper in new interview.
DID YOU HEAR ABOUT THIS?
Beachgoer captures drone footage of Civil War-era shipwreck.
Boys dig up prehistoric mastodon fossil in Mississippi.
Labrador retrievers ranked most popular dog in America for 27 years running.
STAY TUNED
On Fox News: 
Fox & Friends, 6 a.m. ET: Judge Andrew Napolitano on the latest developments in Robert Mueller's Russia investigation and Trump not being viewed as a criminal target; the latest in the shooting at YouTube headquarters.
Tucker Carlson Tonight, 8 p.m. ET: Part 2 of Tucker's week-long series on "Tech Tyranny" looks at how Google apparently plans to help China on a potential military tool.
On Fox Business:
Mornings with Maria, 6 a.m. ET: Guests include: Amb. John Negroponte; Rep Chuck Fleischmann; Donna Brazile, former DNC chair.
Varney & Co., 9 a.m. ET: Rep. Trey Gowdy and Sen. Tim Scott, co-authors of "Unified"; Brandon Judd, Border Patrol Union president; Ari Fleischer, former White House press secretary.
Cavuto: Coast to Coast, Noon ET: Texas Attorney General Ken Paxton; Josh Hawley, Missouri attorney general and Senate candidate.
Countdown to the Closing Bell, 3 p.m. ET: Rich Gelfond, IMAX CEO; NYC Comptroller Scott Stringer.
Making Money with Charles Payne, 6 p.m. ET: Rep. Marsha Blackburn
On Fox News Radio:
The Fox News Rundown podcast: It's been 50 years since the assassination of Martin Luther King Jr. The Rev. Jesse Jackson and Fox News' Tonya J. Powers are in Memphis to discuss the legacy of the civil rights icon. A group of more than 1,000 people are traveling from Central America through Mexico toward the U.S. border, seeking asylum. President Trump issued a warning on Twitter, saying the migrant caravan "had better stop before it gets here." Two top immigration experts discuss how our neighbors to the south are reacting. Plus, commentary by Britt McHenry, host of "Like It or Not" on WTTG-TV Fox 5 in Washington, D.C.
Want the Fox News Rundown sent straight to your mobile device? Subscribe through Apple Podcasts, Google Play, and Stitcher.
The Brian Kilmeade Show, 9 a.m. ET: Amb. Zalmay Khalilzad on the latest from Saudi Arabia, Syria, and Iran; Rep. Trey Gowdy and Sen. Tim Scott give the inside story on their new book.
The Tom Shillue Show, 3 p.m. ET: Wednesday marks 50 years since Martin Luther King Jr's assassination. "The Five's" Juan Williams joins Tom Shillue to reflect on Dr. King's legacy.
#OnThisDay
1968: Martin Luther King Jr. is shot and killed while standing on a balcony of the Lorraine Motel in Memphis, Tenn.; his slaying sparks a wave of riots nationwide. Suspected gunman James Earl Ray would later plead guilty to assassinating King, but then spends the rest of his life claiming he'd been the victim of a setup.
1975: Microsoft is founded by Bill Gates and Paul Allen.
2008: Beyonce and Jay-Z are married during a private ceremony in New York.
Fox News First is compiled by Fox News' Bryan Robinson. Thank you for joining us! Enjoy your day! We'll see you in your inbox first thing Thursday morning.