FOX NEWS FIRST: NFL braces for Trump-kneeling protest backlash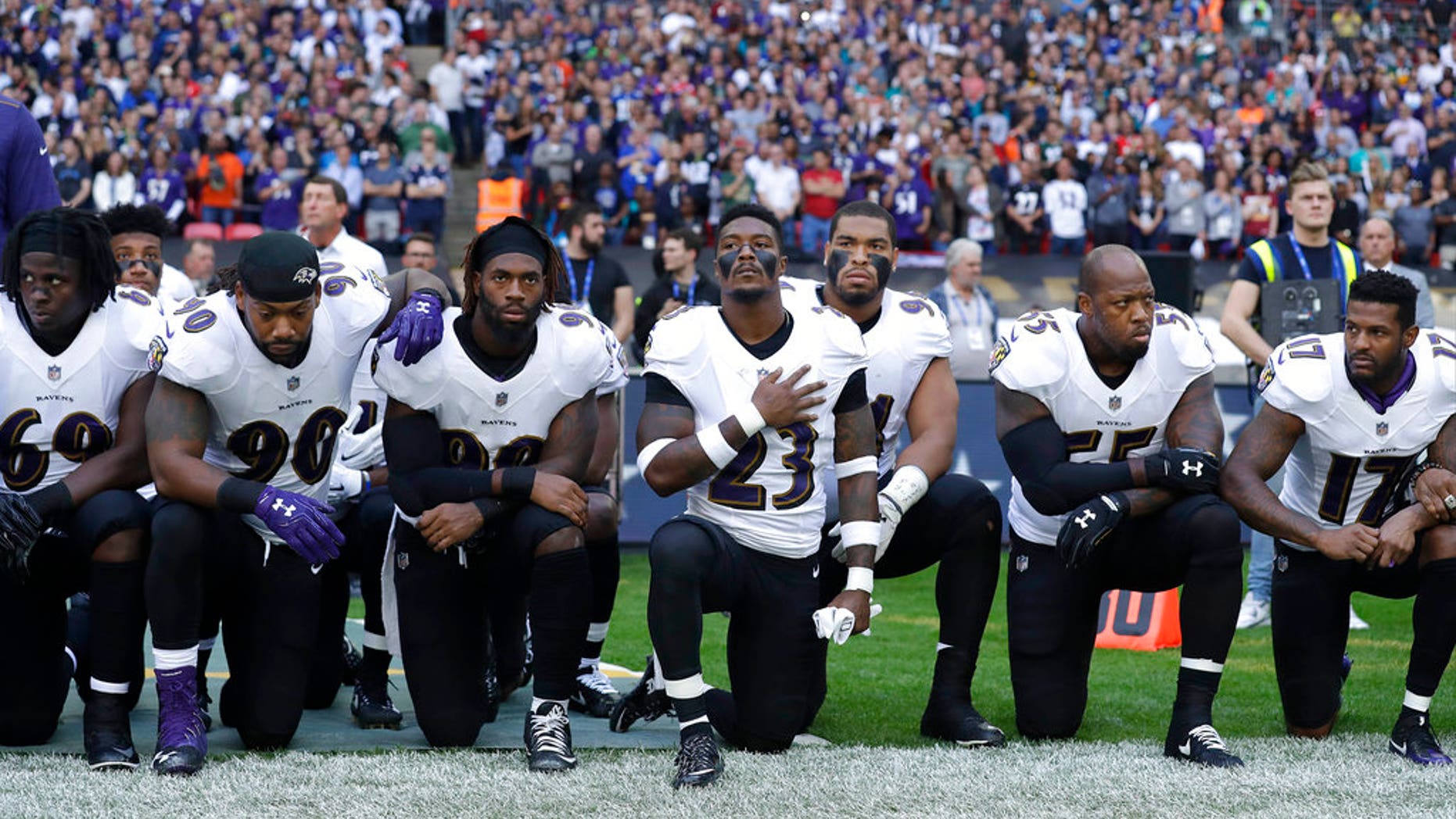 TOP OF THE MORNING
It's Monday, Sept. 25, 2017 ... Welcome to Fox News First, your spot for all the news you need to start the day ... If you have friends who are looking for an early morning news fix, please spread the word: They can subscribe to Fox News First by clicking here.
Here's your Fox News First 5 - the first five things you need to know today:
The NFL braces for possible backlash after players across the league kneel during the national anthem, Trump defends his comments 
Trump approves updated travel restrictions on eight countries, adding North Korea and Venezuela to the list
The latest GOP health care bill appears to be on life support as Sens. Susan Collins and Ted Cruz voice opposition
Sen. John McCain insists he did not vote against the GOP's ObamaCare repeal-and-replace bill to get back at Trump
Authorities are searching for a motive and FBI has opened a civil rights investigation in Sunday's deadly Tenn. church shooting
Let's do this...
THE LEAD STORY: The NFL is hoping it won't feel a backlash from fans in the ratings and game attendance after players across the league knelt during the national anthem, largely in protest of President Trump's comments ... A defiant Trump said Sunday that the outrage over NFL players kneeling during the national anthem "has nothing to do with race," but rather is about "respect for our country." The president touched off a firestorm Friday night at a political rally in Alabama when he said: "Wouldn't you love to see one of these NFL owners, when somebody disrespects our flag, to say, 'Get that son of a b---- off the field right now.'"
ADD NORTH KOREA AND VENEZUELA TO TRAVEL BAN RESTRICTION LIST: President Trump signed off on updated travel restrictions that would limit entry for people coming to the U.S. from eight countries, as the existing travel ban is set to expire ... The new travel restrictions, set to take effect Oct. 18, would slow or limit entry from citizens of North Korea, Chad, Iran, Libya, Somalia, Syria, Venezuela and Yemen. North Korea and Venezuela were not listed in the earlier ban.
Why does this matter? -  The new policy could complicate the Supreme Court's review of Trump' travel restriction order. The high court is scheduled to hear arguments over its legality on October 10.
IS THE GRAHAM-CASSIDY HEALTH CARE BILL D.O.A.? Republican opposition to the latest GOP Senate bill to repeal and replace ObamaCare are at near fatal numbers after Sens. Susan Collins and Ted Cruz both indicated they could not support it ... The White House, however, insists the bill isn't dead and a "vast majority of Americans" will benefit. The GOP-controlled chamber has until Sept. 30 to pass the legislation with a simple, 51-vote majority, under so-called budget reconciliation procedures. However, at most, 48 of the chamber's 52 Republican senators appear to support the bill, which has no backing from Democrats. Sens. John McCain and Rand Paul have said they'll vote no; Republican Sens. Lisa Murkowski and Susan Collins are a likely no.
MCCAIN CLAIMS NO HARD FEELINGS AGAINST TRUMP: Sen. John McCain shrugged off any suggestion he voted against the GOP repeal-and-replace ObamaCare bill to get back at Trump for his past comments ... The Ariz. senator, who's battling brain cancer, told "60 Minutes" that "life is too short" to worry about everything someone has said to someone else. Trump said on the campaign trail in 2015 that McCain wasn't a war hero. McCain told "60 Minutes" that the president never apologized to him for the controversial comments.
SUDANESE IMMIGRANT CHARGED WITH MURDER, MOTIVE SOUGHT IN DEADLY CHURCH SHOOTING: The FBI has confirmed it is opening a civil rights investigation into a Tennessee church shooting that left one woman dead and seven others injured ... The alleged gunman, identified as 25-year-old Emanuel Kidega Samson, immigrated from Sudan two decades ago, police said. He has been charged with murder and other charges are pending.
THE WEEKEND THAT WAS
SACKING THE NFL: "Don't give me this crap that you guys want to support reform and stand up against social injustice. Shame on you. Shame on all of you. And shame on you too, Roger Goodell, for not showing you love this country as much as the president does." – Judge Jeanine Pirro, in her "Opening Statement" for "Justice with Judge Jeanine," blasting NFL Commissioner Roger Goodell and NFL players kneeling in protest of the national anthem. WATCH
MULTIMILLIONAIRES IN NEED OF THERAPY: "Don't impose on me your sense of somehow, you feel oppressed. If you're a multimillionaire who feels oppressed, you need a therapist [and] not a publicity stunt." – Newt Gingrich, sounding off on NFL players protesting the national anthem, on "Fox & Friends Weekend." WATCH
EARTH TO ELLEN - TRUMP HAS A BIGGEST PLATFORM IN THE WORLD: "These Hollywood liberals, they're so elitist that [DeGeneres] thinks that by having the president of the United States on her show that she's giving him a platform. You're not giving him anything."  – Tomi Lahren, on "Watters' World," reflecting on Ellen DeGeneres saying she would not have "dangerous" President Trump on her show. WATCH
MINDING YOUR BUSINESS
Walt Disney threatens to pull ESPN, ABC from Optimum
ABB buys GE unit for $2.6B to boost North American business
White House says proposed tax plan will help business, middle class
Oil holds gains as producers say market rebalancing
NEW IN FOX NEWS OPINION
Grover Norquist: Tax reform is a must win for Republicans (and it really could happen)
The Trump Effect reaches Germany
Why Trump's economic moves against North Korea may do more to tame Kim than any insult
A drunk driver killed their daughters, but Lynn and Dan Wagner embody the awesome power of forgiveness
HOLLYWOOD SQUARED
Kingsman: The Golden Circle dethrones It at box office
Francia Raisa shows off scars at the gym after donating kidney to Selena Gomez
George Clooney slams Hillary Clinton's failed campaign: "I never saw her elevate her game"
Former President Clinton gets TV deal for upcoming White House "thriller"
DID YOU HEAR ABOUT THIS?
Mystery of Great Pyramid may be solved, researchers say
End of world still coming soon, Christian numerologists say -- it was just postponed
Michelin-starred restaurant calls out blogger's shameless "vegan meal" request
Woman at LongHorn Steakhouse bit several times by copperhead snake
STAY TUNED
On Fox News:
Fox & Friends, 6 a.m. ET: Guests include: Rep. Louie Gohmert will discuss Trump's new travel restrictions
The Five moves back to 5 p.m. E.T.: Don't miss the panel debates you love as Trump vs. the NFL, Trump's new travel restrictions and more will be the hot topics of the day
The Story with Martha MacCallum, 7 p.m. E.T.: Martha will interview both Sen. Luther Strange and former Alabama Supreme Court Chief Justice Roy Moore as both vie for Attorney General Jeff Session's senate seat in a tight race
Tucker Carlson Tonight, 8 p.m. E.T.: Tucker will have a brand-new in-depth report on the notorious MS-13 gang
Hannity moves to 9 p.m. E.T: Don't miss Sean's must-see interview with former Trump White House chief strategist Steve Bannon
On Fox Business:
Mornings with Maria, 6 a.m. ET: Guests include House Chairman and Ways & Means Tax Policy subcommittee member Rep. Peter Roskam on the latest in the quest for tax reform; Philadelphia 76ers and New Jersey Devils CEO Scott O'Neil on Trump's battles with the NFL and NBA star Stephen Curry
Cavuto: Coast to Coast, 12 noon ET: Guests include Art Laffer, former Reagan economic adviser, on the latest political hot topics of the day
After the Bell, 4 p.m. ET: Guests include Puerto Rico Governor Ricardo Rosselló discusses recovery efforts and the challenges ahead after Hurricane Maria's devastation
On Fox News Radio:
The Brian Kilmeade Show, 9 am to 12 noon E.T.: Guests will include New York Post columnist Michael Goodwin, who will discuss the Trump-NFL players kneeling during the national anthem controversy
#OnThisDay
2007: Warren Jeffs, the leader of a polygamous Mormon splinter group, is convicted in St. George, Utah, of being an accomplice to rape for performing a wedding between a 19-year-old man and a 14-year-old girl. (The conviction was later overturned by the Utah Supreme Court; prosecutors ended up dropping the charges, since Jeffs is serving a life sentence in Texas in a separate case.)
1997: President Bill Clinton pulls open the door of Central High School in Little Rock, Arkansas, as he welcomed nine blacks who had faced hate-filled mobs 40 years earlier.
1981: Sandra Day O'Connor is sworn in as the first female justice on the Supreme Court.
1962: Sonny Liston knocks out Floyd Patterson in round one to win the world heavyweight title at Comiskey Park in Chicago.
Thank you for joining us on Fox News First! Enjoy the day and see you in your inbox first thing tomorrow morning!