FOX NEWS FIRST: Inside Ex-FBI official McCabe's secret memo on Comey's firing; Lib hypocrisy in Roseanne uproar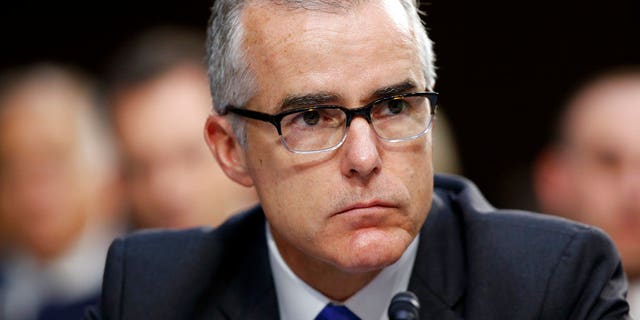 NEWYou can now listen to Fox News articles!
Welcome to Fox News First. Not signed up yet? Click here.
Developing now, Thursday, May 31, 2018
President Trump appeared to tie the firing of FBI Director James Comey to the Russia investigation, former FBI deputy director Andrew McCabe reportedly claims in a secret memo
Roseanne Barr considers fighting ABC's cancellation of her hit series over her racist tweet as President Trump and the White House rip network's 'double standard,' citing its famously anti-Trump media personalities
Secretary of State Mike Pompeo and a top North Korean official dine together in New York City in an effort to revive a potential summit between Trump and Kim Jong Un
The Trump administration will carry out its threat to impose tariffs on steel and aluminum from the European Union as early as Thursday, according to reports
Florida prosecutors released three videos of Parkland school shooting suspect Nikolas Cruz detailing a plan to kill at Marjory Stoneman Douglas High School
THE LEAD STORY - THE MCCABE MEMO: Former FBI deputy director Andrew McCabe claimed in a secret memo he wrote last year that President Trump possibly tied his decision to fire FBI Director James Comey to the Russia investigation, according to reports ... An anonymous source told the Associated Press McCabe's memo focused on a conversation he had with Deputy Attorney General Rod Rosenstein about Rosenstein's preparations for Comey's firing. According to the New York Times, McCabe described secondhand a conversation he heard about from Rosenstein, who spoke with Trump about Comey's firing. According to McCabe, Trump asked Rosenstein to mention Russia in the deputy attorney general's memo recommending Comey's termination. But the final version of Rosenstein's memo didn't include Russia and focused instead on Comey's handling of the Hillary Clinton email investigation.
A person familiar with the situation told the Associated Press that the previously unknown document was turned over to special counsel Robert Mueller. McCabe became FBI acting director following Comey's firing last May. He was fired as deputy director in March, just days before his scheduled retirement, amid an inspector general finding that he had misled internal investigators about his role in an October 2016 disclosure to the Wall Street Journal.
WAS MICHELLE OBAMA BEHIND 'ROSEANNE'S' CANCELLATION? - Roseanne Barr said she's considering fighting ABC's move to cancel the revival of her show after her racist tweet -- and she pushed an unproven theory that former first lady Michelle Obama was behind her ouster ... Despite initially saying she would be quitting Twitter after posting a negative and racially charged comment about former Obama aide Valerie Jarrett, the star returned Tuesday and let loose on social media. On Wednesday, Barr revealed that the positive feedback she was getting from people who still support her was making her feel emboldened to combat ABC in some way. One right-wing activist even went as far as to accuse ABC Entertainment President Channing Dungey of consulting former first lady Michelle Obama before canceling her show. Barr retweeted the unverified claim to her followers.
Meanwhile, President Trump commented for the first time about ABC's cancellation of "Roseanne," knocking the network for not apologizing in other instances where people have made "horrible" anti-Trump comments on ABC. "Bob Iger of ABC called Valerie Jarrett to let her know that 'ABC does not tolerate comments like those' made by Roseanne Barr," Trump tweeted Wednesday. "Gee, he never called President Donald J. Trump to apologize for the HORRIBLE statements made and said about me on ABC. Maybe I just didn't get the call?'"
DINING DIPLOMACY: North Korea's longtime spy chief and Secretary of State Mike Pompeo had dinner together in New York City on Wednesday night as the U.S. tries to salvage a potential summit between the two countries' leaders ... Kim Yong Chol, Kim's infamous right-hand man and a vice chairman of the ruling Workers' Party, met with Pompeo after he arrived at JFK International Airport around 2 p.m. Wednesday. The North Korean is the highest-ranking official from the communist nation to visit the U.S. since 2000. Kim and Pompeo sat together for more than an hour, and planned a "day full of meetings" for Thursday, the White House said.
EU TARIFFS COMING: The Trump administration is planning to impose its promised tariffs on steel and aluminum from the European Union, sources told the Wall Street Journal ... The decision to slap tariffs on steel and aluminum from the European Union is expected as early as Thursday morning, which would be a day ahead of a Friday deadline to win concessions from EU counterparts. The U.S. Commerce Department and U.S. Trade Representative's Office did not immediately respond to requests for comment, according to the Wall Street Journal. President Trump on March 23 imposed a 25 percent tariff on steel imports and a 10 percent tariff on aluminum, but granted temporary exemptions to the EU, Canada, Mexico, Brazil, Australia and Argentina.
'I'M GOING TO BE THE NEXT SCHOOL SHOOTER': Prosecutors on Wednesday released three chilling videos of Parkland school shooting suspect Nikolas Cruz detailing his plans to become famous after plotting to kill people at Marjory Stoneman Douglas High School ... "Hello, my name is Nik, and I'm going to be the next school shooter of 2018," Cruz, 19, calmly stated in one of the videos, which appeared to have been filmed Feb. 14, the day of the mass shooting. The gunman said there was "going to be a big event" at Stoneman Douglas. Cruz — who is accused of using an AR-15 semiautomatic rifle to kill 17 people and injure many more — said his "goal is at least 20 people with an AR-15."
AS SEEN ON FOX NEWS
EYE SPY: "[Rep. Trey] Gowdy doesn't get it. [He's] defending the use of spies in its overall investigation ... Make no mistake, the Trump campaign was spied on." – Sean Hannity, as seen on "Hannity," ripping House Oversight and Government Reform Committee Chairman Trey Gowdy for defending the FBI's alleged use of an informant inside the Trump presidential campaign. WATCH
ROSEANNE BARR AND LIBERAL HYPOCRISY: "Where was Bob Iger's apology to the White House staff for Jemele Hill calling the president and anyone associated with him a 'white supremacist'?" – White House press secretary Sarah Sanders, ripping Walt Disney Company CEO Robert Iger for his alleged "double standard" when it comes to his employees' conduct and comments about President Trump. WATCH
THE SWAMP
Would Bernie Sanders 2020 run make him a Senate no-show?
Hillary Clinton says she would like to run Facebook.
Dems struggling to flip key California House seats amid candidate overload.
Mitt Romney reveals who got his vote in 2016 presidential election.
ACROSS THE NATION
Trial begins for ex-CIA man accused of spying for China.
Wildwood, N.J., police release bodycam video of violent arrest.
Some Starbucks baristas peeved about sitting through racial bias training.
Suspect charged in death of Tennessee deputy; search for alleged gunman continues.
MINDING YOUR BUSINESS
Warren Buffett reportedly discussed $3B Uber investment.
Fed advances proposal to loosen Obama-era Volcker Rule.
Walmart to pay college tuition bills for employees.
Companies hiking wages amid shortage of truck drivers, carpenters.
Tesla Model 3 now a Consumer Reports 'pick' after braking improved.
FOX NEWS OPINION
Jeremy Dys and Neal Mehrotra: How could an American high school let misunderstanding and fear triumph over love and freedom at graduation?
Kristi Stone Hamrick: What Starbucks might want to add to its next training session.
Todd Starnes: ABC doesn't hate Roseanne; it hates her viewers.
HOLLYWOOD SQUARED
Harvey Weinstein indicted by NY grand jury on rape, criminal sexual act charges, DA says.
Melissa McCarthy's R-rated puppet movie wins lawsuit against 'Sesame Street.'
Kim Kardashian West talks prison reform at the White House.
Michael Jackson's estate sues ABC, Disney over 'Last Days' TV special.
DID YOU HEAR ABOUT THIS?
Virginia man reels in record-breaking catfish with $20 Walmart fishing rod.
Huge flying stone crushed man in Pompeii, archaeologists discover.
Massive albino peacock on the loose, roaming small village.
STAY TUNED
On Fox News:
Fox & Friends, 6 a.m. ET: Guests include: NASCAR driver Darrell 'Bubba' Wallace Jr.; Secretary of the Interior Ryan Zinke; NRA spokeswoman Dana Loesch. Plus, a job fair on the "Fox & Friends" plaza and this week's "Cooking with Friends" segment features Diamond and Silk.
On Fox Business:
Mornings with Maria, 6 a.m. ET: Guests include: Bill Browder, Hermitage Capital CEO; Robert Wolf, 32 Advisors founder and CEO; Corey Lewandowski, former Trump campaign manager; Bill Richardson, former U.S. ambassador to the U.N. and former New Mexico governor.
Varney & Co., 9 a.m. ET: Secretary of the Interior Ryan Zinke; Rep. Marsha Blackburn, U.S. Senate candidate from Tennessee; Gerald Bailey, former Exxon Arabian Gulf president; Kayleigh McEnany, RNC spokeswoman; Alexi Lalas, Fox Sports soccer commentator.
Cavuto: Coast to Coast, Noon ET: Robert Charles, former assistant secretary of state to Colin Powell; J.T. Lewis, brother of Newtown, Conn., shooting victim.
The Intelligence Report, 2 p.m. ET: Rep. Sean Duffy; Andy Puzder, former CKE Restaurants CEO.
On Fox News Radio:
The Fox News Rundown podcast: North Korean spy chief Kim Yong Chol, Kim Jong Un's right-hand man, is meeting with Secretary of State Mike Pompeo in New York City to discuss a potential summit with President Trump. Former New Mexico Gov. Bill Richardson discusses the possible meeting. Electric cars are said to be bringing the future closer, but they are facing some problems. John Simpson of Consumer Watchdog and National Fire Protection Association's Andrew Klock weigh in. Fox News' Tonya J. Powers has your "good news of the day." Plus, commentary from Judge Andrew Napolitano.
Want the Fox News Rundown sent straight to your mobile device? Subscribe through Apple Podcasts, Google Play, and Stitcher.
The Brian Kilmeade Show, 9 a.m. ET: Sen. James Lankford on the latest in the Mueller probe and efforts to free N.C. pastor Andrew Brunson, who is imprisoned in Turkey on espionage and terror charges; Gen. Jack Keane on the negotiations to salvage a potential North Korean summit; Chris Wallace and Dana Perino take on the cancellation of "Roseanne" and the news of the day from the White House.
#OnThisDay
2005: Former FBI official W. Mark Felt steps forward as "Deep Throat," the secret Washington Post source during the Watergate scandal, breaking 30 years of silence
1935: Movie studio 20th Century Fox is created through a merger of the Fox Film Corp. and Twentieth Century Pictures.
1921: A race riot erupts in Tulsa, Okla., as white mobs begin looting and leveling the affluent black district of Greenwood over reports that a black man had assaulted a white woman in an elevator. Hundreds are believed to have died.
Fox News First is compiled by Fox News' Bryan Robinson. Thank you for joining us! Enjoy your day! We'll see you in your inbox first thing Friday morning.